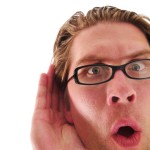 There has been a lot going on in terms of customer feedback lately.  Today, I thought I would share a little link love and give you a quick overview of what other experts have been writing about when it comes to "customer feedback"
Customer Feedback Listening Posts: In my previous post about customer research trends, I mentioned that collecting feedback has gone far beyond the traditional phone, paper and even online surveys.  In this article, Jeff Henning does a terrific job of drilling down into several different customer feedback channels that you can use.
Expand Customer Feedback Ahead of Product Launch: Why is it that so many of us product development people feel like it's easier to think about what the customer wants instead of just asking?  Morey Stettner has the right idea in this article.  Ask the customer these three simple questions: What is the problem?  What kind of product or service would you like to have?  What else?  The point here isn't to be sophisticated, but to stop and take advantage of an opportunity to involve your customer in designing their next product or service.
Capitalizing on Customer Feedback – Creating Measurable Value from Voice of the Customer:  The Allegiance Blog has a newly issued white paper that covers new ways to think about customer feedback, top customer feedback strategies, four principles to realizing value from your voice of the customer research.  Download that one.
7 Tips for Getting Customer Feedback: You think you've got them all covered, but this is a great little checklist that you can use to see if you're forgetting any of these handy customer feedback collection methods.
For Genuine Customer Insights, Go Beyond the Research:  More terrific ideas on ways and methods to gather insightful research without breaking the bank.
Recall Woes Prompt Toyota to Improve Customer Feedback Loop: Toyota has spent years building its reputation for quality and the last few months of quality issues and recalls leave them in a delicate position.  How will they use customer research and feedback to come back?
Well, I hope that you enjoyed this list of customer feedback articles.  Do you have articles you'd like to recommend, send them over and we'll compile them to share with everyone.