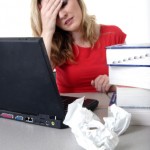 You have something interesting to share and you'd like to get a mention in the press. Trouble is, news staffs are getting smaller as the volume of ideas vying for their attention is getting bigger. Understanding the changes in the media industry can help to get your own news published. These tips should help you get noticed, which is the first step to getting mentioned.
Don't make the editors work. News rooms are short staffed. Most editors just don't have time to mess with salvaging the tiny gems of information from a poorly written press release. The easier you make it for them to use the information you provide, the better your chances of getting a mention.
Know who you're sending to. Staff overturn can quickly screw up even the cleanest of email lists when your contact is no longer working there. Be sure to double check their Web site staff lists to make sure.
Use a format that's easy to manage. When sending information digitally, if you're sending a file, be sure that is easy to "copy and paste" like a Word document. If your PDF format is set up so the text can't be highlighted and copied, then don't bother. Better yet, have your email body copy be the press release and avoid an attachment (and extra step) all together.
Grab them before they even open your email. Editors can receive thousands of press releases every week via email. Make sure yours stands out with an email subject line that sparks their interest. Use specifics and details. "Gainesville Company Wins XYZ Award" is a far better subject line than "For Your Information." "What 83% of Middle-age Men Prefer" is better than "Men's Survey Information."
Sometimes "Snail Mail" gets faster results. With the huge volume of emails, your paper press release in a real envelope may be a sight for sore eyes. If you do send a "hard copy" through the mail (and have the time), envelopes that are hand addressed and use a real postage stamp are typically opened and read before mail that uses address labels or postage meters. You could even try using a bright envelope color to grab attention. And if you really want to make sure they get the information, invest in next-day air via UPS, FedEx, or Priority Mail. If grabbing the attention of a specific media resource is very important to your marketing, then it may be worth the investment. Be sure to offer the option of receiving the info digitally if they prefer.
Sometimes even the best information gets buried, but using these tips can help better your chances of getting noticed – and published – to enhance your overall media presence.
Patti Renner is known for her no-nonsense approach for effective marketing messages. A direct response copywriter, she specializes in helping small business perform better online. You can reach her at [email protected].