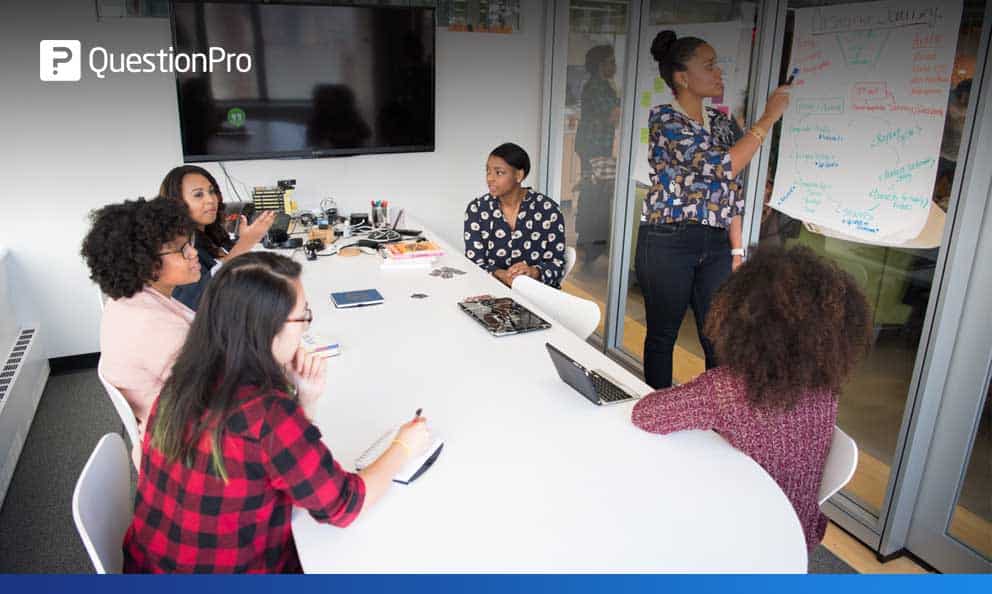 There's no such thing as a business without problems. We can daydream of a problem-free workplace or simply ignore stuff, but eventually, we all have to face the music. One of the ways you can make impactful business decisions is by implementing surveys as part of your problem-solving strategy. Let's break down how surveys can help solve problems for you.
Empowering your problem-solving skills with surveys
1. Surveys validate root causes and clarify antidotal comments or assumptions
Surveys can offer a more accurate and unbiased understanding of the problem you are trying to solve. Difficulty solving problems comes from inaccuracy in reading and/or thinking. Transforming antidotal feedback into quantitative outcomes will clearly define the who, what, where, when, why, and how's of the issue at hand while throwing out anomalies that do not fit. Surveys can familiarize yourself with trending words commonly used by respondents, and allow you to analyze the facts from both a short and long distance before prematurely making important decisions.
Validation tools and services available from QuestionPro:
Text tagging and word cloud analytics

Filter and segmentation tools

Automated sentiment analysis for customer experience programs

Keep a pulse on employee sentiment with QuestionPro Workforce 360 reviews

Working with QuestionPro Audience to find an unbiased respondent audience to provide honest answers
2. Surveys open unbiased communication pathways
This is about building genuine trust between you and your customers. If you are looking to solve problems for customers, you will need to earn their trust and show them the value of their opinions to your organization. Surveys offer a simple yet easy way to open a dialogue that allows a group of people to equally voice their opinion in both a qualitative and quantitative fashion. This will also help highlight various angles of the problem you are looking to solve.
Communication pathway tools available from QuestionPro:
Online and mobile surveys – available offline as well.

Online community panel management platform

Online forums via QuestionPro Communities

8+ survey distribution options
3. Surveys encourage organizations to set up a reaction playbook
Most of the time, businesses have a pretty good idea of how they would like to react to feedback. However, if you are looking to scale then having a standardized playbook that anticipates and prioritizes the methods of escalation is necessary. For surveys, it's about reacting to feedback and implementing the best alternative. Ideally, you will want to paint the picture of what is to happen pre, present, and post-engagement to ensure you are meeting the problem head-on. The sooner you can address customer complaints, the better you can retain them as a loyal customer. A premeditated reaction playbook based on survey feedback will work wonders in solving problems that impact customer experiences.
Reaction playbook tools from QuestionPro:
Action alerts based on custom criteria within surveys

Customized automated survey reports based on job role, region, etc.

Enable moderator alert tools to monitor member activities in QuestionPro Communities

Set up a detractor dashboard to monitor and address NPS scores in QuestionPro CX
4. The use of surveys can help organize opinions into a format that can be used for segmentation and deep dive analysis
Organizing feedback with regular surveys will allow you to determine the settings questions in which your target audience can provide feedback in an organized fashion. This is where you consider who your target audience is and if there are any subgroups worth exploring that can help give you valuable information to solve your problems. Keeping thing orderly will allow for better monitoring of any future problems that may occur. Do keep in mind that organizing survey questions and analyze should be done from a neutral standpoint. We don't want to focus only on the good; get the whole picture. Designing and organizing unbiased surveys and its results allow for a deeper analysis that can uncover new and interesting solutions to your problems that may have not been thought of.
Formatting and segmentation tools from QuestionPro:
Advanced analysis tools such as real-time filter and segmentation tools

Assess response and engagement history for analysis in QuestionPro Communities

Use purchasing history for segmentation and deep dive analysis for QuestionPro CX

Use department segments to analyze differing employment engagement trends with QuestionPro Workforce
5. Surveys motivate decision makers to make bold changes
In 2018, we saw how Nike implemented sweeping changes to their HR practices and fired over 15 executives in the process from the results of an anonymous survey. Every single day, we work with customers who are empowered to make huge changes after excitingly reviewing the responses collected. Now, they have facts and data to validate and determine what their target audience would like to have solved. Surveys allow you to share results that explain why they are faced with the problem they are presently dealing with. After investing the time and energy into survey results that point to short and long-term solutions to implement, it's one of the best tools that can get organization buy-in to make major changes to solve major pain points.
Tools that empower bold solution to problems from QuestionPro:
Sharable real-time online dashboard reports

API integration tools, including Zapier, CRM tools, etc.

Culture analytics scores to empower culture changes to attract and retain amazing employees with QuestionPro Workforce

Customized CX dashboard reports. Includes regions, roles, products sold, NPS, sentiment analysis, and more.