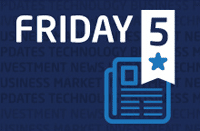 Every week, we gleefully scour the web for interesting articles about market research, marketing, and small business trends and bring you five that we thought you might like to read, too.
This week, our selection covers wearable and implantable tech, more on the mobile survey trend, and more.
Nine real technologies that will soon be inside you (Yahoo! News Australia)
Back in March 2014, we conducted a survey about wearable technology. The results showed that a majority of respondents were using technology in some way to help meet their nutrition and fitness goals. Wearables are becoming popular now, but implantables are the next big thing, according to this article. Check out the article, then take the original survey!
When it comes to mobile respondent experience and data quality, survey design matters (Quirk's)
This is becoming an oft-heard refrain: more respondents are taking surveys on mobile devices. This particular research report indicates mobile phone survey respondents increased from 5 to 11% and tablet respondents increased from 4 to 10% in just 15 months. The primary key finding: surveys that are designed specifically for a good mobile experience make a big difference in how long respondents take to complete the survey, their satisfaction with being able to take the survey, and the validity of the answers provided.
You're never too old to start a successful business (Smallbiztrends.com)
This is a must-read. Annie Pilon shares an infographic from group Funders and Founders that shows various successful individuals who were "late bloomers." The take-away message: it's never too late to learn something new or to start a new, successful business.
7 current design trends every marketer should know (HubSpot Blog)
Are you considering a website redesign? Or maybe you're just curious about current design trends? Learn about 7 of them here, including information on the benefits of each.
An #MRX Hallowe'en Parade (Greenbook)
We couldn't let October 31 pass by without at least one article related to Hallowe'en! Read Tom Ewing's list of market research house of horrors, including my favorite, Dracula, the "long, overly rational questionnaires that similarly drained all life from a topic."