Here at QuestionPro, we value every single review given by customers on external platforms. It gives us an honest understanding of where we stand in the marketplace and helps to drive the innovation process when planning the roadmap of our future. What people say about us to the world matters and impacts every part of our business. We are dedicated to listening and learning of ways we can optimize the user experience so that we can achieve our goal as being the best solution for surveys and insights.
Of all of the business solution review platforms, G2 Crowd is among the most popular and trusted sites people use to research and compare software solutions. Information shared on the site includes a mix of reviews, social media posts, and well as data from other online resources. Every quarter, G2 Crowd publishes an extensive report that highlights the best solutions in various categories based on testimonials and user insights.
We are honored to be named "High Performer" and "Leader" in G2 Crowd's Winter 2020 survey category, maintaining our position as a leading survey and insights platform.
As a top performer, we average a 4.3 out of 5 stars and shine brightest on ease of use, quality of support, and ease of set up.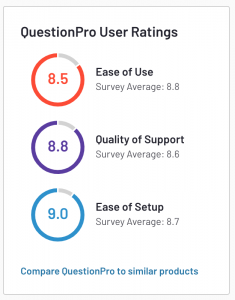 Recent G2 reviews of QuestionPro have described our platform easy to learn with extensive tools at a great value. Our offline survey mobile app has been called the very best field project tool in the industry, and our support and customer success teams consistently exceed the needs of our customers. Henrik S. says "QuestionPro is a flexible solution for our needs. The account team, as well as support, are all very responsive, and genuinely seek to resolve any challenge and meet any requirement we put forth." And as Gil P. simply states, "It's the very best survey product available…Period!" 
As summarized by our customers, QuestionPro helps many organizations deliver actionable data-driven results at a great value. Our ability to serve our global customer base through actively listening of our customers and anticipating their needs makes us proud and honored to be recognized by G2 Crowd as the best in the industry.