A recent  2012 Global Marketing Effectiveness study by the Fournaise Marketing Group said what so many of us have experienced and known for a long time:  80% of CEOs don't trust marketing – unless it's focused on ROI.
80% of CEOs admit they do not really trust and are not very impressed by the work done by Marketers – while in comparison, 90% of the same CEOs do trust and value the opinion and work of CFOs and CIOs. 
The primary reason they give for their perception is:
Marketers are too disconnected from the financial realities of companies.  One way to overcome this perception is to focus on what actually generates new revenues and make sure that you are looking for ways to enhance that, while minimizing activities and programs that do little to bring in new business.
Consider doing a quick transactional survey with no more than three questions — and be sure to include the Net Promoter Score in your survey.  For example: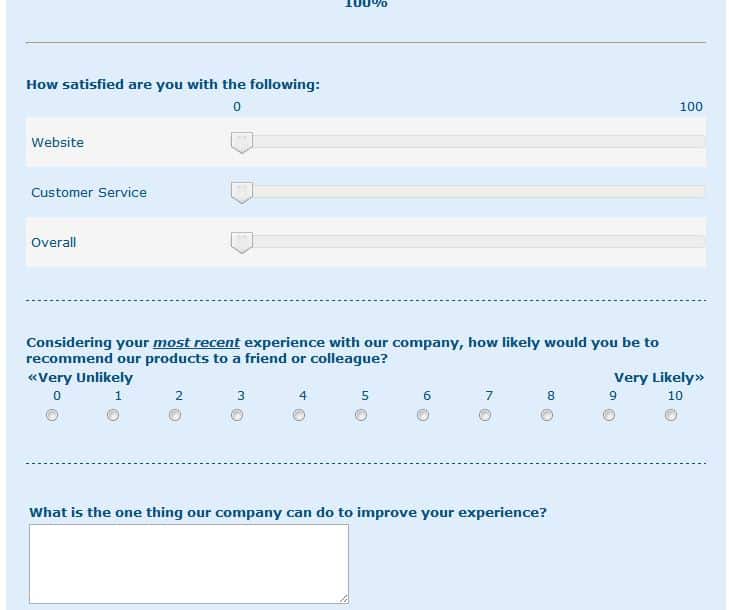 This short but powerful survey will not only get you connected with what matters MOST to your customers, but it will focus you and your organization specifically on those items which most influence your customers' decisions on who they choose to do business with.
Another often forgotten customer research tool is the Importance/Satisfaction focused question.  This is probably my most favorite question type because it delivers several ROI focused results that you can use to set yourself apart from the competition as well as increase ROI:
It allows you to uncover what is MOST important to your customers when they are buying what you are selling.
If you also ask your customers to reveal other alternatives (or competing offers or companies) you will be able to measure and benchmark how YOUR offer compares to competing offers and companies.To do this – use the looping feature in QuestionPro.  First create a multiple choice question that asks what other alternatives they purchase from.  Then have them run through the Importance/Satisfaction questions for that offer or company.In this chart — the attributes that are most important to customers are along the horizontal axis and the Satisfaction Ratings for each competitor are the different colored bars.  "What's important to customers" is the line that runs across the top.
You can use this data to eliminate the areas of your marketing that focus on things that your customers don't care about — that reduced cost and increases profitability.
These are just a few ways that you can use your online survey tool from QuestionPro to keep your marketing focused on profitability.