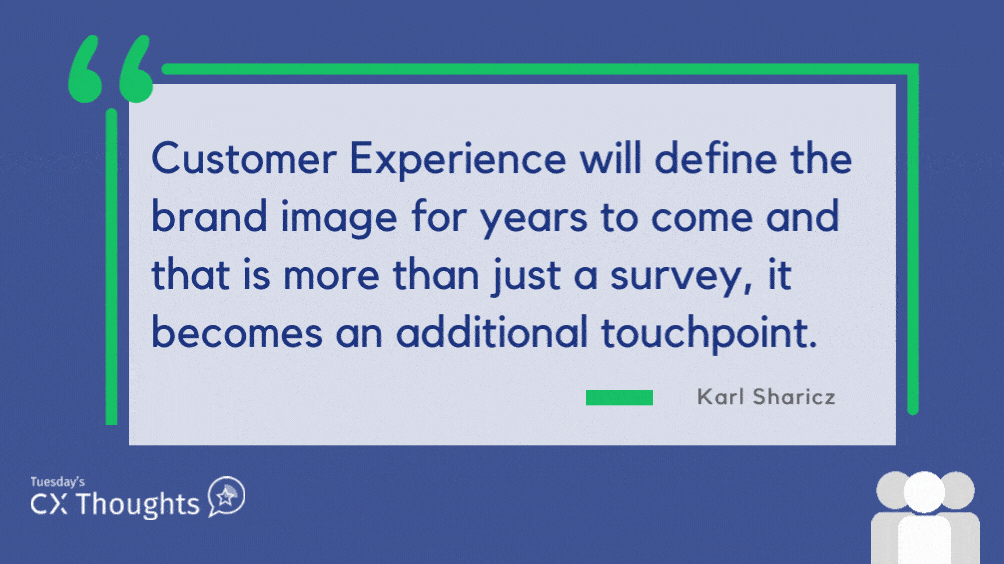 Customer Experience (CX) otherwise known by its many other acronyms, many of them containing the letter X, is the result of customers interacting with a business through all their touchpoints and channels of interaction and throughout the entire business relationship cycle. 
Everything related to a business that affects customers' perceptions and feelings about it will determine their overall assessment of those experiences and whether they will continue to do more business or move on to a competitor. CX essentially represents the customer's overall and "big picture" assessment of a business.
Atlanta-based North Highland, a global management consulting firm, conducted a study in 2019 among 700 senior business leaders within US and UK companies with more than $1 billion in annual revenues and found that Customer experience (CX) was identified as the top strategic priority for driving growth in 2020. 
Furthermore, although 87% of leaders tagged CX as the top growth engine, only one in three said they felt prepared to address the crucial area.
When you fail to think about the train
Being prepared for CX appears therefore to be the primary hurdle to overcome. I recently saw a sign posted near a railroad crossing that read "SEE TRACKS – THINK TRAIN" and it struck me that those business leaders clearly saw tracks but failed to think about the train. 
Kindra Cooper, a digital writer, and editor for CCW Digital, also reported in 2019 that while there's plenty of desire amongst organizations to provide consistently out-of-this-world customer experiences, the reality is that most are ill-equipped to follow through. In fact, only 6 percent have achieved top-level CX "maturity," while 79 percent remain in the bottom stages.
My story in the CX field
My personal involvement with CX began in 2004 with a large national manufacturer where I was appointed as manager of collecting voice-of-the-customer and bringing customer insights to each of the internal operating entities responsible for their part in delivering the best possible customer experiences to ensure business continuity and to help drive revenue growth.
My starting point was to absorb whatever I could from reading books on the topic, accessing any relevant webcasts, attending conferences, and, in 2011, joining the recently founded Customer Experience Professionals Association (CXPA). It thus took me ten solid years of practical experience and engagement to get to the point where I was ready to claim my status as a CX Professional but the learning never ends because the business climate is constantly evolving.
I left the corporate world in 2014 and formed my own CX consulting business, HorizonCX, with a clear and concise goal of helping both individuals and organizations get the management of CX right from the very start by learning the fundamental and practical elements of CX. Rather than learn CX the laborious and lengthy way that I did over that 10-year period, my aim was to accelerate that process for those, especially at the lower levels of the CX maturity scale, and give them a head-start. 
In 2020, HorizonCX formed and solidified a business relationship with QuestionPro by offering the CX-PRO™ Customer Experience (CX) Foundations and Certification Training Course through them. The CX-PRO certification is based on the core principles of Customer Experience research that have made the largest companies in the world successful as products and services have become more commoditized. 
Customer Experience will define the brand image for years to come and that is more than just a survey, it becomes an additional touchpoint. You can learn more about how you can help accelerate your organization's CX strategy. Every QuestionPro CX enterprise client can get an employee CX-PRO certified through QuestionPro Certifications to be the difference-maker in their company.
Mastering the basics
The CX-PRO course focuses on fundamentals all within the context of a CX strategy that is in alignment with the overall business strategy. There are tools of the trade within CX such as the software and technology that enable research and the collection of VOC and there's the knowledge and skills behind the use of that technology that makes the critical difference. The analogy I like to use comes from learning music. Several years ago, I wanted to learn to drum and it all began with my buying a snare drum and a pair of drumsticks—the tools. But I needed to develop the rudiments so I took lessons. 
All great drummers work on developing fundamental skills first. Mastering the basics is what makes them great—those things that establish the essential foundation for playing rhythms. And that applies equally to the discipline of CX. Mastering the basics of CX leads to expertise and great outcomes. And, like drumming, the more you practice CX fundamentals the better you will become.
As you will learn within the CX-PRO training course, it all begins with an assessment—an assessment of the maturity of your organization to determine where your organization falls along the five incremental phases of CX maturity.
The HorizonCX – QuestionPro Customer Experience Maturity Model
High

Average to High

Average

Low to Average

Low
HorizonCX and QuestionPro CX offer this as a complimentary CX maturity Assessment. Your individual response to the 20 CX maturity assessment questions will help you determine where you see your organization falling along the CX maturity curve. In aggregate, all responses will collectively indicate where organizations of varying sizes and within various industries fall along the CX maturity curve. 
You will receive a detailed description of the final CX maturity score for your organization based on your responses.