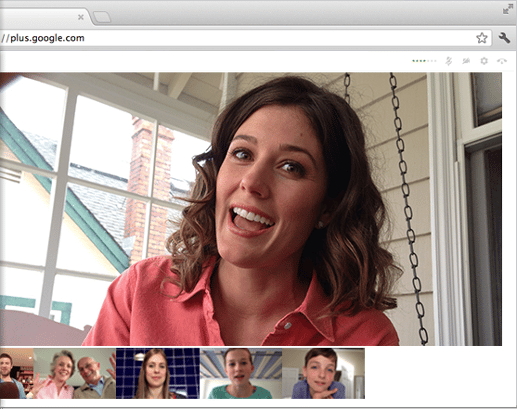 All of my marketing life, I've dreamed of doing focus groups more often.  But those corporate style focus groups were always over the budget and out of reach.  I've always wondered how much more successful some of my campaigns or product launches would have been had I been able to interact with out target customers face-to-face.
Google Hangouts as an Online Focus Group Tool
Have you ever considered using Google Hangouts as an online focus group tool?  I'm going to assume that you hadn't.  So here is my quick guide to running an online focus group on Google Hangouts.
Start with Google Hangouts on Air:  You're going to need to have a Google+ profile in order to run a Google Hangout on Air.
Schedule your Hangout on Air — you'll want to make it "private or unlisted" here is how


Start an unlisted Hangout On Air

Go to Hangouts On Air
Click Start a Hangout On Air.
Fill in the name and description for your broadcast.
Choose to start Now or Later.
In the "Audience" box, delete Public.
Then type the names of the people or circles you want to invite to the Hangout On Air or click Add more people to browse from the list of names.
Click Share. This will automatically share the link with only the people you chose to invite to the event.

Once you create an unlisted Hangout On Air, you can't change the event's sharing setting to public later and vice versa. But you can share the Hangout On Air with more people by clicking Invite more from the event page or directly sharing the event's or video's URL.

You can also get a transcript from your hangout: To get a transcript from your hangout, all you need to do is go to your unlisted You Tube video of your hangout and click on the transcript icon.
How to start using Hangouts as your focus group tool
Now that I've shown you how to mechanically use Hangouts as your online focus group tool, I'm going to show you how to put this strategy into place for your market research needs.
Recruiting participants using circles
To use Hangouts as a focus group tool, you will want to start working on creating your circles and following the audience that you intend to invite to your online focus group.  Be sure to start months in advance because there is a limit as to how many people you can add to your circles and any extreme high-volume additions of people to circles will "jinx" your profile and limit how many people you can easily invite to participate in your hangouts.
Create an Hangout Event and Invite your Participants
Your next step is to create an event for your Hangout.  You'll want to schedule it at a future date and time and then you can invite your circles and/or specific individuals.  Like most events only about 20% of the people who say they will attend your live Hangout will actually show up.  If it's a private Hangout, you will want to make sure that you have solid candidates who will be your "guests".
How to start the Hangout on Air
About 30 minutes before your Hangout on Air, you can click over to your event page and click on "start" to enter the hangout space. That's called the "greenroom".  It's a great idea to get into the room early and to start adding your guests to the room.

The facilitator of the session will be the facilitator of the hangout on air.  The clients (who would normally be in the room behind the two-way mirror) can be invited to the Hangout without being part of the 9 person panel.
When you are ready to start the hangout, simply click on "start broadcast" and the hangout will go live and will start being recorded.
From this point on, you are in standard focus group facilitator mode, and can run the Hangout like you would any other session.
Once the Hangout is complete, you can stop the broadcast and the recording will stop.  When the session recording stops, everyone will still be on the panel.  No one will drop off of the hangout until they close the application or they hang up.
Why consider Hangouts as an online focus group option
 It's FREE.  Sorry, but I just have to list this first.  I've spoken with people who have used far more expensive tools with similar features.
It's easy to use and doesn't require a download:  Since the platform is on Google, there is no need to download anything.  All you need is an internet connection.
It has a broad geographic reach to a diverse audience.  343 million people use Google+.  Granted, it's not the 1.2 billion that Facebook has, but it's still substantial.
9+1 people panel:  Google Hangouts allows a total of 10 people in the panel.  So that is the facilitator plus 9 panel participants.  That's practically a full size focus group
If you've been thinking about doing focus groups, but putting the whole thing off because of cost – don't.  Of course, nothing can come close to the read deal, but Google Hangouts on Air can give you 80% of the focus group value for almost no cost at all.