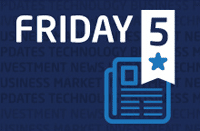 From Ikea's success to Radioshack's demise, this week, there were some fascinating gems regarding marketing and market research. Check out this week's #FridayFive round-up!

How Ikea took over the world – Fortune
Ikea. It's iconic. And it's everywhere. My personal love of this article stems from the fact that Ikea uses both traditional surveys AND in-person studies to complement the survey research, understanding that surveys alone can paint a skewed picture of reality, while acknowledging their importance in gaining needed information about a market they are about to enter.
Non-Traditional Paid Respondents More Tech-Savvy than Panelists- Research Access
While the fact that non-traditional paid respondents, meaning anyone recruited to take a survey who is NOT a traditional panelist, are more tech-savvy (after all, the non-traditional paid respondents are being recruited outside of the typical email to a panel group), the implications on how they would respond to questions about product use and brand shopping behavior indicates a need to understand bias that can be introduced based on the audience responding to your survey.
Path to Purchase Starts and Ends on Smartphones – UK Millennials
I will admit, when I read this, it was the first time I'd heard the term "Mcommerce" (mobile commerce). However, this is another great know-your-audience piece about how various groups are using technology. There has been some buzz in the market research blogs about whether or not needing to focus on making surveys mobile-friendly is critical, but the fact remains: more and more is being done entirely on smartphones.
In-store Mobile Usage: Much Ado About Nothing Again – Greenbook Blog
You know how I said there was some buzz about the focus on going digital? This would be one of those articles. However, there is a major caveat that I'd like to point out: there are some generalizations about mobile being made based on a study about mobile device usage in grocery stores and mass merchandisers, using studies conducted in 2012 and 2013. I'm curious if the same types of information about lower mobile usage generally for shopping has been done for other retail markets. If you're interested in a synopsis of the study being cited, the synopsis can be found on the Marketing Science Institute list of reports from 2014.
How Radio Shack lost sight of its ideal customer – MarketingExperiments Blog
And we close with part 1 of 3 of a series related to Radio Shack's history – from success to filing for bankruptcy. This first piece focuses on how sticking to a well-defined value proposition can drive everything a company does, and how diluting it can make a company suffer. Part 2 of this in-depth case study centered around use of a value proposition was recently posted, as well.