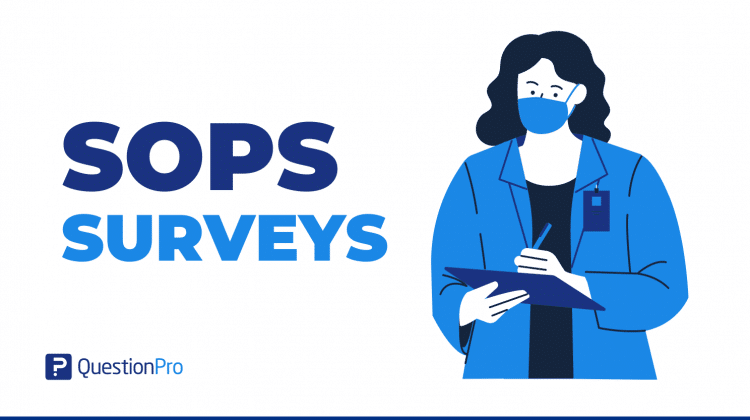 If you're in the healthcare industry, then you've likely heard of SOPS Surveys. SOPS stands for "Surveys on Patient Safety Culture," which was developed by the Agency for Healthcare Research and Quality (AHRQ) in the United States. SOPS surveys are a valuable tool for assessing and improving patient safety culture within healthcare organizations.
SOPS surveys provide an excellent opportunity for healthcare providers and staff to express their thoughts, recognize their strengths, and highlight areas for development. These surveys provide businesses with a wide range of valuable insights that they can use to improve their patient safety processes, enhance seamless communication and cooperation, and develop an excellence culture.
Organizations may unlock a world of possibilities and take their patient care to the next level by leveraging the power of SOPS surveys.
In this blog post, we'll talk about SOPS surveys, their impact on patient satisfaction, and best practices in the healthcare industry.
What are SOPS Surveys?
SOPS surveys have been specifically designed to evaluate the safety culture commonly found in various healthcare environments such as hospitals, medical offices, nursing homes, and pharmacies.
The primary objective is to collect valuable insights from healthcare providers and staff regarding their views on patient safety practices, communication, teamwork, and organizational culture within their institutions.
SOPS surveys are a valuable tool for assessing patient safety culture. These surveys typically comprise a range of questions that delve into various dimensions of patient safety culture, including teamwork, leadership, communication, staffing, and non-punitive response to errors.
By exploring these critical areas, healthcare organizations can comprehensively understand their patient safety culture and identify areas for improvement. By offering anonymous responses, organizations gain valuable insights that can help identify strengths and improvement areas. This, in return, can enhance patient safety and lead to better outcomes.
The impact of SOPS Surveys on patient satisfaction
SOPS surveys can indirectly impact patient satisfaction by improving the overall safety culture in healthcare organizations. Patient satisfaction is affected by many things, but here are some ways in which SOPS surveys can affect patient happiness:
SOPS surveys frequently include questions about communication between healthcare providers and patients. Organizations can proactively improve communication processes by recognizing communication gaps or difficulties. Improved communication between healthcare providers and patients enhances understanding, trust, and patient satisfaction.
Enhanced Patient-Centered Care
Patient-centered care concepts are part of the patient safety culture emphasized in SOPS surveys. Organizations are more likely to meet patient wants, preferences, and expectations if they prioritize patient-centered care based on insights from these surveys. This patient-centered emphasis may positively impact patient satisfaction.
Addressing Concerns and Feedback
Healthcare professionals and workers have a forum through SOPS surveys to voice their concerns and offer feedback on patient safety procedures. The responsiveness and dedication to the well-being of patients are demonstrated when organizations act to address the issues raised in the surveys. Increased patient satisfaction may result from this proactive strategy.
Culture of Continuous Improvement
SOPS surveys are part of continuously evaluating and improving patient safety culture. Organizations that actively participate in the survey process and then follow up with action plans represent a dedication to continuous development. This dedication can lead to better strategies, fewer mistakes, and, eventually, more patient satisfaction.
Staff Engagement and Satisfaction
SOPS surveys also influence staff engagement and satisfaction. Engaged and satisfied healthcare providers and personnel are more likely to give great care and have positive patient experiences. Patient satisfaction can be improved by satisfied staff members who feel empowered to share their concerns and contribute to enhancing patient safety culture.
Best Practices for Creating SOPS Surveys
Several important elements must be considered to ensure SOPS surveys collect all relevant data. The design process must be performed with care and attention to detail. Here are some best practices for creating SOPS surveys:
Define Objectives: Clarify survey objectives. Determine the patient safety culture components you want to analyze and the information you wish to obtain. This will influence survey questions.
Choose a Survey Tool: Choose a survey tool that is appropriate for your organization's needs and circumstances.
Consider Question Types: Use a variety of questions, rating scales, and response options to let participants evaluate statements.
Use Simple and Clear Language: Write survey questions in basic, clear language that everyone understands.
Cover Key Areas of Patient Safety Culture: Include questions on teamwork, communication, leadership support, non-punitive mistake reaction, staffing, and organizational learning.
Balance Positive and Negative Responses: Include both positive and negative responses in the survey to get a balanced assessment of patient safety culture.
Ensure Logical Flow: Arrange survey questions logically. Group relevant questions together and proceed logically. Start with general inquiries before delving into patient safety culture.
Consider Length and Time Commitment: Keep the survey short to avoid survey fatigue and boost response rates. Let participants know the projected survey completion time.
Provide Clear Instructions: Include clear instructions on how to complete the survey. Provide any relevant guidelines to ensure participants understand the questions and response alternatives.
Maintain Confidentiality: Ensure participants' responses are anonymous and confidential. Make it clear that the survey aims to get honest feedback and that individual comments will not be traced.
You can create a well-structured and efficient SOPS survey that offers insightful data on the patient safety culture inside your healthcare company by using the practices listed above. Review and update the survey regularly to reflect changes in organizational demands and improved methods for evaluating patient safety cultures.
Question Types of SOPS Surveys
When creating SOPS surveys, selecting appropriate question types representing the survey's objectives and successfully capturing the desired information is critical. Consider including various survey questions to get quantitative and qualitative data. This helps create a more complete picture of the organization's patient safety culture.
Here are some question categories for SOPS surveys:
01. Dichotomous Question
A dichotomous question has two possible responses. In a survey, dichotomous questions typically ask for Yes/No, True/False, Fair/Unfair, or Agree/Disagree answers. They can help gather specific information or confirm that participants agree with a proposal.
Example: "In the last six months, have you observed a coworker engaged in behavior that might compromise patient safety?"
02. Multiple-Choice Questions
Multiple-choice questions offer respondents a selection of predefined response possibilities from which to choose. This question type is ideal for gathering detailed information or asking participants to select the most appropriate option from a list.
Example: "Which of the following best represents the availability of resources and support to deliver safe care in your unit?"
Insufficient
Somewhat insufficient
Adequate
More than adequate
03. Likert Scale Questions
In SOPS surveys, Likert scale questions are frequently utilized. Participants are given a statement and asked to rate their agreement or disagreement on a scale ranging from "strongly disagree" to "strongly agree." Likert scale questions provide a quantitative measure of participants' perceptions and facilitate response analysis and comparison.
Example: "Please rate your agreement with the following statement: 'There is good coordination among staff members in this organization.'"
Strongly Disagree
Disagree
Neither Agree nor Disagree
Agree
Strongly Agree
04. Ranking or Questions
Ranking questions demand participants to prioritize or rate a group of objects based on their evaluated significance or value. This question type can be used to analyze priorities or preferences within the patient safety culture.
Example: "Please rank the following choices to improve patient safety in your department, with 1 being the most important and 5 being less important."
Effective communication
Leadership support
Teamwork and collaboration
Non-punitive response to errors
Staffing levels
05. Open-Ended Questions
Open-ended questions allow participants to make qualitative, descriptive comments in their own words. These questions can provide significant insights, uncover unique information, or capture participant opinions that closed-ended questions may miss.
Conclusion
SOPS surveys are essential for assessing and developing a patient safety culture in healthcare organizations. Organizations can gain valuable insights into various elements of patient safety culture, such as teamwork, communication, leadership support, and learning systems, by following best practices in survey design.
QuestionPro is a comprehensive survey software with various features to help with survey design, distribution, and analysis. It offers a user-friendly interface to create SOPS surveys, with the ability to customize question types, response options, and survey logic.
QuestionPro offers a unique opportunity to transform your organization's approach to patient safety. Don't let this chance slip away! Sign up today and take the journey toward positive change.