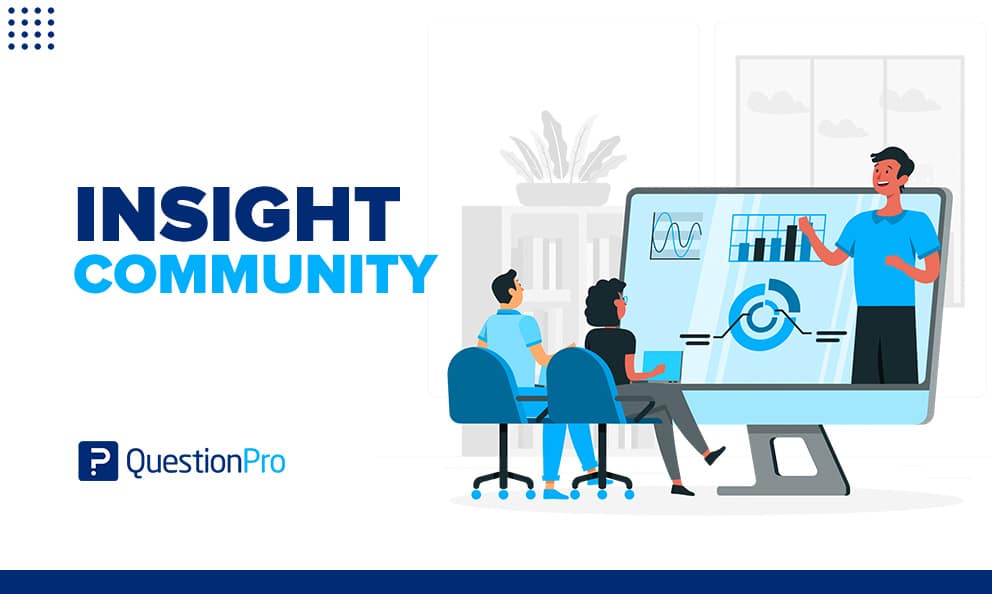 Implementing an insight community has recently become the most widely used research method. There is a change in how organizations analyze research data and stay on over these changes. It is necessary to be collecting information on an ongoing basis rather than just once.
Companies are beginning to realize the importance of leveraging the social behaviors of their customers. The natural tendency of people is to build relationships with others in formal and informal settings.
LEARN ABOUT: Audience Engagement Tools
A recent study indicated that 74% of organizations employ some Insight Community to gather actionable insights from their target audience.
Multiple platforms exist to serve as a vehicle for sharing ideas and thoughts as well as images and videos of high quality for building and strengthening relationships. One of them is the Online Insights Communities.
What is an insight community?
An insight community provides clients with a private online space where they can regularly discuss research-related topics, one of the many benefits is that it allows you to collect constructive and qualitative feedback from an evolving group of people.
An effective Insight Community will provide collaboration tools that naturally allow the community to grow over time. Forums, instant voting, consumer blogs and bulletin boards are some of the interactive elements that researchers will use to spark a conversation.
Today, the Insight Communities are positioning themselves as an effective tool for collecting information from segmented groups of participants, which serves as an indispensable resource for decision-making processes even in highly executive and strategic decisions.
Within Insight Communities, there can be two different types of interactions: unilateral and multilateral.
Unilateral Interactions: This type of interaction happens when the administrator or researcher, who is in charge of the Insight Community, carries out activities that concern direct answers to the members of the community. This usually happens in Online Panels through direct surveys but without interaction between the same members of the community.
Multilateral Interactions: When the people in the Insight Communities manage to complement information that they themselves generate, such as responding to the comment of another member of the community, it is said that a multilateral interaction is taking place.
The combination of these two types of interaction generates high-value insights as it allows information to be complemented and the conceptualization of the ideas presented to be deepened. Both quantitative and qualitative information can be generated.
Learn how to use QuestionPro Communities as the ultimate research tool you'll ever need
Importance/uses of insight community
In general, Insight Communities aim to create value through the exchange of communication between members by sharing suggestions, advice, or simply discussing a topic.
Insight Communities need a certain hierarchy and rules that allow healthy interaction between its members. Within this structure of each insight community, there must be roles that define the different activities carried out.
Hierarchical structures are heavily influenced by the size of the community, as there are communities with tens or even hundreds of members that self-regulate efficiently. However, for large volume communities, it is important to structure leaders, moderators, contributors, and passive participants (that is, members who only watch and do not participate).
Being able to create an Insight Community has great advantages for companies due to the amount of information they provide and the deepening of concepts.
Building a relationship with your clients through an Insight Community allows you to know the consumer profile of your client base. Knowing who is the person who consumes our products and/or services is essential to guide our Marketing and Sales efforts focused on the reality of the consumer.
Some of the essential elements of Insights Communities are:
Sense of Identity: Communities allow interaction between people who have similar characteristics. However, something significant to consider in an Insight Community is that members must have a sense of belonging to contribute, so they feel that the community is unique to them and part of it.
Sense of Belonging: Unlike the previous concept, people within the Insight Community must not only identify themselves as part of it, but also let others know that they are a member of this community. They are also, being able to refer positively to it with recommendations.
User loyalty: This concept happens when the community has satisfied the user with the interactions. If there is an emotional component within the community, the user will hardly stop belonging to it. Being loyal implies commitment, and this is only obtained when the value obtained by the user is high or very difficult to replace.
Insight Community Platforms
Let's talk about some insight communities platforms in the market. Here are the top 3 Insight Communities on the market:
QuestionPro Communities: The ultimate Insight Community

Platform, with diverse features, allows researchers and big brands to create their community and start recruiting members for it efficiently.
In addition to offering various tools to collect qualitative and quantitative data organically, QuestionPro Communities offers a controlled environment where you can provide redeemable points and recognition badges to the most active participants, turning this experience into something rewarding for the participants.
Forsta: is a research and design company that aims to help businesses run and build connected, user-friendly experiences. They offer help grasping data into pictures of your audience, so you can make better decisions about how to approach them.
Qualaroo: With Qualaroo you can segment your users based on pricing tiers, how long they've been a customer, trial or not, and more. This allows you to gather really specific types of feedback about your product and ask pointed questions for clear, actionable data.
Whether you're looking to make more informed decisions or want to know what customers think, QuestionPro Communities is the tool for you.
Our software can be used for all sorts of things:
How customers feel about your company's products or services

What they'd like to see changed about those products or services

Their recommendations for new products or services

Build customer relationships

How likely they are to recommend this product/service/company (and why)Different information

is generated in an Insight Community that helps companies and organizations have greater precision when making strategic decisions for their own benefit.
Between quantitative and qualitative research, powerful insights can be found that could be key to planning a business strategy that will bear great results for the organization.
The types of studies that can be conducted in Research Insight Communities include:
Advertising pre-test.

In general, many organizations invest large amounts of capital in different Marketing strategies, including Advertising. Business executives require results, so they want to be sure that the investment generates a Return on Investment (ROI) that allows it to be classified as profitable In general, many organizations invest large amounts of capital in different Marketing strategies, including Advertising.
In an Insight Community, it is possible to carry out evaluations before the launch of certain advertising material, with a representative sample of the segment.
Pilot

: Being able to present a pilot of the product to potential customers allows you to receive more precise feedback on the details to improve or to confirm that you like it. An Insight allows you to get this kind of perspective.

Development of new products and/or Services:

Many consumers have great ideas to develop product lines, based on their needs, that the companies from which they obtain their products and/or services have not envisioned. With an Insight Community, access to these new and fresh potential business ideas is very feasible and attainable. Having the consumer perspective on your side gives companies high business value.

Evaluation of the product portfolio:

Companies can get feedback from their customers about how their current products are performing in meeting their needs. As well as rethink the type of communication they are using.

Customer satisfaction regarding the service:

Many companies have great products, either in quality or in innovation. However, on several occasions, poor service at the point of sale or in the experience in general are usually the cause of the customer not making a re-purchase. With the experiences shared by members of the Insight Community, it is much easier to determine an organization's pain points, allowing precautionary measures to be taken to improve.
Insight communities in research
The use of Insight communities in research can only translate to better insights for your decision-making processes, thus achieving your business objectives. Let's go over some of the very perks of using Insight Communities in your research efforts:
Accurate information: Market Research helps us clear up uncertainty and see the panorama more clearly. The Insight Community helps get information from who matters to us: our target audience.
Useful data: Using an Insight Community with the various quantitative and qualitative tools, allows you to obtain in-depth and enriched information for investigations.
Segmentation: Obtaining the characteristics of the people in our Insight Community allows us to carry out studies based on a more precise segmentation.
For example, do a study of men between 18 and 25 years of age and from the northern region of Mexico. Having samples within the same community population will allow us to analyze specific behaviors in more detail.
Interaction with the brand: Having an Insight Community focused on a specific branding keeps users exposed to the brand, which can generate greater engagement.
Greater agility: By having access to a community of people predisposed to continuously participate in market research, you will be able to access relevant insights about your targets more quickly.
Greater efficiency: It will be very simple and convenient for you to launch new studies, which will encourage you to take more and more advantage of the Insight Community to investigate topics that, due to budget, were left out of your research plan.
Learn more about research communities and ignite the power of insights
Conclusion
Let's wrap this article up by discussing some of the best tips for managing your Insight Community.
Maintain a high level of participation: A healthy community shows a high response rate in activities, such as answering quick polls and interacting with other community members.
Segment the community by level of participation: We recommend dividing the groups between no participation, low, medium or high response rate. This will allow you to verify that members are active and what levels of participation they are at.
Check the response statistics in the surveys: Remember that the activities of your surveys can be monitored, such as the research topic, the days it was active and the duration. This way, you will have an idea about the participants' behavior.
Don't use the same survey for too long: This will simply cause participants to lose interest and stop responding.
Following these tips for running an Insight Community will give your brand the control to monitor and enforce a better experience among existing and potential customers. This information can be the starting point for making business decisions.
The relevance and profitability of your brand depend on the effectiveness with which you put into practice the feedback of the groups of interest, in this case, the customers.
Do you want to get to know your customers better?, Do you want to find out about their needs, preferences, and pain points? Insight Communities are the perfect tool for this kind of research.
A good insight community is one of the keys to successful marketing. For this reason, we offer our clients a free assessment of their project, so that we can provide them with the best solution for their research needs.
We can help you create an Insight Community, request a free demo now and we'll get back to you with a solution customized just for your project.