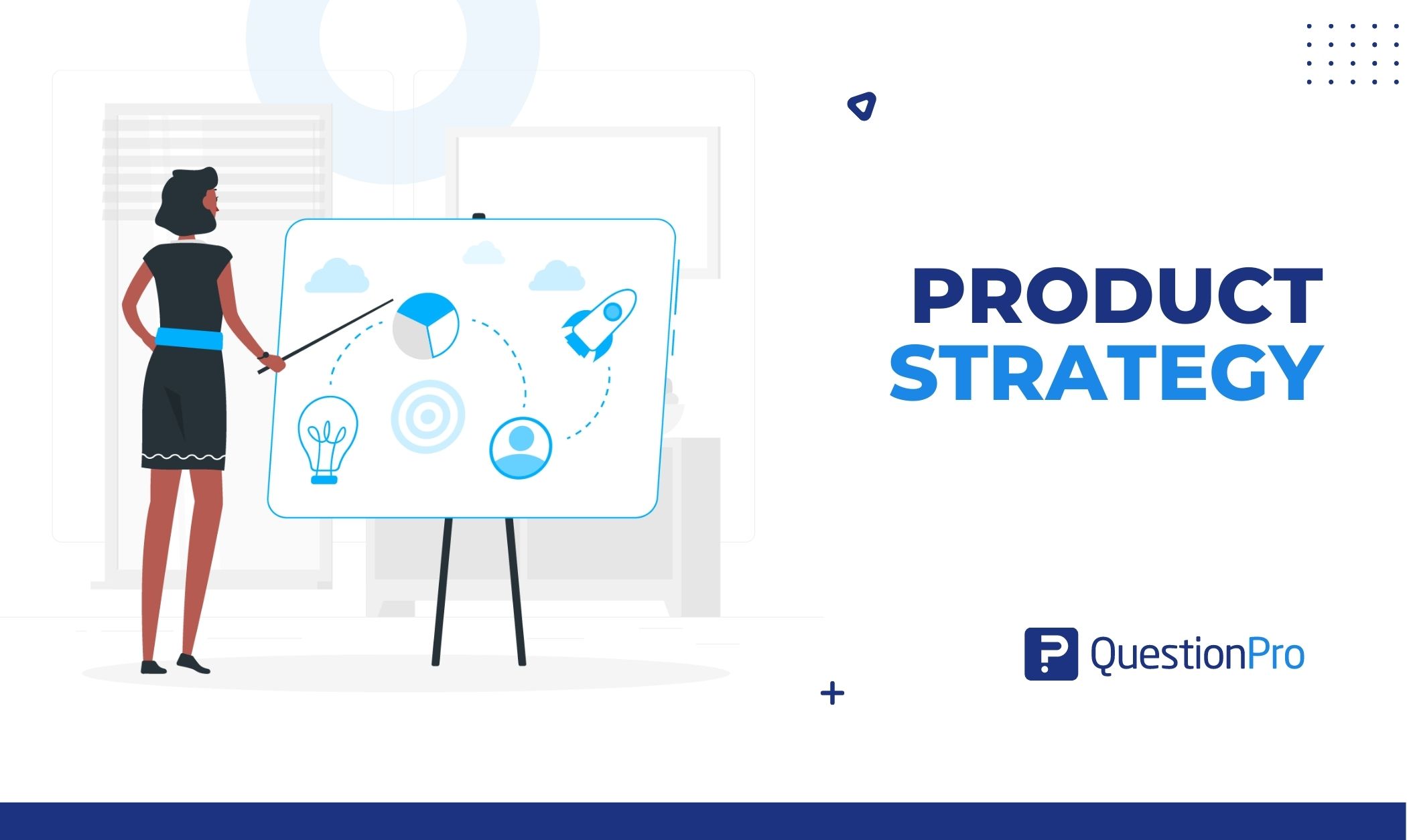 Making a product without a plan is similar to traveling without a map. Although there's a chance you'll succeed, that likelihood could be a lot higher. 
Because you have a solid roadmap to follow, you are not forced to rely exclusively on your intuition while developing products, which is why product strategy is so important.
During product development, your product strategy prioritizes the most important factors of your product, such as features and schedules. It helps your company's overall product management efforts stay concentrated on customer needs, market positioning, and your long-term business objectives.
The team's ability to provide a product launch with every feature in line with your original concept is made possible by this emphasis on value. Learn more about product strategy in this blog and how to build one for your company.
Content Index
What is product strategy?
Importance of building a product strategy
How to build a product strategy?
Conclusion
What is product strategy?
Product strategy connects product ideation to development planning. You probably wouldn't be able to go from "dreamed up" to "drawn out on paper" immediately. You may come up with the following huge product.
A product strategy explains why the product was made and how to make it successful. It helps businesses answer three crucial product questions:
Who are the clients?
How would the product solve these issues?
How will the product help the company?
The product's wide planning will depend on these answers. These big-picture tactics comprise the product's features, a broad product development plan, and the company's measurable goals.
Product strategy and product roadmap sometimes need to be clarified. However, a roadmap is a timeline of action items that detail how a product will be created. Successful roadmaps start with a product strategy that sets vision, deadlines, and targets.
Product strategy guides development when the product roadmap changes. Feedback, testing, and unanticipated difficulties will change product development deadlines, tasks, and goals. A company with a strategy can handle changes and find solutions that fit the product's vision better.
Importance of Building a Product Strategy
The importance of a product strategy to the organization can be attributed to some factors. Following are a few reasons:
Clarifies things for your employees:
Developers will comprehend their product. The team will perform better and meet goals with a clear product strategy. It's easy to lose sight of the goal, but a well-communicated strategy gives you a backup.
Helps in setting priorities for the product roadmap:
Prioritize tasks by creating a compelling roadmap and high-level action plan. The team may save time and resources on practical activities and metrics with a roadmap and strategy. A roadmap helps achieve goals.
Helps your team make better tactical decisions:
Markets change, and eternal causes can impact our goals. Thus, adapting strategies improves the team's tactical decision-making. Adjusting the plan or timelines is easy with a clear goal.
How to build a product strategy?
Developing a product strategy takes time and effort. Influence the course of product design entails closely examining your idea or product and introducing adjustments to your design process at the appropriate times.
There is no one-size-fits-all manual on developing a specific approach because every product is unique, but suggestions can be made to assist you.
Consequently, the following advice will help you and your team develop a successful product strategy.
Define your market niche
Startups often fail due to product-market mismatch. Too many companies hope to figure out their strategy after releasing a product. Thus, they distribute and evaluate a product. It rarely works.
Thousands of launched products still need customers because they were designed without a thorough understanding of the target demographic. These items solved non-existent problems.
Users should always come first since humans use products.
Therefore, you must grasp your target audience's wants and demands before generating anything. If you want to give customers value, this is vital.
User research in the product design and development lifecycle can assist you in understanding user needs.
Field studies and user interviews help you understand your customer's needs.
Create personas using this data to reflect different user categories.
Well-researched personas represent users.
Product teams construct descriptive personas. Predictive personas assist product teams in identifying customers' likes, dislikes, and buying motivations.
Identifying and understanding the problem
Product strategy requires problem identification. Define and evaluate the problem (i.e., Your audience wants a solution and will pay for it). Customers should benefit from your product.
Knowing your company motivators and assessing your product decisions based on consumer value is crucial (potential conversion).
Determine your product's vision
Any journey requires a destination. Product strategy determines its path. Product teams often need clarification on product vision and product strategy.
"Vision inspires product creation; strategy instructs."
Your vision—the company's long-term goal—is why you're making a product. Your product vision becomes your company's north star. It promotes product-wide thinking.
Product visions should consider these factors:
Long-term goals. Creating a vision is easy with an inspiring long-term aim (i.e., what the product will look like in the next 5 years).
Motivating your team with a vision requires emotional buy-in.
Define your product vision and get your staff on board. Video is easier to communicate, so many organizations employ it for this.
Define existing and desired states.
Many businesses fall into one of two categories:
current situation (the current state of your product experience)
And the target condition (the ideal user experience you're aiming for).
Vision aids in the definition of a destination (target condition). (Image pullquote)
Plan your journey to the destination by focusing on what you need to create. Setting a target can help you refocus your product efforts.
Your team needs to analyze, measure, and quantify the challenges before beginning work on the project.
List the guidelines for product design
Making decisions about products involves risk. No matter how hard you try, your choices will always be uncertain.
However, you may simplify decision-making by including a straightforward but useful tool—product design principles. The definition of good design in your company will be made easier with the aid of product design principles.
Clearly defined principles are real and reflect the product design philosophy.
For instance, "direction over choice" is one of Medium's design tenets. The Medium design team used this idea when making the editor for the platform. They deliberately exchanged directions and advice for user interface (layout, type, and color choices).
Maintain communication with other teams
It makes no difference how well the product is conceived if no one knows it exists. The company's main teams should work together to define the product strategy, including those responsible for design, development, marketing, and sales.
The formulation of the product strategy needs to be the outcome of cross-functional collaboration amongst the core teams inside the organization, such as the design team, the development team, the marketing team, and the sales team.
"When you ask everyone in your company what you're building and why you should expect to get the same answer from each and every one of them."
Don't lose focus
Before you solve a problem, you must grasp the result. Businesses often need to pay more attention to this.
They realize the issue, but adding more features would make their product more appealing to the target demographic. Therefore, they keep adding unneeded, poorly developed features, compromising the user experience (this effect is known as feature creep in the software industry).
Apple's initial iPhone debuted in 2007 and offered few but well-implemented features.
Today's essential feature, copy, and paste, was absent from the iPhone's original edition. It wasn't included because of the copy-and-paste capability needed to meet the team's minimum experience.
Instead of delivering an unreliable function, they released the iPhone without it and added it later.
"Product teams should recognize that product strategy implies more than simply offering many features."
Establish success metrics
Tracking your progress is just as important as setting direction—metrics track team progress and performance.
If you want practical assistance choosing metrics, start with Objectives and Key Results or OKRs. Key results are how you'll measure your business's aims in this strategy.
What numbers are affected?
Goals should be motivating and important achievements measurable.
Use and execute the strategy
You must have the information required to create an ideal product plan on Day 1. You need to know everything to create an optimal product plan on Day 1.
Starting with clear goals and a willingness to experiment will help you build a strategy.
"Consider your product strategy a living, breathing creature that adapts to the needs of your business."
Start simple and progress. After launching, collect product strategy input quickly to apply it. The product strategy needs a complete overhaul. Refine measurements and strategies as you learn.
Conclusion
Product strategy influences the user experience.
Your primary method should be product strategy when defending decisions about the customer experience. Any project involving the design of a product should start with a description of the experience you want your customers to have while using your good or service.
Delivering the appropriate products and user experience to the appropriate audience is the overarching purpose of product strategy.
The QuestionPro Research Suite is a collection of instruments for carrying out market research and getting client feedback. It can create and distribute polls, quizzes, and surveys, along with data analysis and reporting capabilities.
The QuestionPro Research Suite can assist with numerous parts of developing a product strategy by providing tools for market research and receiving customer input.
Resolve your research difficulties today!