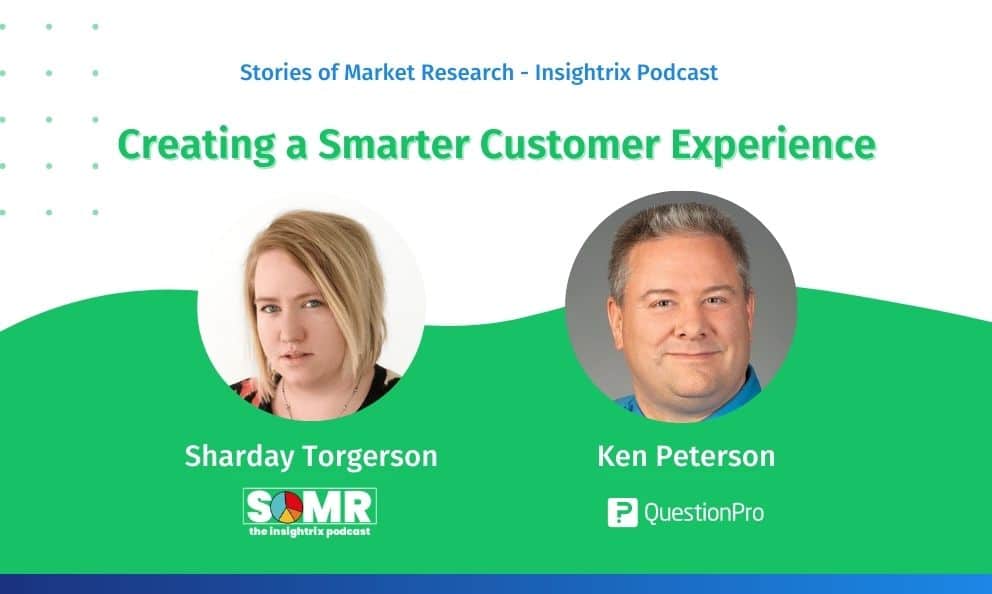 How do businesses create WOW moments? Can organizations with multi-channel touchpoints ensure consistency with their CX programs? Listen to the new Insightrix Podcast episode to find out!
"When it comes to customer experience – there has to be a human element to it." Ken Peterson, President of CX at QuestionPro
QuestionPro CX president, Ken Peterson, was recently invited as a guest speaker for the Stories of Market Research: The Insightrix Podcast, to chat about Customer Experience with Sharday Torgerson, the Creative and Digital Strategist at Insightrix.
In the Insightrix Podcast, learn about what are, not only better, but smarter customer experience strategies on Spotify, Apple, Google, or Stitcher.
If you don't have time to listen for whatever reason, no worries! Keep reading for a sneak peek.
Sharday:  In your story about The Tale of Two Garbage Cans, you mention that a good customer experience can emerge from anywhere. Care to share the story and why these customer journey touchpoints are so important to a successful CX?
Ken: People forget often times that even in our own world of CX, everything is a touchpoint. Every, conversation every transaction… CX is everywhere. The tale of the two garbage cans is really about doing the right thing.
The story is about a retired couple who put out the wrong garbage can for the refuse service to collect. However, upon driving up, the garbage man noticed the error and simply moved the garbage can in and brought the correct one out.
He then proceeded to use the automated arm to empty it into the truck. It may seem simple but it made a difference in one person's day and highlighted something that we call service. It's just one of those moments when you look and think "he just did the right thing", and that's what really CX should be all about. Not because the CX score goes up, not because I get fewer tickets on the Close Loop feedback system. It's just about treating the customers the right way.
Sharday: I think so often we forget that front-facing staff is a huge part of the success of a CX program or customer experience at all. Even in his position, he may assume he's just doing his job but at the end of the day that's your front-facing staff really delivering the extra mile for your business and that does translate through.
Even as a business we pay attention to what our front-face has to say because they might have certain pain points that you can work into those touchpoints to make a better experience for everyone.
Ken: Even that employee who has no incentive to take that extra minute, he still did what was right. It's really good for every brand – whether government, or a retail store, or a technology software provider company -, doing what ¡s right, even when no one is looking.
Sharday:  There seems to be with businesses a need to create a more centralized opportunity to democratize their data to provide a much more consistent customer experience. What are some applications that businesses can use to understand their CX ecosystem better?
Ken: Touchpoints are not linear anymore, they're everywhere. There's a lot to think about the CX ecosystem. I always say it's great to get feedback on every touchpoint, but is impossible! It's really important to find those places where matter, like having an intercept survey on your website so if they want to give feedback, they can.
Just don't give them a pop-up. If I'm in the middle of reading, and something pops up whether is an Ad for subscribing, that is the first indicator that I will go to the X and close that pop up immediately. But having a feedback tab on the side is quite useful.
If someone can't find a section in particular on your webpage and inquires through the feedback tab you can, not only direct them to the right place at that precise moment but also find out that "Hey, we have a lot of people running into the same issue and we can adjust the experience accordingly". You just need to be able to get that feedback from your customers.
You can bring in a lot of data to those applications and enhance them and say "Let's shorten those surveys, let's make them a quick feedback instead of 50 questions". That is one of our goals with the NPS+ question, where we can factor in the root cause issue and get those driver's analyses going.
It is one question, one more click, and an open-end and you're getting a lot more feedback than you ever got with a standardized NPS question. We've got root cause and churn risk variables associated with it that provide more insights to make better-thought business strategic decisions.
It's all about becoming strategic instead of tactical and approaching things and looking at the company overall and remembering that every experience, even an anonymous market research survey, still puts something in the brain of a customer.
_____________________________
If you've made this far and enjoyed reading this bit on how to create a smarter customer experience with Ken and Sharday in the Insightrix Podcast, make sure to listen to the rest of the conversation through Spotify, Apple, Google, or Stitcher.
They will further discuss how insights professionals are using market research to enhance the humanization behind CX reporting and why the human element continues to play an important role in CX research.
QuestionPro offers some of the most advanced customer experience tools available. Gain valuable insights into your customers' thoughts and feelings using QuestionPro CX software today.