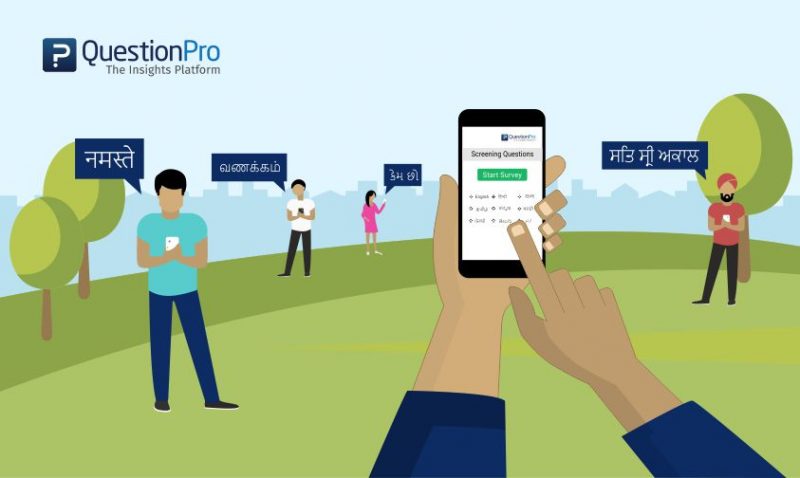 We are a country of a diverse population. There are 22 officially recognised languages in India among a huge pool of 1652 native languages still in use. With rural India being rapidly digitised, about 88% of India's' rural population which does business and communicate in the local language are now using the internet. A joint survey between KPMG India and Google shows that there are 234 million Indian language internet users. In recent years, communicating with customers in their native language has gained significance in Customer Engagement. If you are worried about the disappointing survey responses, may be it is time to consider reaching out to your clients in their Lingua Franca. QuestionPro's robust survey software is exactly what you need to design your survey in all major Indian languages and connect with your customers emotionally.
Make a Survey fit for aam junta, the mango people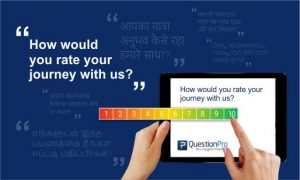 QuestionPro's survey software has more than 250 survey templates you can customise or you can design a new survey suitable to your needs. You can make easy yet beautiful surveys in multiple languages in parallel. Our 24-hour global support team ensures that you receive all the assistance you need despite the time zone you are in via chat, phone call or email. You can receive all the feedback you need from your responders through short surveys that use sophisticated yet easy to use Skip logic, Branching questions, Show/Hide logic, Text piping, looping and randomization logic types.
Connect with Offline desis
A study conducted by Cisco shows there are 150 million Indians using smartphones by 2016. Online or Offline, you can always reach your responders through multiple channels such as SMS, Email, Social media, Website embed, IVR and QR codes. You can personally interact with your clients and collect their feedback through QuestionPro's Survey software in app format. The 'Pulse' app, available in iOS and Android versions can collect survey responses offline and the results would be analysed as soon as your device connects to the internet.
It's their choice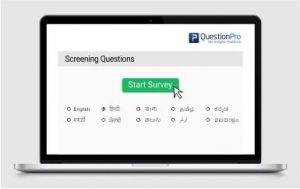 The screening question that appears at the very beginning when your responders click on the survey link asks them to choose the language they would like to take the survey in. This choice ensures that a particular language option is not imposed on your responders. They will always have the ability to change the language by choosing from the available options.
Irrespective of the language of choice of your respondents, all the data flows into our survey software servers and will be analysed in real-time. The reports dashboard can be customized to suit your business goals. The visually intriguing presentation of the analysis reports makes it a smooth experience for any user to analyse the pain points of their business.
Even though we are 125 million English speaking Indians, the emotional attachment we have with our mother tongue is irreplaceable. Any global citizen whose second language is English would share the mutual feeling. As an organisation, Indian or global you can grow closer to a customer's heart just by speaking their language. By using QuestionPro's survey software capable of sending out and analysing reports in more than 110 languages, you are enabling your customers to express their opinion in the language they are most comfortable in.