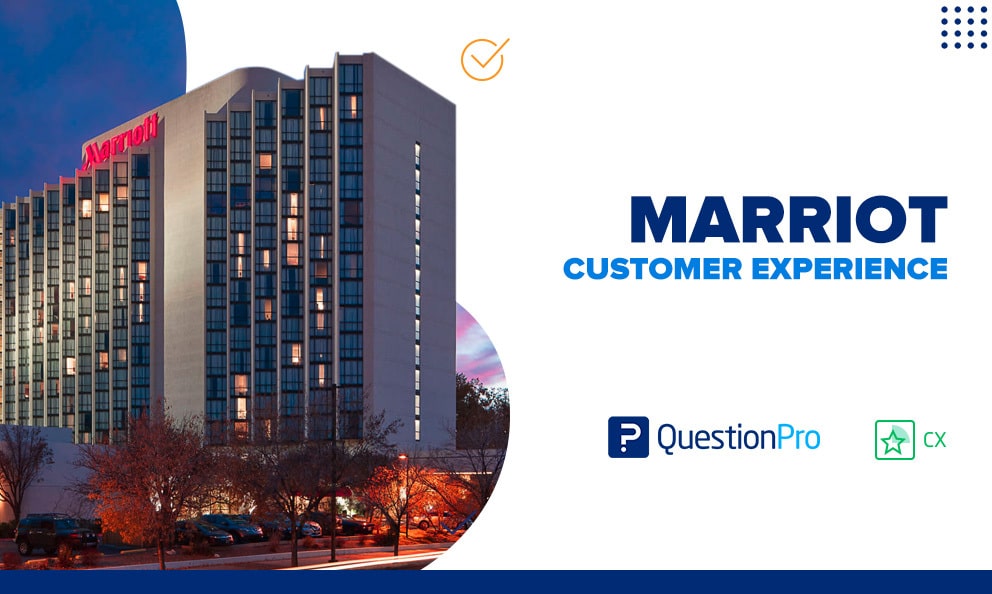 In the world of hospitality, customer experience es uno de los pilares sobre el cual las grandes marcas de hoteles rigen sus decisiones más cruciales. It's not just about providing a place to stay but crafting memorable experiences that keep guests coming back. The Marriott customer experience has mastered this art, setting the bar high for exceptional customer care in the hotel industry.
This article will delve into the core concepts and significance of Marriott's customer experience strategies, offering valuable insights that transcend industries. Marriott's commitment to prioritizing and nurturing customer relationships serves as a universal blueprint for achieving enduring success.
The Importance of Customer Experience for Marriott Hotels
Customer experience is more than just a warm welcome and a friendly smile; it's a holistic approach to ensuring customer satisfaction and loyalty. Marriott Hotels & Resorts se ha convertido en una de las marcas más grandes en la industria gracias a brindar una especial atención a este tipo de aspectos implementing a range of strategies and principles that make guests feel valued and cherished.
Through meticulous customer experience strategies, Marriott cultivates loyalty, fosters a sterling industry reputation, drives revenue, and mitigates potential costs. These lessons from Marriott's approach to customer care serve as a model for businesses across various sectors, underlining the importance of creating great customer relationships.
The Building Blocks of Exceptional Customer Experience
To deliver an exceptional customer experience, a multitude of factors and elements must seamlessly converge, with each aspect receiving meticulous attention. Marriott excels in several key areas:
Marriott Bonvoy
Marriott Bonvoy is a loyalty program offered by Marriott International, one of the world's largest hotel and hospitality companies. This program is designed to reward frequent travelers and loyal customers who choose to stay at Marriott's vast network of hotels and resorts worldwide.
Attention to the Small Details:
Intriguingly, small details often leave the most lasting impressions. Marriott understands this concept well. Just as Doubletree by Hilton welcomes guests with its signature chocolate chip cookies, Marriott Hotels & Resorts surprises guests with thoughtful gestures that create indelible memories. Whether it's a personalized note in the room or a unique local amenity, these small touches foster guest loyalty and generate positive word-of-mouth.
Personalized experiences:
Guests willingly entrust valuable insights about themselves, and they hold the expectation that these details are used to craft an enhanced experience. Whether it pertains to their pillow preferences or receiving tailored recommendations for local experiences upon arrival, they anticipate a personalized customer journey that anticipates their every need. Loyalty is nurtured through meticulous attention to detail and customization, solidifying the enduring relationship between the company and its esteemed guests.
Charting the Customer Journey:
A Customer Journey Map is an indispensable tool for visualizing all the customer touchpoints and stages guests go through while interacting with the Marriott brand. This comprehensive mapping encompasses everything from the initial discovery stage to post-stay engagement. It ensures that each interaction is a delightful touchpoint where guests can navigate their journey without stress, leaving them with a pleasant and memorable experience.
Example of a Customer Journey Map for Marriott Hotels & Resorts:
In this simulation of Marriott's customer journey map, you'll be able to clearly see some of the most common touchpoints and pitfalls at each stage. Additionally, it outlines the actions companies can take to seek customer satisfaction consistently.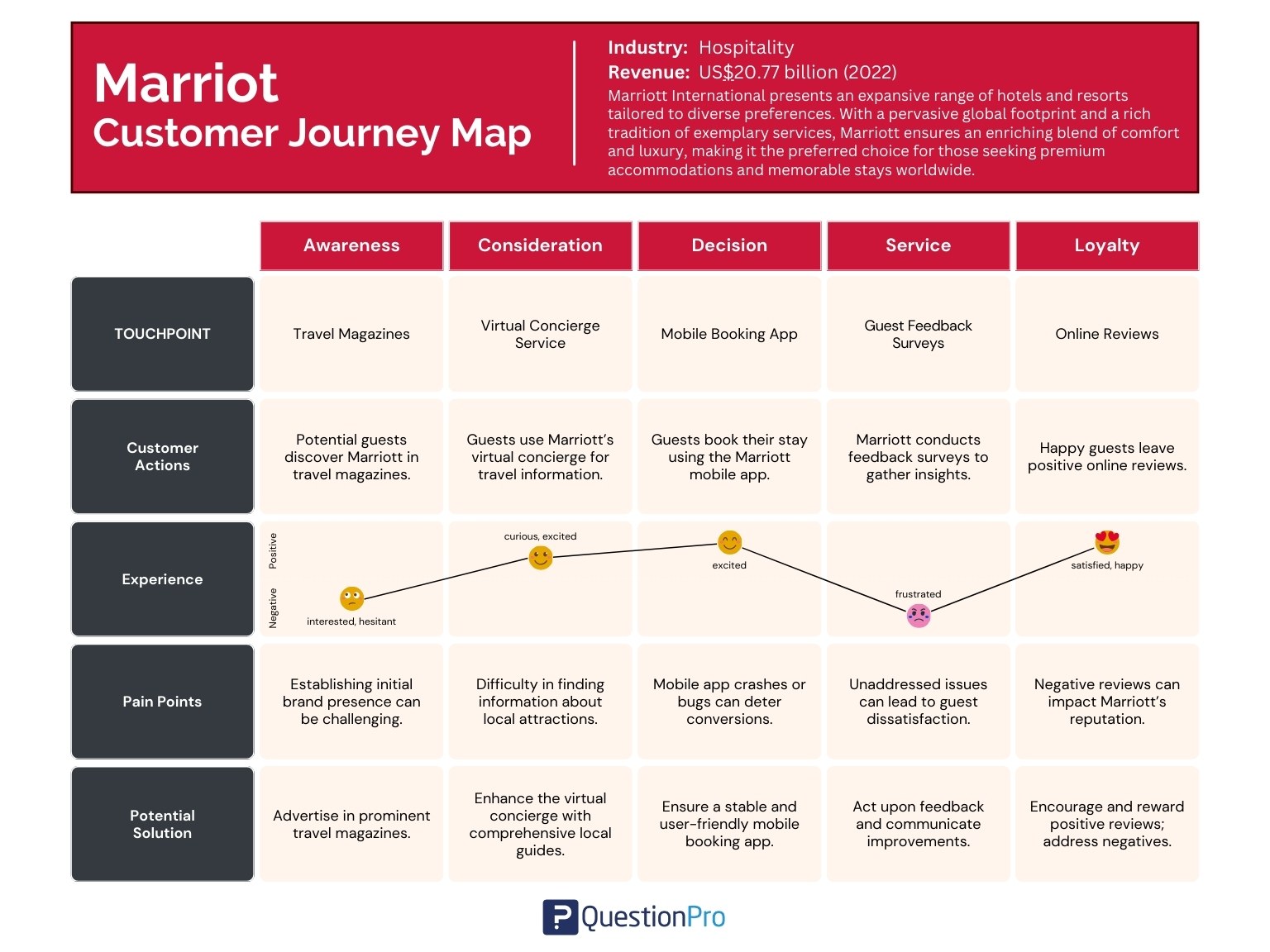 Stage 01: AWARENESS
| | | | |
| --- | --- | --- | --- |
| Touchpoint | Activity | Pain Point | Solution |
| Travel Magazines | Potential guests discover Marriott in travel magazines. | Establishing initial brand presence can be challenging. | Advertise in prominent travel magazines. |
| Social Media Advertising | Marriott runs targeted ads on social media platforms. | Competition for user attention on social media. | Create eye-catching and relevant social media ads. |
| Local Events Sponsorship | Marriott sponsors local events to enhance brand visibility. | Building awareness in specific markets can be challenging. | Actively participate in local events and sponsorships. |
Stage 02: CONSIDERATION
| | | | |
| --- | --- | --- | --- |
| Touchpoint | Activity | Pain Point | Solution |
| Interactive Website | Travelers visit the Marriott website for bookings. | Complex booking processes can be frustrating. | Ensure a user-friendly website with straightforward booking. |
| Virtual Concierge Service | Guests use Marriott's virtual concierge for travel information. | Difficulty in finding information about local attractions. | Enhance the virtual concierge with comprehensive local guides. |
| Customer Reviews | Prospective guests read Marriott reviews. | Negative reviews may deter potential guests. | Address negative feedback and highlight positive reviews. |
Stage 03: CONVERSION
| | | | |
| --- | --- | --- | --- |
| Touchpoint | Activity | Pain Point | Solution |
| Mobile Booking App | Guests book their stay using the Marriott mobile app. | Mobile app crashes or bugs can deter conversions. | Ensure a stable and user-friendly mobile booking app. |
| Personalized Email Offers | Marriott sends personalized offers via email. | Irrelevant offers can lead to disinterest. | Tailor offers based on guest preferences and history. |
| Reservation Confirmations | Guests receive booking confirmations and details via email. | Delayed or missing confirmations can cause anxiety. | Improve email delivery and notification systems. |
Stage 04: LOYALTY
| | | | |
| --- | --- | --- | --- |
| Touchpoint | Activity | Pain Point | Solution |
| Marriott Bonvoy Program | Guests join the Marriott Bonvoy loyalty program. | Unclear program benefits and rewards can deter participation. | Clearly communicate the advantages of the loyalty program. |
| Elite Member Benefits | Loyalty members enjoy exclusive benefits like room upgrades. | Lack of recognition for loyal guests can be a pain point. | Ensure consistent delivery of exclusive perks. |
| Guest Feedback Surveys | Marriott conducts feedback surveys to gather insights. | Unaddressed issues can lead to guest dissatisfaction. | Act upon feedback and communicate improvements. |
Stage 05: ADVOCACY
| | | | |
| --- | --- | --- | --- |
| Touchpoint | Activity | Pain Point | Solution |
| Social Media Advocacy | Satisfied guests share their Marriott experiences on social media. | Limited engagement and interaction can hinder advocacy. | Foster active and meaningful social media interactions. |
| Referral Program | Guests refer friends and family to Marriott. | Incentives for referrals may be lacking. | Reward guests for successful referrals and stays. |
| Online Reviews | Happy guests leave positive online reviews. | Negative reviews can impact Marriott's reputation. | Encourage and reward positive reviews; address negatives. |
Crafting Exceptional Experiences
If your business aspires to implement similar customer experience strategies and enjoy the benefits of delivering exceptional customer service, QuestionPro is here to help!
We have years of experience in the world of market research and data collection, and for several years, we have focused this experience on building real solutions for all industries that want to measure and manage the experience they offer to their customers through our robust customer experience management platform.
In QuestionPro cX, you will find ideal features and tools for any CX project or initiative, along with the assistance of experts and professionals ready to help ensure the success of your project. We invite you to contact us to learn how we can assist you in improving user satisfaction levels.