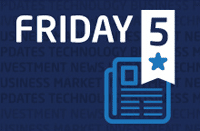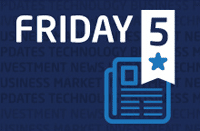 Technology changing our behaviors and life moving quickly both made a strong show this week in the marketing and market research news feeds, it seems. From how payment tech is increasing average tips to a call for moving from tactical research to research that really looks into the future, it's a riveting #FridayFive!

How The Face of Tipping is Changing Due to Technology — Are You Prepared? — SmallBizTrends
Did you know average tip values are rising thanks to the ease with which you can select a tip value with the new tech available? Consider broader implications on how tech is changing business and how we as customers are interacting with business, and you just might have your mind blown.
The Art of the Quick Read – Research Access
For market research providers, when was the last time you needed to field a last-minute research request? The reality is that they are more and more frequent, and we have the technologies available to fulfill those research requests, from mobile to online to panels. How are you shifting to meet this new demand for research being done yesterday for insights today?
On Technology and Human Nature and What It Means for Marketing Insights – GreenBook Blog
Marketing and market research tend to be very, very tactical in nature. But is that where we should remain? Is it time to leap into being able to provide advance insights into what's coming down the road and what's driving what's about to come down the road?
Boomers: Key Shoppers in the Refrigerated and Frozen Aisles – IRI CPG Blog
I have posted a lot about Millenials and GenX, but it's about time the Baby Boomers got some MR love, too! While this focuses on their grocery shopping habits, the big take-away is this: don't forget the Baby Boomers. Their purchasing power is still incredibly high, and ignoring them would be folly.
Introducing A New Incident Response Metric: Mean Time Before CEO Apologizes (MTBCA) – Rick Holland's Forrester Blog
This week's FridayFive ends with a tongue-in-cheek post about online security and new metrics that could be used to track the ability to detect and respond to security threats.