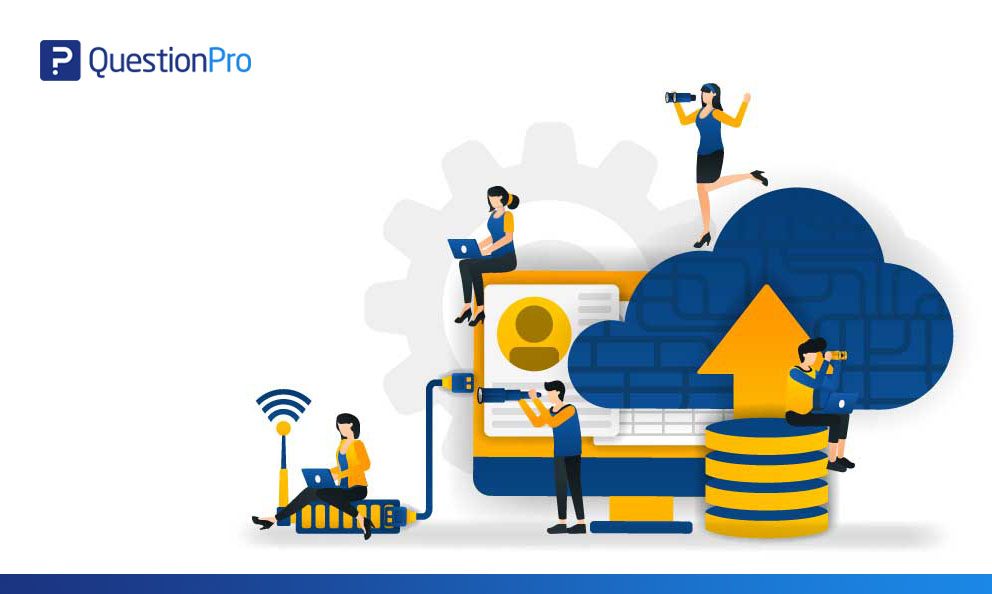 Researchers from all fields, including marketing, healthcare, communications, education, government, non-profit organizations, human resources, etc. use online surveys for data collection. An advanced survey maker is designed to support simple, as well as the complex needs of the researchers. Keeping up with the trend, many online survey platforms introduced the file upload question in the past. It helped open up a whole new world of potential uses. 
For example: If respondents want to upload a photo, they can simply upload the photos by clicking the button or by dragging and dropping the selected photos in question. Respondents can use smartphones, tablets, laptop or desktop to upload the files. 
About upload file question in the survey 
Whether it is a customer feedback survey, employee engagement survey, or campus evaluation survey, the file upload question helped in increasing responsiveness and collecting quality data through a survey. As we say "every good change comes with limitations", file upload question had its limitations too. Yet, not every online survey software thought of overcoming these limitations.  
We at QuestionPro are committed to evolving with your needs. Hence, we came up with a major update in the file upload question. The scalable feature apart from its robust platform and core set of features will now allow respondents to upload or attach multiple files in response to the single question. 
What did we change? 
Previously, the file upload question used to have limited functionality. In response to the file upload question, survey respondents were able to attach or upload only one file, that too of specific capacity.
Support for multiple file types:

Now respondents can upload multiple files from their desktops or mobile devices. In addition to that, the surveyor can easily download all the uploaded images via an analytics panel. It does not matter whether respondents want to attach a video, audio, image or a text file, the revamped file upload question is designed to support all the possible file types. 

Set upload limit:

Now, users can set a specific upload limit depending on their needs. By setting the upload limit you restrict respondents to upload the files up to a certain limit. 

Select the number of files:

Now users can decide how many files they want to receive in response to a question. Accordingly, they can set the file upload limit by going to the question settings. Users can set any number from '1' to '10' as per the motive of their survey. 
How to add a multiple file upload questions in your surveys
Login to your QuestionPro Account.

 

Go to

Surveys

>>

+ New Survey

Add other questions that are relevant to your survey. 

Add a '

page break

'.

Add "

Attach/Upload File

" question available under

Advanced Question

types.

Set the upload limit – it should be in accordance with the allowed license limit. 

Go to "

Settings

" of the questions and select the number of files you want to allow for this question. 

You do have the option under settings to set the answer type to Web/Online, Photo, Video, or Audio/Voice – choose anyone. 

You can add as many files as you want unless their size does not exceed the upload limit set by you.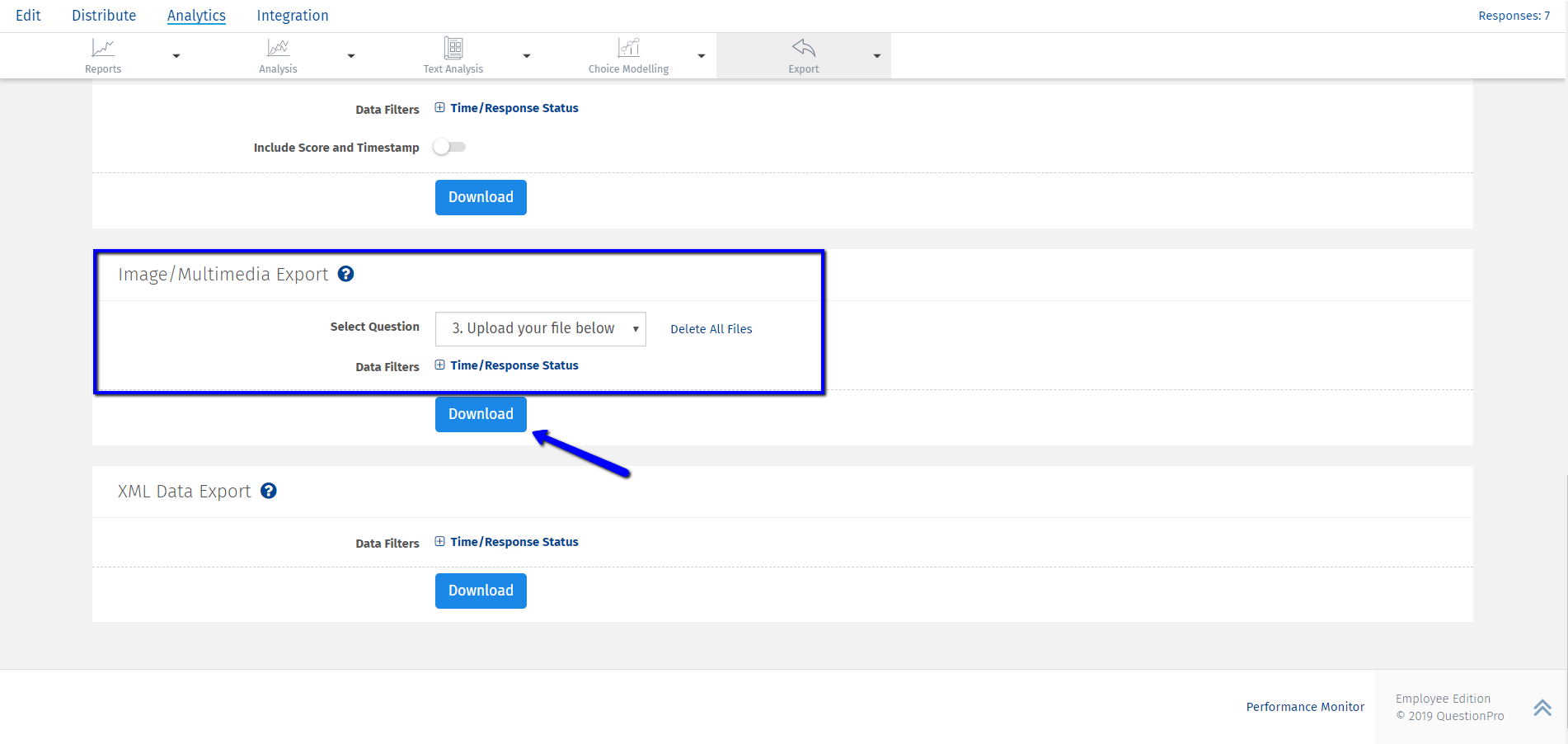 How to check and retrieve files uploaded by respondents
Go to

Survey

>>

Analytics

>>

Dashboard

>>

Responses

Toggle on the

Display Question

switch.

Scroll horizontally until you find Attach/Upload question.

All the links to the files attached by respondents are visible under the

Response ID

tab. 

You can click on any link to check the images. 

Clicking the image link will open the image in a new tab.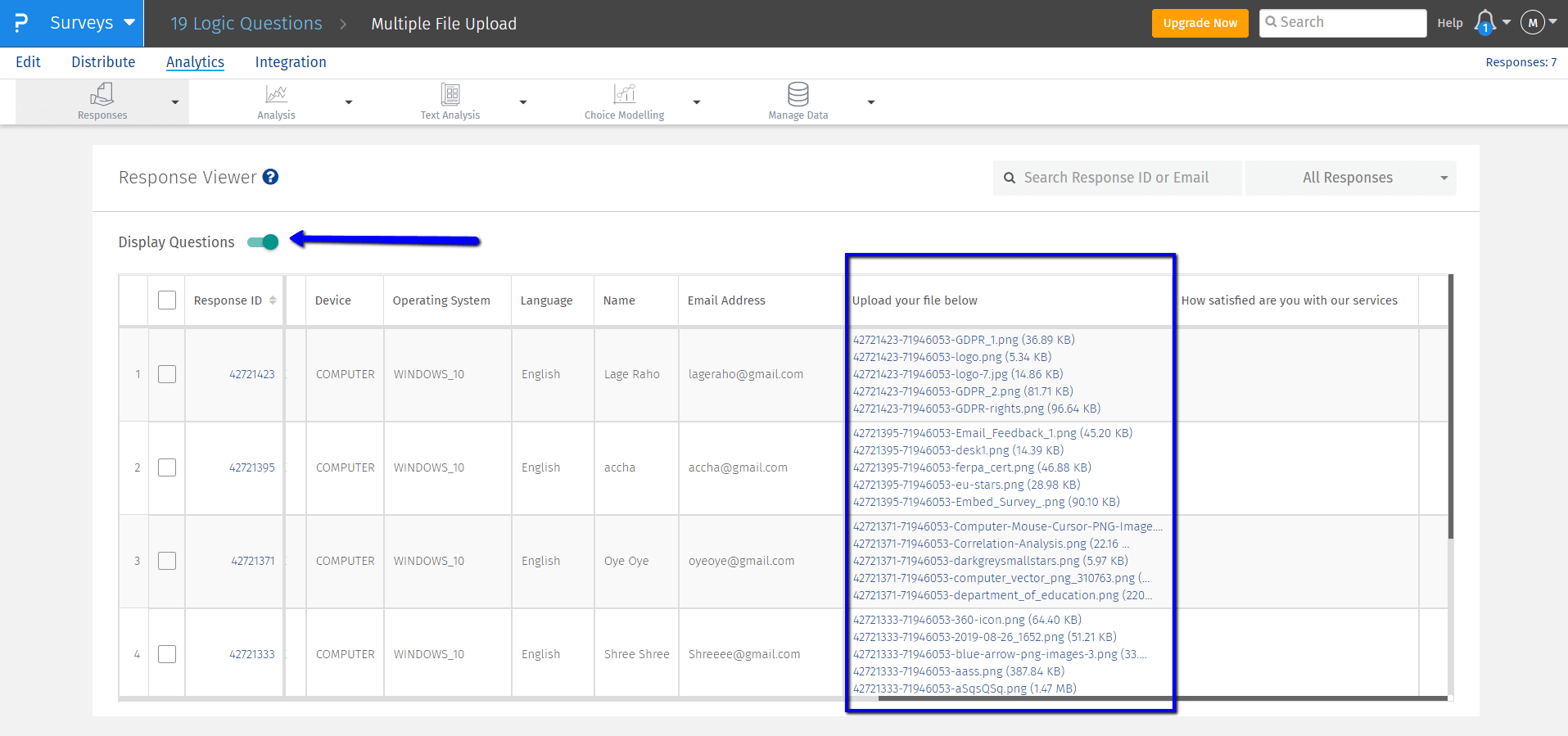 Go to

Survey

>>

Analytics

>>

Manage Data

>>

Export

 

Scroll down until you find

Image/Multimedia Export

Select the

file upload question

from the drop-down menu 

Click

Download

button

All the images uploaded by respondents will be downloaded in a zip file. 
File types supported by the multiple file upload question
Respondents can upload or attach images, logos, documents or other multimedia files through file upload questions. 

Currently, the question supports all .gif, .jpg, .png, .bmp files. 

In addition to that, users can upload all the document file types like .txt, .doc, .docx, .xls, .xlsx, .ppt, .pptx, and .pdf. 
Please Note: By default, the individual single file size limit is set to 5MB. Respondents cannot attach a file that exceeds the default limit. 
There are plenty of ways and enumerate motives to use the file upload question type. If you have any questions related to multiple file upload, you can contact our Support team for the quick walkthrough. 
Let's start using the multiple file upload questions and explore the new way of creating a powerful business survey. Let's start collecting data that makes sense. Let's convert questions into confident business decisions.