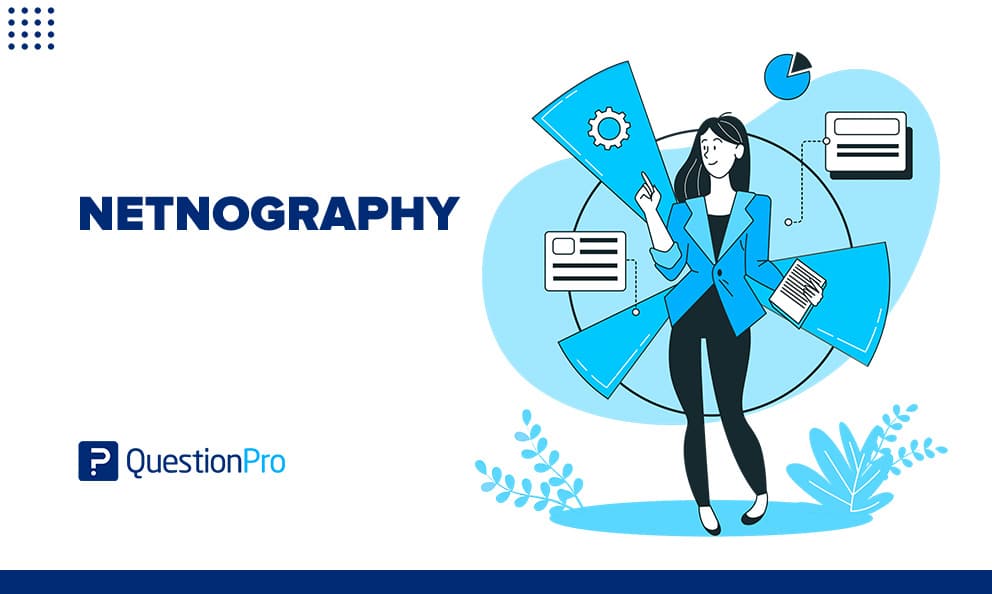 Netnography is a cutting-edge research method approach that is incredibly beneficial. Researchers now have an easy way to collect data as more people search the web to share their experiences, ideas, and opinions.
Whether you're looking at consumer holiday tastes, teen fashion, or postpartum depression, there's a plethora of information available online. Netnography presents us with a plethora of intriguing study prospects, ranging from internet forums to media platforms to blogs.
LEARN ABOUT: Behavioral Research
But what is netnography, exactly? How do you go about doing netnography as a research method or research process? Find out more.
LEARN ABOUT: Research Process Steps
What is Netnography?
Netnography is a form of research that may be used to investigate online consumer culture. Netnography aims to deconstruct the cultural norms and expressions that impact consumption decisions within the groups under study by watching organically occurring debates and events on the internet.
Likes, reposts, influencers, and keyword occurrences aren't the only things netnography considers when it comes to social media platforms. Social media groups, according to netnography researchers, are manifestations of cultural phenomena, making them perfect sites to gain a rich and contextualized understanding of customers. The researcher acts as a fly on the wall, observing but without intervening, to make sense of such cultural data analysis.
Individuals' free social media conduct on the Internet is collected and analyzed via this. The point is that this information is gathered when customers are acting naturally, as distinct from survey research, in which customers may react to avoid humiliation or to satisfy the surveyor.
According to Martech Zone, netnography is "a branch of digital ethnography
(the scientific study of individual peoples' and cultures' customs) that studies individuals' free online activity [using] online marketing research tools to deliver relevant insights."
Simply said, social research listening examines individuals' chats in their natural environment to figure out what drives them crazy. The "free behavior" part is crucial since the debate is less likely to be influenced by outside forces, as is the case with surveys or focus groups.
To be honest, pinning your business hopes on general demographic data trends is a bit of a waste of time. For a precise perspective, it digs deep into customer psychology. For marketers, this is possible with social media analytics systems that can sift for psychographic data analysis. Personality characteristics, beliefs, views, attitudes, hobbies, ethnographic research, and lifestyle features are all factors of netnography to consider.
After all, apart from your brand or sector, this shows what people are interested in. Why not just go for them? 
The Importance of Netnography in Research?
The term "netnography" is simply a term that refers to the study of the internet. According to the definition of ethnography (Henning, 2011), it is "the study and methodical record of human cultures. Also, a descriptive work resulting from such an investigation."
Let's explore the importance of netnography as a research method through the following key points:
Access to rich and authentic data:

Netnography allows researchers to access a wealth of online data collection from online communities and social media platforms. It provides an opportunity to study naturalistic behaviors and interactions of individuals in their online community environments. This access to accurate and real-time data collection can provide unique insights that might be challenging to obtain through traditional research methods.
LEARN ABOUT: Best Data Collection Tools
Study of diverse online communities:

The internet is home to many online communities, each with distinct cultures, norms, and practices. Netnography enables researchers to explore and understand these diverse communities, ranging from niche interest groups to global communities. This method allows for studying various online research cultures, subcultures, and virtual communities that might not be easily accessible through other means.

Exploration of emerging trends and phenomena:

Online communities often serve as early adopters and trendsetters for new ideas, products, and behaviors. Netnography provides a valuable tool for researchers to identify and study emerging trends, social movements, or cultural shifts in their early stages. By capturing and analyzing online conversations and interactions, researchers can gain insights into evolving phenomena and their potential impact on society.

Real-time and cost-effective research:

Compared to the traditional field of a research method, netnography is relatively quick and cost-effective. Researchers can engage in real-time data collection and analysis, allowing them to stay updated with the latest developments and trends. It eliminates the need for physical presence in specific locations and reduces logistical constraints, making it an efficient and accessible method for conducting research.

Deep understanding of user experiences and behaviors:

Netnography allows researchers to immerse themselves in the online communities they are studying, gaining a deep understanding of the experiences, attitudes, and behaviors of online community members. Researchers can uncover underlying motivations, preferences, and social dynamics that shape online communities by analyzing the digital footprints left behind in posts, comments, and interactions.

Complementing qualitative research methods:

Netnography can be used with qualitative research methods, such as surveys, online social interactions, interviews, or observations, to provide a more comprehensive understanding of a particular phenomenon or research question. It can be a valuable source of qualitative research data collection that complements quantitative findings or helps generate new hypotheses for further investigation.
Netnography plays a crucial role in contemporary research, enabling researchers to explore, understand, and analyze data of online conversations and cultures. It offers unique insights into human behavior, social interactions, and emerging trends, making it a valuable tool for researchers across various disciplines.
Important Steps to Netnography
Netnography is a research method used to study online communities and cultures. It involves analyzing data collected from online data sources, such as online forums, social media, and blogs, to gain insights into individuals' behaviors, attitudes, and interactions within those communities. The process of applying a Netnography in a market study is carried out in four main phaseshe process of applying a Netnography in a market study is carried out in four main phases: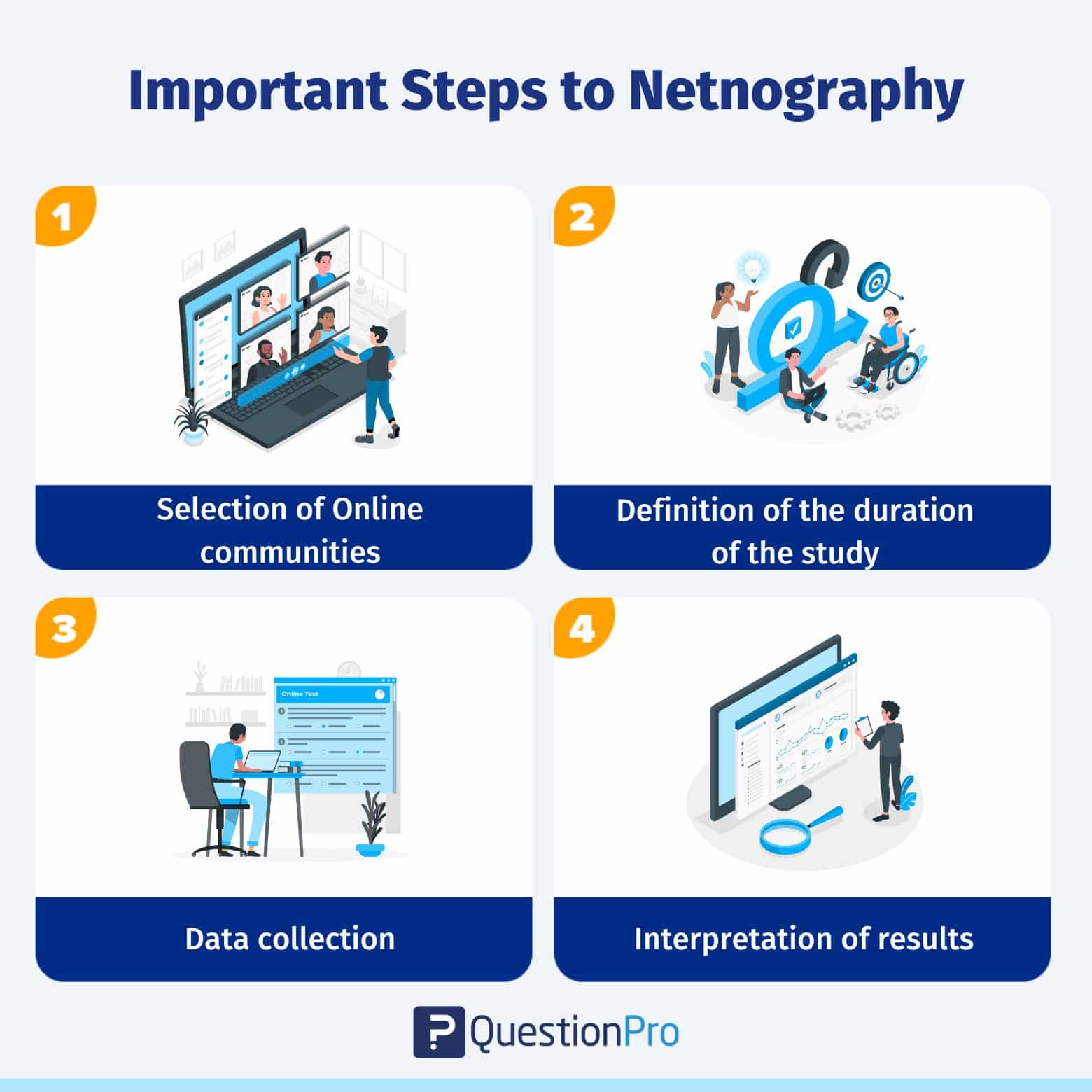 1. Selection of Online communities
The first step consists of choosing the virtual communities that will be the object of the analysis. Choose the online communities or platforms relevant to your research objectives. All the groups and online forums related to the topic of interest can be considered. Later, a filter is made to keep the communities more representative of the total population. Consider factors such as the size, activity level, and relevance of the communities to your topic.
2. Definition of the duration of the study
The next step is to decide how long the data collection phase will last. Clearly define the purpose and goals of your netnography study. Identify the research questions you want to answer and the target online communities or platforms you will focus on. Generally, a follow-up is usually given for three or four months to collect a good amount of information.
3. Data collection
The information shared in the virtual community's chats, online forums, groups, and lists is collected during this period. It can also include using artificial intelligence tools to analyze data and transform this data into systematized information. Collect data from the selected online communities for data analysis. The online data collection can include posts, comments, online conversations, images, videos, or relevant content of data science.
4. Interpretation of results
In this stage, the researchers are responsible for analyzing the messages and classifying the comments according to previously established criteria. Summarize findings and create a report or presentation to communicate the results of your netnography study. Present the key insights supported by relevant quotes or examples from the data collection, and provide recommendations or implications based on your findings. When all the valuations have been analyzed, a general evaluation and interpretation of the information collected is carried out.
In this way, you will obtain the conclusions and recommendations that will be part of the research report, allowing you to know what online users think about specific products or services and make decisions based on them.
Conclusion
Netnography may be used in a variety of ways for study. Finally, it is a cost-effective, quick, and accurate method of regularly obtaining the information that businesses want. This will become more common as the world's population's online presence grows and our technical capabilities improve. One of the most challenging tasks for academics leading this kind of study is data preparation and administration. Technology has played a significant role in this area in recent years.
Researchers may simply add, maintain, and review data accumulated over time using research repositories. This sort of system provides for proper management of all this data due to its concentration on identifying and managing all the data flowing into it.
This has considerably aided researchers' work over time, not just by allowing them to keep a backup of their data but also by enabling them to access the data they require in seconds by using clever filters that help them to draw intricate and exact conclusions over the period, during the study.
We provide researchers of all types with not just data gathering tools, such as our survey software, but also an insightful resource for long-term studies of all kinds at QuestionPro. If you'd like a demonstration or additional information, please visit the Insight Hub.