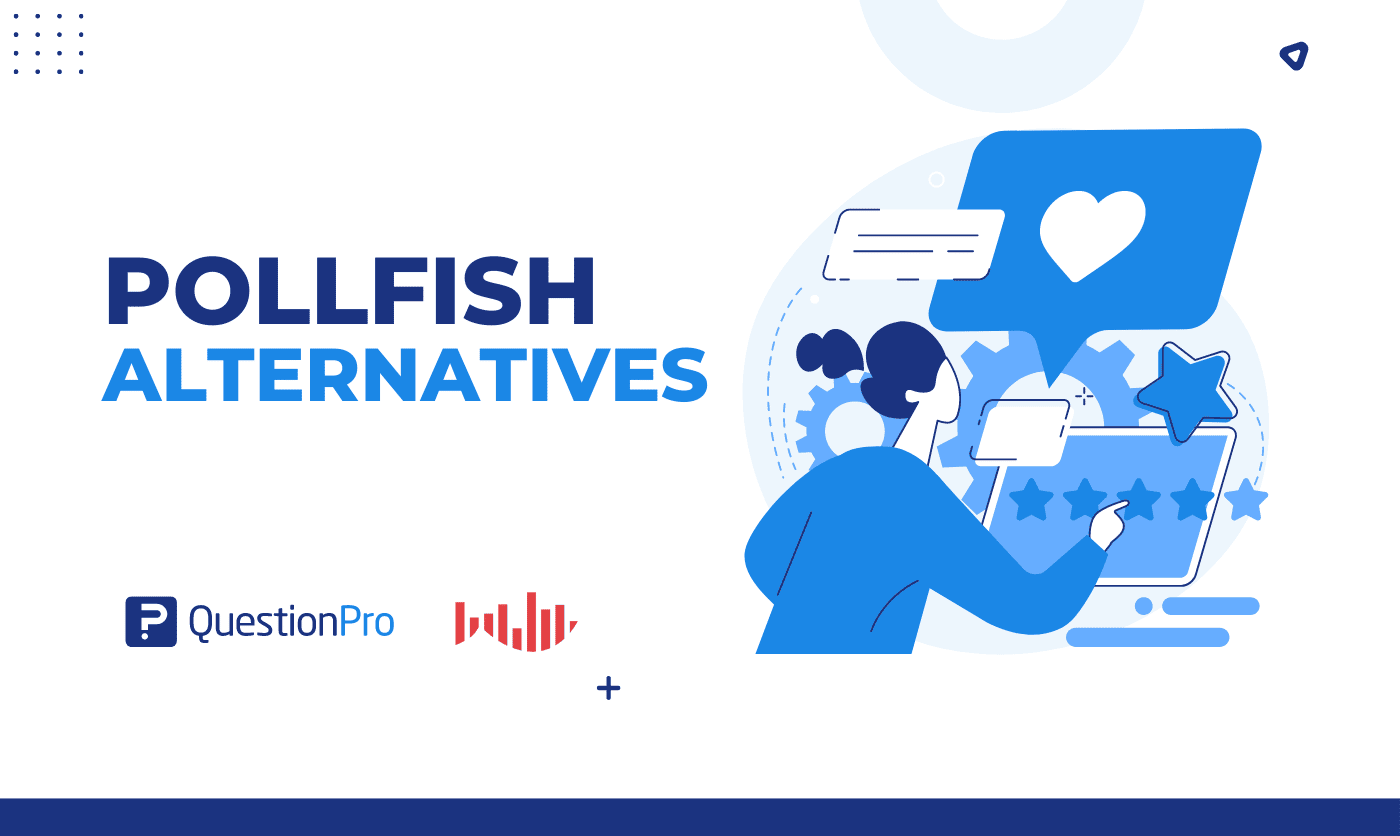 Searching for a Pollfish alternatives? Perfect for businesses with 2 to 200 employees. Most people use Pollfish to help with benchmarking, face-to-face communication, and spreading information through multiple channels, but it might not be the best choice for you.
Many different products could be an excellent fit for your needs, no matter how important ease of use, price, user reviews, or value for money are to you. Explore and contrast software that has characteristics similar to those of Pollfish right away.
Check out these other top choices that come the closest to Pollfish in terms of usefulness, essential features, and advantages based on shared features.
What is pollfish?
Pollfish is a software platform that helps organizations make good decisions by giving them tools for market research surveys and reliable insights. In today's dynamic markets, the traditional survey methods are too slow. Poll Fish fills this gap by always sending feedback and survey results right when needed without lowering the quality.
On the Do-It-Yourself (DIY) survey site Pollfish, the answers are collected through "organic sampling." Their approach is based on organic sampling Random Device Engagement (RDE).
Using ads with rewards inside apps, they may be able to reach a large number of mobile users in this area. This means that a regular app user might see an ad for a survey and be offered the chance to take it in exchange for a small reward.
Why should one look for a pollfish alternatives?
Although it may seem fun to do surveys, it has some noticeable flaws. Businesses should also look for alternatives to pollfish because they have to deal with other essential issues. Let's look at what they are:
A limited-service software:

Pollfish is a mobile-market research tool. Your team must choose criteria and demographics for market research on their platform. So that is pollfish.
Aside from market research, there's no need to use their platform. No NPS, 360-degree employee feedback, offline surveys, or other options. They'll say no if you want to use pollfish for anything else.
Rewards-based Ads:

Rewards-based or

Incentive-backed survey ads are a problem. You don't know how quickly someone takes the survey because they just care about the prize.
Beyond a respondent's age and sex, you know nothing. You don't know if they comprehend or speak English, their education, or if they've taken a survey numerous times to obtain extra incentives.
Pollfish has layers to ensure data quality, but it's still considerable risk.
Inconsistent customer service:

Users have called Pollfish's customer assistance inconsistent. Their support team had little knowledge about survey builder and software connection. They delayed presenting a concrete solution when needed. Do you desire similar client service?

Unrealistic promising:

How many of Pollfish's 550 million mobile users are qualified to participate in market research? They're clueless. They say you can do a survey and get the results in 15 minutes, but that's not true.
Despite quality checks, the data received is often generic and below expectations. When businesses realize Pollfish's claims aren't valid, they must find alternatives.
Inadequate user experience:

We've read that their survey-taking experience is stuck in the 1990s! Although artificial intelligence has received much attention, the user experience could have also received some attention.

Gets expensive quickly:

Pollfish market research costs rise quickly when features or demographics are added. Their prices are already exorbitant for simple items, and they rise with more. Not a budget-friendly software solution for enterprises.
12 Best Pollfish Alternatives to Use in 2022
The reason why pollfish alternatives are required has now been covered. Now that that is out of the way let's look at 12 pollfish alternatives that are free or nearly free.
1. QuestionPro
QuestionPro is a web-based, robust surveillance tool that helps you make smarter business decisions. Our user-friendly software includes tools for developing, distributing, and analyzing online surveys, quizzes, forms, and exams.
You can help yourself to better business judgments by using the sophisticated online survey software that QuestionPro provides. Our program guarantees simplicity of use because it includes tools for designing, distributing, and analyzing online polls, forms, and quizzes.
Use an interactive dashboard to assess survey performance or create complex reports quickly. Customize the header and footer, fonts, logo, and other elements of the survey theme to reflect your brand's voice.
Not only that, but the best part is that your project will continue to move forward because our customer support service is available around-the-clock. To cover all of your survey needs, QuestionPro offers 350+ survey templates and more than 50 different question types.
Use email, integrated pop-ups, and social media sites like Facebook and Twitter to contact your respondents. Our customers are Fortune 100 organizations, small businesses, university institutions, and lone researchers, and we have more than 10 million users globally.
So QuestionPro can be a good alternative for Poolfish regarding surveys and responses in many aspects.
2. Google Forms
Google Forms is a must-have free pollfish alternative. This survey software has conditional logic and anonymity. Multiple-user collaboration is possible. If you have the questions ready, you may make and send a survey in a few steps.
Explore the top Google Form Alternatives in our recently published blog. Don't miss out on innovative surveying options.
3. Zoho Survey
Zoho survey allows survey-takers to conduct limitless surveys on their free plan, asking 10 questions and collecting 100 replies for every survey. It has questions, survey templates, several channel-sharing options, pop-up surveys, and pdf export. Their features make survey development easier.
4. Survs
Data collecting is just one aspect of conducting surveys. The appropriate storage of this data and data analytics are the other two. Survs stand out in this situation. It's one of the sophisticated pollfish substitutes you'll discover.
5. Microsoft Forms
A Microsoft account enables the use of Microsoft forms, just like a Google account enables the use of Google forms. Therefore, there is no difference between Google and Microsoft forms in terms of features. However, Excel, the first one, is superior in terms of analytics.
The decision-making process benefits from powerful analytics, something the Microsoft team was likely well aware of. You may view detailed analytics and work on the replies you've collected using Microsoft forms in Excel to look for significant patterns. An excellent free pollfish substitute, in our opinion.
6. SurveyPlanet
Another pollfish alternatives you'll find is SurveyPlanet if you want unlimited surveys and responses for your survey campaigns. They also have a question library in addition to this. So, when you type a word, many relevant questions pop up for you to choose from.
To access all of these features and more, you should simply sign up for the 14-day free trial.
7. Cognito Forms
Cognito forms are a few survey software programs that provide the majority of the essential survey elements as part of their free plan. They offer a user-friendly, interactive interface that makes creating surveys much easier. This Pollfish substitute covers everything, from conditional logic to survey payment.
8. SurveyLegend
One of pollfish alternatives is SurveyLegend, It offers unlimited surveys and responses in their free plans and all the features you'll need to run a successful survey campaign. Its analytics might not be the most extraordinary and powerful, but you can get better value with its subscription services.
9. Pabbly
Another pollfish substitute is pabbly. It is a business management package with features such as email marketing and surveys. These are yours to utilize, beginning with the minor plans.
Just speaking, the form builder offers a drag-and-drop capability that enables you to design a form or survey quickly. With Pabbly's most basic subscription, you can receive custom branding, conditional logic, an autoresponder, integrated payment methods, and self-hosting.
10. FreeOnlineSurveys
FreeOnlineSurveys' free edition allows you to collect up to 1000 responses while utilizing artificial intelligence to create and distribute survey questions. Additionally, this Pollfish alternative offers functionality you can think of, from text piping to conditional logic.
11. SurveySparrow
People develop and share incredibly entertaining surveys that provide a chat-like experience through a conversational interface. Conversations are generated from surveys using SurveySparrow.
Available is a 14-day free trial.
12. Qualaroo
Qualaroo has a great experience with the product despite the price being an issue. To gain input from stakeholders on the design and prepare it for launch, they implemented in-product questionnaires in our prototype. The analytics dashboard had a clean, simple interface that was easy to understand.
Conclusion
You've made it this far, so you know why it's essential to look for Pollfish alternatives, what options you can trust, why QuestionPro might be the best option and this extremely educational bonus!
Our main objective in doing this was to inform you. It should be your responsibility to make the best choice possible depending on the needs of your company's survey using every bit of the information acquired.
We encourage you to test out QuestionPro. With individualized guidance in your language, we assist you with transferring your surveys from Pollfish, ensuring the success of your current initiatives.
You may give it a try right now! Do not pass up this chance! Ask us questions as you become more familiar with QuestionPro.