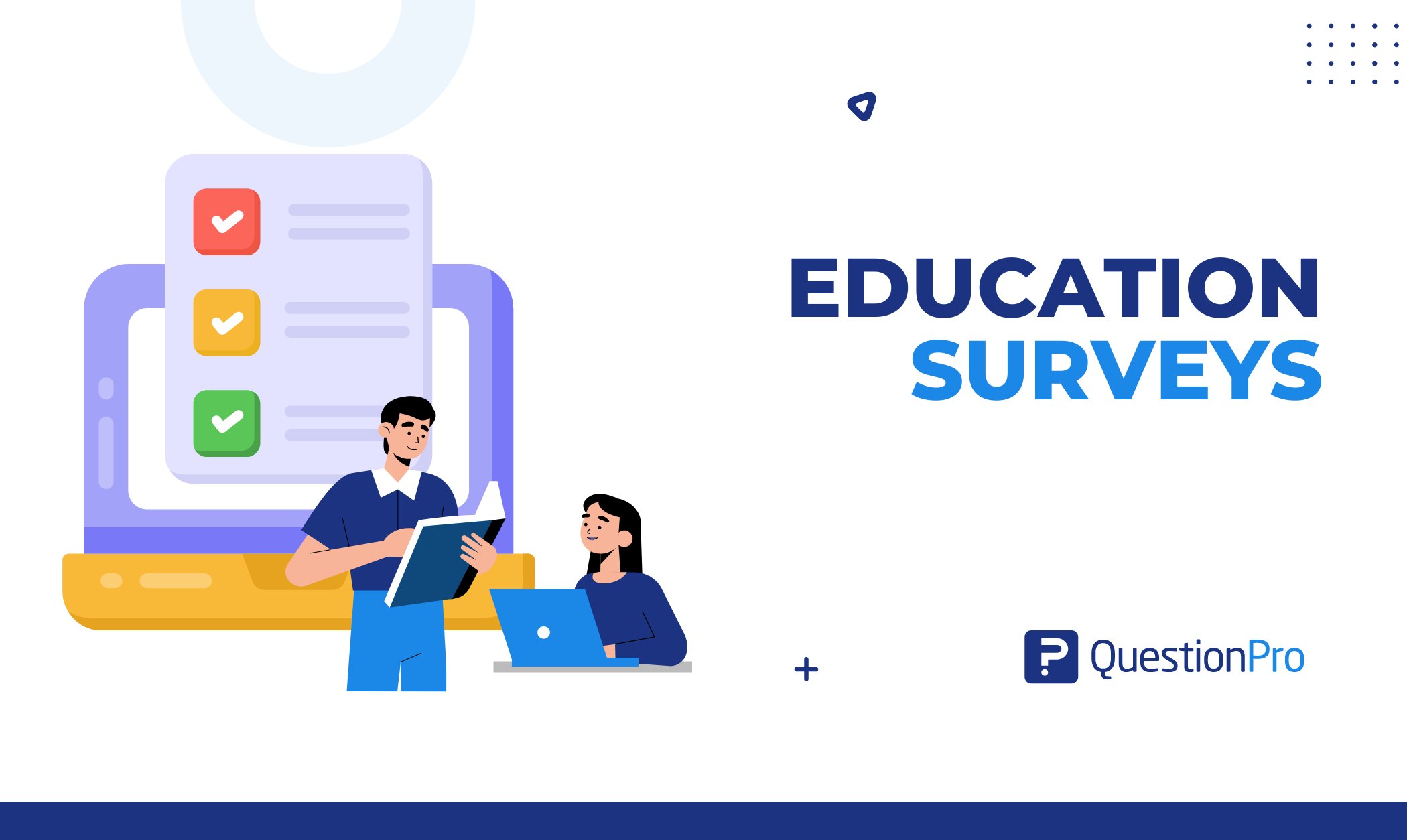 Education is an ever-evolving field, and surveys are an essential tool for universities to gather information and insights on various important topics. From student experience to learning design, surveys can help institutions understand students' needs and develop effective strategies to meet them. By collecting data through surveys, universities can identify areas for improvement, evaluate the success of programs and initiatives, and improve the overall quality of their educational offerings.
What is an education survey, and why is it important?
An educational survey allows you to gather feedback and opinions from all the parties involved in the education process, from students to teachers. Recollecting information is vital to make decisions that improve the quality of the educational experience.
Academic institutions have prioritized the success of their students by implementing strategic plans to optimize the education experience and designing new learning methodologies. Scrutiny in education design is becoming more intense in higher education, and innovation in learning strategies is becoming one of the main drivers in student retention and post-graduate success.
Academic institutions have prioritized the success of their students by implementing strategic plans to optimize the education experience and designing new learning methodologies. Insights on what is working in your education organization with valuable insight and a SWOT analysis can help you develop the best learning experience for students.
Collecting and evaluating data from the people giving money to your institution can help you orient your objectives. The benefits of an education survey are not limited to students' and teachers' experiences. Administrators can benefit from the information collected from a college or school survey. Designing an education survey can also ensure investment through funding bodies, investors, or research grants.
LEARN ABOUT: course evaluation survey examples
What are the different types of education surveys?
Education surveys are essential tools that help educators, school administrators, and policy-makers to gather valuable feedback about their institutions, programs, and policies. With the right survey questions, these tools can help identify areas for improvement and opportunities to enhance the learning experience for students, teachers, and staff.
Here are some of the different types of education surveys that are commonly used:
How to create the best survey for education
Set your goals. There is a huge pool of questions and topics you can onboard while doing a successful survey. However, it is important to set a goal to achieve before creating the survey. Goal setting will make clear what will be the targeted audience and what type of language you will use while writing the questions for the survey.
Write consistent questions. Avoid using yes or no questions, as they are easy to do and answer but provide near to zero information that can be used for improvement. The Likert scale is a great option, but for either feedback and satisfaction, they need to be clear and concise to avoid possible bias, such as straight-lining or extreme responses.
Test and share. Before sending the survey to the audience, try doing a quick review with either an expert or a focus group. This way reduces the chances of errors in how questions are written that can confuse the respondents.
Conclusion
Conducting education surveys can be beneficial as it is an important source of trustworthy information to evaluate the institution's performance. Students, teachers, and staff provide feedback from the inside that can help improve the key points of the institution. The surveys help the people who answer to reflect on their involvement in the educational process; they become self-aware and take action in their role over learning.
QuestionPro software may be the best tool to realize an education survey. Its intuitive design, multiple personalization options, and premade templates can help you design a survey that covers your needs and achieves your goals. If you need any more information, our experts can help you evaluate your institution to offer the best survey solution.
Learn more about our survey solution for academic research
Lower costs for academic budgets!