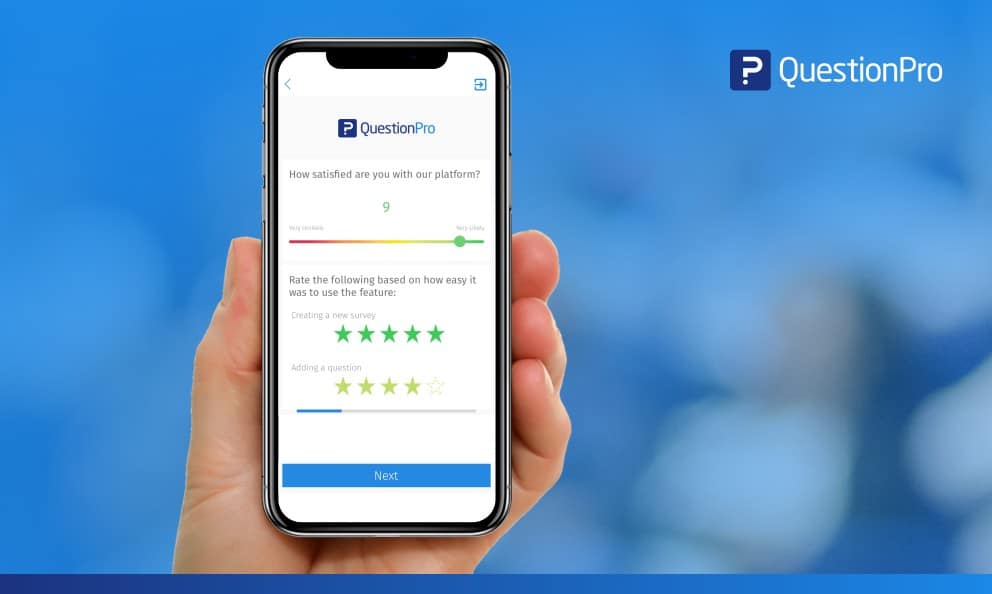 If you are already a fan of the offline mobile app, then get ready for a gorgeous facelift of the survey experience. If you are new to the idea of replacing the pen and paper with surveying with a mobile device, then this is the perfect opportunity to transition to a new way to collect and sync field research data together. Discover the smooth flow of fluid animations within each question type and the ability to apply different logic options that work without internet access. The new offline mobile app will be available to download on iOS and Android on April 20th, 2019.
What to get super excited about
Every question type listed looks better than ever and is much easier to flow through the entire survey.
Login

Menu drawer

Marketing screens

Radio button Q

Checkbox Q

Single Row text box,

Multiline Textbox

Numeric text box

Email

Contact Information

Smiley Rating

Star Rating

Thumbs Up-Down

Dropdown Q (Single choice)

Branching Logic
Show hide question logic
Show hide option logic
Dynamic text for question types supported

Piping text

Basic Matrix – Multi Point Scales

Basic Matrix – Multi-Select

Basic Matrix – Spreadsheet

Image Chooser – Select One

Image Chooser – Select Many

Image Rating

Maps

Text Slider

Numeric Slider

Net Promoter Score

Constant Sum

Rank Order

Drag & Drop

Lookup Table

Multi-Tier Lookup

Stopwatch

Date + Time Q

Side by Side Matrix

Upload Photo

Upload Video

Record Audio

Bar Code/QR Code

Point Slider Q

Max Diff

Reference Data

Signature

Van Westerndorp

Tube Pulse

Kiosk Mode

Response Viewer

Take Survey Multi-Lingual Support

Image Library Video attachment to Questions

Device Audit

New Sync Screens

Settings Screens

Multi-Lingual App support

Themes

RTL support
See it in action – Take survey experience
Offline logic in action
Did you know our offline mobile app supports logic options as well? Our newest logic available for the offline is being able to do show/hide questions right on the same page. Depending on what answer is picked, it will follow the criteria and instantly show or hide a question.
See it in action – Show/hide logic on the same page
Syncing data in action
And, finally, the process of syncing data from devices is incredibly easy. Every device has a survey folder index with a sync button to update any survey changes and sync collected data to the QuestionPro account. Simply click the sync button, and select 'sync' again and a confirmation will be displayed once the action is completed.
See it in action – Syncing data from the mobile device
To learn more about the offline mobile device and to try it for yourself, contact our sales team and we'll be happy to get you started.