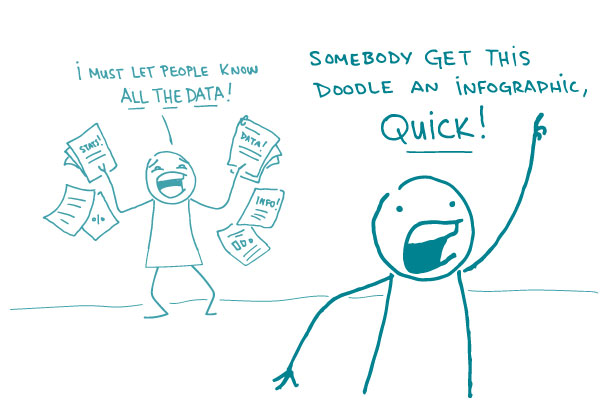 How many times have you invested time and effort to get the best results from your online survey but then after presenting online survey results in the PowerPoints, you just let the information "rot" on your drive? Repurpose those online survey results and give it new life by creating an infographic. Infographics are a great way to teach information. They are fun and easy to read when done right. Next time you want to share some information or online survey results, don't use boring text – use an infographic instead!
Infographic from  Online Survey Results
Step 1: Research
First, start with an idea and pick a topic you know about. Infographics can be fun and lighthearted or stark and serious. It all depends on your goal. Go to places like Google, Wikipedia or your local library to find as many little-known facts about the topic as possible.
Step2: Putting the Pieces Together
Decide if you want to share your info as a story, as a factual timeline, or something in between. Professional infographics are usually made with Adobe Illustrator. However, that is not the only way to make them. You can also use Photoshop or pick from a wide variety of free online tools for making infographics. You can also use PowerPoint to construct an infographic. The absolute easiest way to get started is to use the online program at http://infogr.am. But guess, what? QuestionPro offers a feature  – InfoGraphics that directly allows you turn your survey data into an infographic. These graphics present complex information quickly and clearly. Definitely, try it out.
Step 3: Adding Graphics
After you have an outline done you can plug in the graphic that showcases the information. You can use pie charts, images or your own illustrations if you have any. Adding your own personal items and personality will add some spice to your infographic.
Step 4: Adding Flare
One of the things that can really make an infographic awesome is adding shocking statistics and other information that typically goes under the radar. Pick the most surprising data from your online survey results. Add humor whenever possible by using silly pictures can also add a lot to your infographic.
Step 5: Sharing It
After you have your infographic all set and ready to go it's time to promote it. Be sure to share it on all of your social media sites including your blog. Ask a few peers to spread the word for you too. If the right people see it then it will have a better chance to go viral.
Just keep in mind that not every infographic will go viral. There are a lot of factors that come into play such as the time of day you post it, the people who see it and how well you have constructed it.
Don't be dismayed if it doesn't spread like wildfire. Just get to creating another one and eventually you will create a winner. And when you do create a winner it will be well worth the effort because the traffic surge can be truly massive.