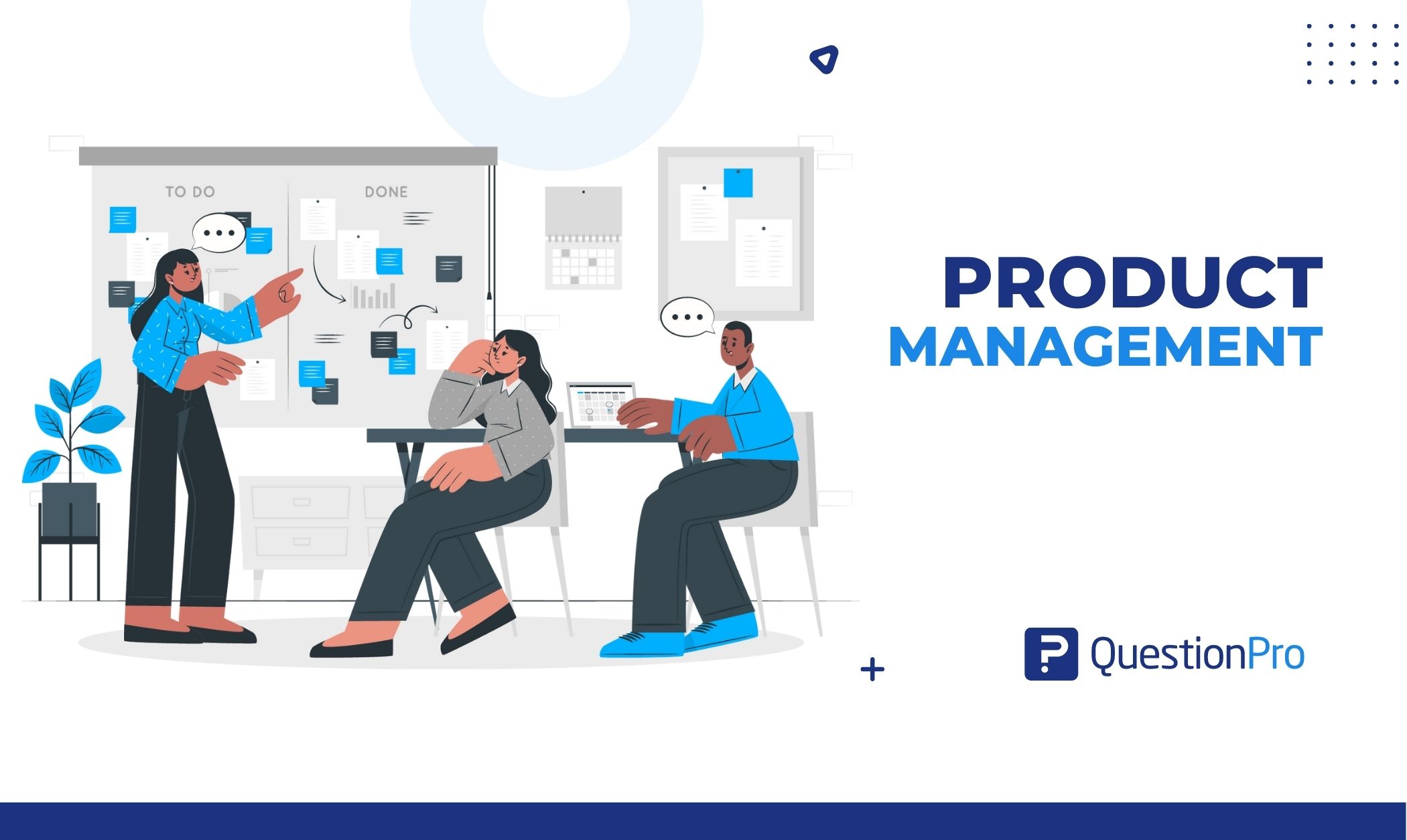 Have you ever wondered who created these digital experiences while you stream your favorite movie or begin a chat with a coworker on your company's messaging platform?
The answer is that many different people contributed to creating any product. Still, the product manager is one of the most important factors in creating any digital experience.
The most well-liked things in the world—from cutting-edge computers to cozy sweaters—are the results of extensive research, testing, and design procedures. Product management is a necessary component of every successful product strategy.
Product management allows business owners to learn vital information, such as whether a product appeals to buyers or which features to include. Businesses of all sizes may develop and introduce outstanding products with a solid product management foundation.
What exactly is product management, why is it important, and how does one go about doing it? In this blog, you may find all the answers to these questions.
Content Index
What is product management?
Importance of product management
Process of product management
Conclusion
What is product management?
Product management is bringing a new product to market or improving an existing one. It starts with an idea of a product that a customer would use and ends with an evaluation of how well it worked.
Product management connects business, product development, marketing, and sales. According to research, competent product management can boost profit by 34.2 percent, demonstrating the significance of its execution.
One of the most significant aspects of product management is developing and documenting a product strategy, a process so vast and important that it warranted its own article.
In tech, where newer and better products quickly replace old ones, product teams ship better-designed and better-performing products because of this customer focus. Knowing customers and personalizing solutions to them is more important than ever. That's product management.
Importance of product management
Product management is important to a company's success because it connects the different departments and ensures that a product is developed and brought to market in a way that meets customer needs and fits with the company's overall strategy and goals.
This includes market research, figuring out what customers want, setting product strategy, making product roadmaps, and working with cross-functional teams to get the product to market.
Product managers launch new user experiences. They connect UX teams, technical teams, and business leaders to the product vision. Product managers also monitor performance and make necessary changes to ensure the product stays competitive and successful.
Most importantly, product managers define product success, establish the product strategy, and show how it will affect customers and the company's goals. With a product owner's voice, teams could navigate large and small enterprises' diverse interests.
Overall, product management is important for the development and success of a company's products and, ultimately, for the company's overall growth and profitability.
Process of product management
Product management can take many forms so the process will change depending on the company, the type of product manager, and the scope of their work.
But there are some best practices you can use, like defining buyer personas and planning the launch of a new product. Let's find out:
1. Research Your Customers
According to Helen Huang, founder of the product management education platform Co.Lab, the first stage in product management is understanding your ideal consumer and the market you intend to penetrate, including its size, rivals, and current trends.
Create your ideal buyer persona first. Ask:
Who? 
What do they enjoy or disapprove of? 
They consume information in what ways? 
Write down as much information as possible about this persona and treat it like a genuine person. The rest of this process will be built on the information provided in this paragraph.
You can find out more about your customer by visiting relevant forums or groups, such as Reddit, LinkedIn, or Discord.
Many people in these groups post queries, discussions, and even issues. You might also participate in these forums and interact with the folks there by asking them about their professional experiences.
2. Identify the Problem
First, identifying a problem can often lead to brilliant ideas. This pertains to product management and involves identifying issues that affect your target market and developing solutions.
Examining your buyer persona and posing inquiries like the following can help you identify pain points:
What is most important to them?
What inquiries do they make online?
Is there a common issue among them?
Do they alone experience this issue?
Is there a workable answer to this issue?
Product managers can motivate other stakeholders to develop a solution by using the clearly defined problem as a springboard.
3. With Stakeholders, Brainstorm
Product managers can meet with engineers, marketers, and customers to brainstorm ideas.
Interview potential consumers. Ask them about their product experiences in your business. Ask insightful follow-up questions, such as why they feel or believe the way they do.
Use the problem you outlined in the previous stage to talk to internal stakeholders. You want to show potential clients that your company can solve their problems with a product. Customer interviews can also aid these discussions.
Ask internal teams and stakeholders for their ideas without judgment. Bad ideas sometimes lead to good ones, after all. Write these down and utilize them later to conceptualize the product.
4. Build the Concept Out
After gathering suggestions from all relevant parties, focus on a single, sound direction the organization can go. You could choose a standout notion from one source or blend elements of several themes.
After that, read the product specifications to determine what should be included in the suggested product. Make a document that responds to the following inquiries:
What shape will the product take?
How does it deal with the stated issue?
What components should the final product have?
How will the company evaluate the effectiveness of the product?

Product managers either build products or advise on them. Therefore, the document's detail will differ. If you are more technical, the product specs should include technical direction guidelines.
Instead, you can advise developers and engineers on product content. Discuss what you can build with other departments.
5. Establish a Product Roadmap
A product roadmap outlines each phase of the development and launch process. A road plan includes dates, targets, and KPIs to keep the project on track.
Your product roadmap should include the following items:
Specific dates and times for reaching a milestone
Tasks and how each one contributes to the success of the product
Those in charge of meeting specified milestones
Metrics for determining the success
6. Prioritize various features
It's time for feature prioritization when you decide how much time to devote to developing various features once you've built out high-level goals in the road map.
Think about how each feature contributes to the final version of your product, how well it solves a problem for your persona, and how much time and money it takes to make the feature.
A lower-effect feature could be dropped in favor of one with a greater impact if it takes several months to complete but only slightly enhances user experience.
7. Implement the Plan
When a road map is created, and features are prioritized, the product manager can begin giving instructions. They could delegate milestones to particular teams, like software developers, and assume more advising roles.
As an alternative, more technically inclined product managers could take on active responsibilities and help programmers create the product.
Agile and waterfall delivery models are frequently used. Releases of a product are made iteratively using an agile methodology, and each release incorporates consumer feedback.
On the other hand, a waterfall process adopts a more meticulously controlled approach, with products only being distributed once they receive final approval.
8. Try, and Test New Methods
After release, the product management process continues. Product managers will assess a product's performance and identify areas for improvement.
For example, A product manager might utilize A/B testing in the early launch phases to enhance a marketing or the product.
Ask them if they have any issues or questions with the product as you continue to gather their feedback. Continue working with internal stakeholders and inform them of criticism and suggestions for improvement.
Conclusion
The role of product management is ultimately all about strategy, which is our conclusion to the question, "What is product management?"
Product managers first create the strategy for the product and effectively present it. Then, they ensure that the strategy is reflected in and supported by all decisions related to development, marketing, etc.
The success of new features for an organization and its customers heavily depends on product managers, who work at the nexus of business and technology executives.
Product management might be a very lucrative career path for persons with a passion for collaboration, strategic thinking, and providing excellent experiences for others.
QuestionPro is a survey software that product managers can benefit from in various ways of product management. Customer feedback surveys can collect input on existing products and ideas for new items.
Customer requirements, customer demands, and problem areas can be identified with surveys, which can then inform new creations and improve existing products.
Customer satisfaction surveys can gauge how well customers respond to current offerings and pinpoint areas that want improvement. Benchmarking research can compare the company's products to the competition and identify areas where they shine or fall short.
So try out QuewstionPro now!