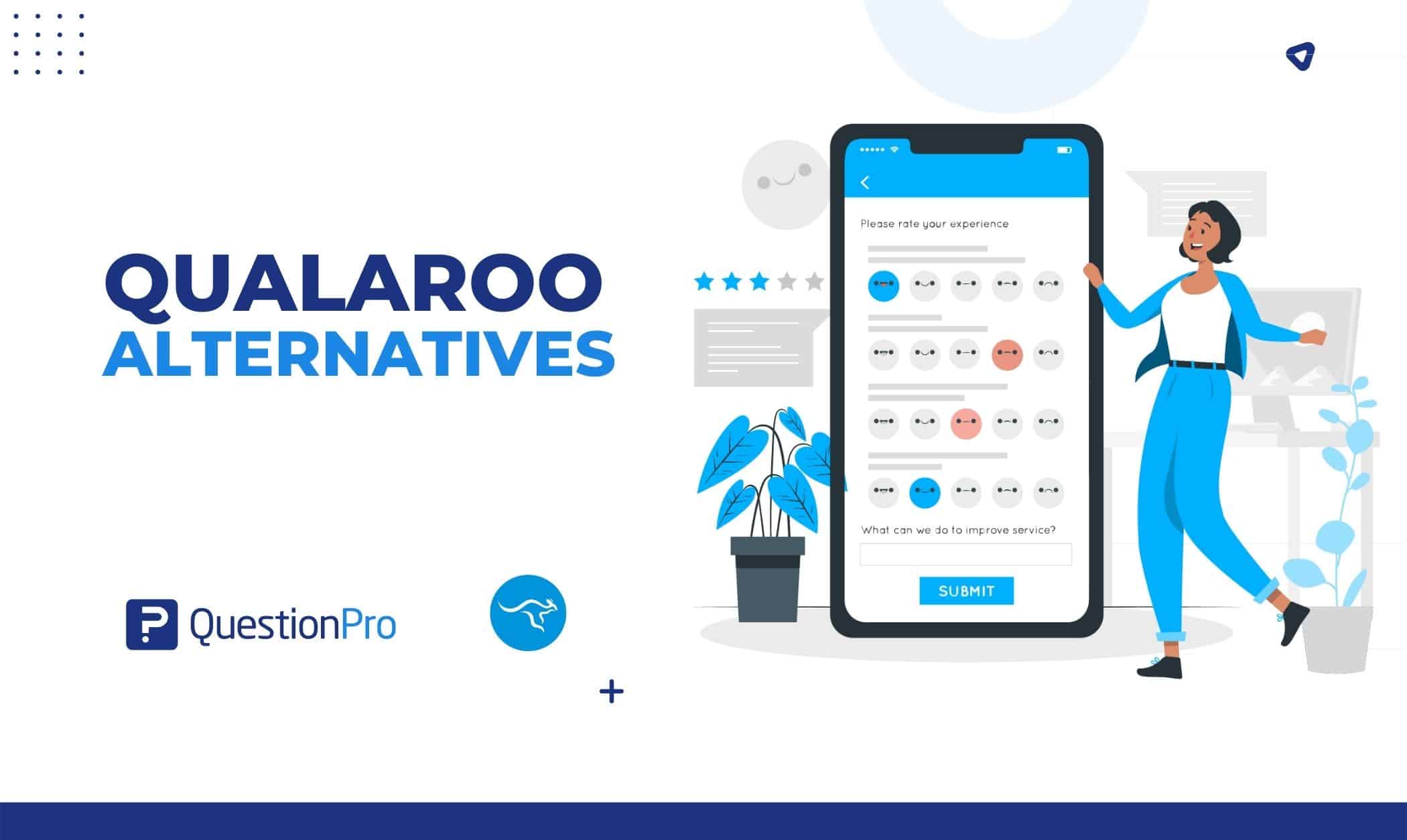 Online surveys give marketers a quick and convenient way to connect with a specific audience and gather feedback. Not to add, they are excellent for gathering customer service feedback, tracking product feedback, performing market research, and gauging both staff and customer happiness. Let's talk about the Best Qualaroo Alternatives.
However, choosing an appropriate online survey tool for your company can take time and effort, especially when many programs offer similar functionality. Qualaroo is one particular tool that has gained a lot of popularity recently.
This blog will explain the Qualaroo alternative and some of the best Qualaroo alternatives & competitors.
What is Qualaroo alternative?
A marketing software startup Qualaroo develops solutions to assist businesses in deciphering and utilizing the intent of website visitors to increase conversion rates. Their solutions are adaptable and configurable to give website users the best user experience possible, whether they view it on a laptop, tablet, or mobile device.
Qualaroo makes it simple to target prompts based on user behavior, predetermined needs, demographics, or any other internal data with a short amount of code. These questions can be used to learn more about visitors, shape their behavior, and convert them into paying customers.
The capabilities of Qualaroo, however, are primarily in data collecting rather than analysis, which is vital to note. Its reporting features are, therefore, relatively constrained. Qualaroo may not be ideal if you're trying to get more detailed information on the customer experience. There is where you look out for Qualaroo alternatives.
11 Best Qualaroo Alternatives & Competitors
Let's explore various Qualaroo alternatives and competitors.
QuestionPro
QuestionPro offers powerful online survey software to help you make better business decisions. Our software is easy to use and comes with tools for creating, distributing, and analyzing 
Online surveys, 

Polls, 

Forms, 

Quizzes. 
Use our advanced features to make the survey experience your own and run sophisticated analyses.
QuestionPro's survey software lets users do professional surveys for themselves or their businesses and get better insights from their data in one place. With the survey tool, you can do professional surveys by choosing from different options and building the survey yourself. 
You can also use multiple templates that have already been set up to make surveys and send them out through

Email, 

Your website, 

Social media, 

QR codes, 

An offline app.



Every QuestionPro template is 100% ready for mobile, so you can reach customers whenever and wherever you want. 
Options that make QuestionPro stand out from others:
Standard question types, 

Advanced question types with validation and logic, 

Security options, 

Real-time reports, 

Tracking of respondents and statistical data, 

Making polls, 

Integrating other tools and software for data, 

Live chat

Email support and many other options.
As 10 million people in 100 countries have used the survey software, we have provided reliable and innovative technology to Fortune 100 companies, academic institutions, small businesses, and DIY researchers for over ten years.
QuestionPro will always be accessible for free with some limitations, regardless of how long you use it. Premium plans start at $99 per month when purchased for a full year in advance.
WebEngage
WebEngage is software for getting customer feedback. It comes with a feedback form and a survey builder. This software can also make the feedback forms show up based on what the visitor does when they click. WebEngage lets you send notifications on your website or mobile app.
Note: This tool is very cheap, but it's essential to know that it's mainly used for collecting information and doesn't do much analysis, like text analysis.
Survicate
Users can use Survicate to set off targeted surveys in different places on their websites. Survicate lets users choose from a library of already-made surveys when doing these surveys. Users can also send other customers email questionnaires.
This survey tool has options for 
Dashboards, 

NPS analysis, and 

Exporting to CSV and XLS. 
Like WebEngage, this tool does not have any options for advanced analysis. Its only purpose is to gather information from surveys.
Qualtrics
Qualtrics is a tool for making online surveys and questionnaires that goes beyond what traditional surveys can do. 
It has more than 100 different kinds of questions, 

Several ready-made survey templates, 

Features like logic branching, email triggers, and logic display.
Users can choose from more than 30 different graph types in its real-time web reports and export results to CSV or SPSS. However, there are few ways to customize this (e.g., editing end-of-survey messages).
GetFeedback
Users can easily make branded surveys with GetFeedback using drag-and-drop and several personalization tools. It is also flexible because it can be used on almost any platform to send surveys.
You can connect GetFeedback to SalesForce so that the survey results appear in your SalesForce dashboard. 
But there are limits to the questions that can be asked, 
How data can be shown, and 
How much can be changed overall?

Medallia
Medallia for Digital is one of the essential parts of the Medallia Experience Cloud. This solution collects feedback from 
Websites, 

Mobile websites, 

In-app 
And combines it with offline data from 
Call centers, 

retail stores, 

Other touchpoints.
The software also uses AI-powered text analytics, role-based reporting, and real-time alerts. But keep in mind that Medallia is a solution that can be a bit pricey.
Feedbackify
Feedbackify has a drag-and-drop editor that makes it easy for users to create feedback forms. It is also very easy to set up. You must copy and paste a code into your website's HTML, and it will be ready. Your visitors can give you

A rating and leave comments, 

Like compliments and ideas.
Users can also see all of their feedback in real-time on a dashboard and sort it by category and subcategory. This tool doesn't have advanced reporting or text analysis features, but if you want something simple and cheap, it's a great choice.
Pulse Insights
Pulse Insights is similar to online survey software like Qualaroo and Survicate. Pulse Insights collects data from your website's visitors simply by using a micro survey platform.
This tool can also add survey responses to other tools like 
Web analytics, 

A/B testing, 

CRM, 

DMP.



The timeline to run research with their team is lengthy from start to finish, but it might become more efficient over time if they try.
SurveyMonkey
SurveyMonkey is one of the best-known online survey tools, and millions of businesses worldwide use it. It has 15 questionnaire questions, including.

Multiple choice, 

Open comments,

Likert scales.
This tool is excellent for one-time surveys but could be better for measuring overall customer satisfaction or surveying customers again after a set time.
Wootric
Wootric is a survey tool that uses surveys with just one question. Metrics like 
Net Promoter Score, 

CSAT, 

Customer Effort Score 
They are used in surveys. In open comments, users can also explain why they got their scores.
Installation is quick and easy, and once the data has been gathered, it can be seen in real-time on a dashboard. 
Note that this tool doesn't have templates, question branching, or tools for analyzing data.
Mopinion
Mopinion collects and analyzes online and mobile customer input in real-time. Its easy-to-use interface allows users to 
Develop, 

Configure, 

Distribute 
feedback forms in several languages. 
Mopinion's advanced triggers are triggered by digital visitor behavior. Users can target specific web visitors with feedback forms to see why they need to convert. 
Users can use 
Modal, 

Slide-in, 

Embedded feedback forms. 
Once collected, feedback can be visualized in dashboards and charts for advanced analytics. Intelligent alerts enable digital teams to discuss and respond to feedback quickly.
Conclusion
Many digital teams still need help selecting the best technology or tools. This is primarily due to the wide variety of tools available. It can appear daunting, especially when choosing a tool for feedback or surveys. We hope this blog has given you some direction in selecting Qualaroo alternatives and competitors.
Each employs a different data collection method, gathers input differently, reports data differently (if at all), and offers the user a distinct set of insights.
QuestionPro goes far beyond survey software by providing solutions for every problem and industry. We also have tools for handling data, such as our InsightsHub research library.