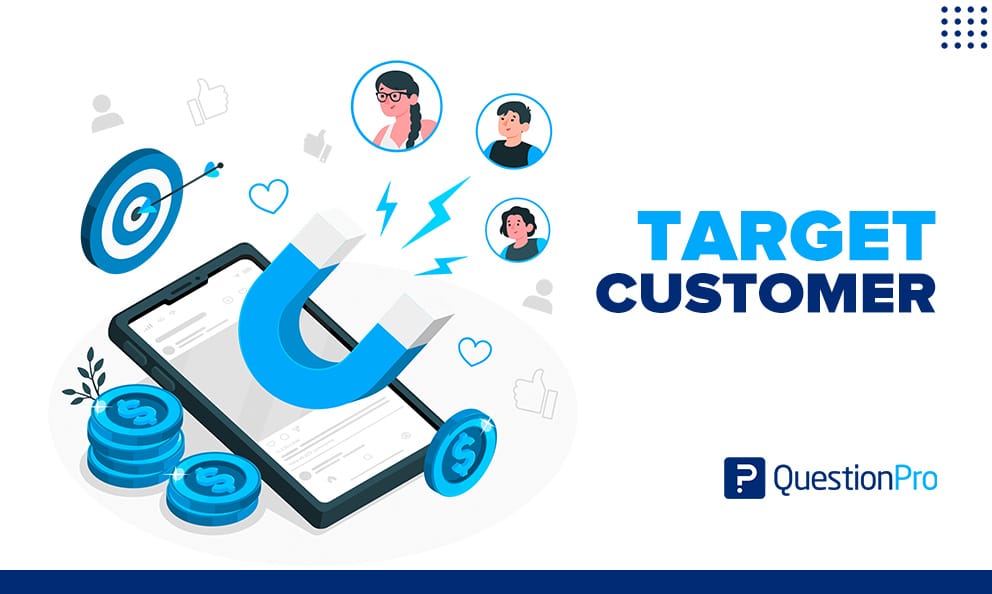 A new company's first step in developing a marketing plan is identifying its target customer. Your marketing efforts will be wasted if you don't know who your ideal client is, even if it seems straightforward.
Nobody will be happy with a person who tries to satisfy everyone. Right? The same is true for your marketing. That's why it's so important to identify your target customers.
If your goal is to communicate with absolutely everyone, you will end up communicating with nobody. People could take the time to look at your website or notice your advertisement. But if you don't have target customers in mind, your advertising and its message won't connect with anybody.
If you're wondering where to start, keep reading. This post will inform you about the target customer and its identification steps. First, let's figure out what target customers mean.
LEARN ABOUT: Purchasing Process
What is the target customer?
Defining your target customer is one of the first steps in creating a marketing research strategy. It's as important as your goal statement, marketing strategy, or financial plan. As a marketer, it's essential to know your target audience to tailor your marketing strategy.
LEARN ABOUT: Effective Customer Success Plan
The term "target customer" refers to the audience you want to engage with the help of your marketing efforts. These people are most likely to buy your goods or services if they find out about them through one of your marketing efforts.
Many different types of data may be used to determine a target audience, including:
Demographic data (such as age and gender identification)

Psychographic data (such as ambitions, worries, and values)

Behavioral data (likely to buy online)
Now we will get into the next section, where we will discuss why it is important to identify your target customers.
Importance of identifying target customer
The effectiveness and success rate of every company's marketing and sales efforts depend on knowing who their target customers are. The people who will be targeted and given special attention are the ones who will most likely make purchases from certain businesses.
This improves a company's marketing and advertising efforts since they may utilize resources wisely and save time without wide, costly advertising. Using advertising to target consumers as a marketing technique may help a firm identify and reach its ideal customers.
A lot of significant time and money is wasted in advertising when companies don't know their target market or consumers. An organization may attract active consumers and clients by actively marketing to its target market.
Marketing communications to the target audience may bring repeat business and foster brand loyalty. Additionally, this may result in higher brand awareness, trust, and sales.
How to identify your target customers?
Businesses need to find out who is the target customer. So, here we will explore some tips and tricks to identify your target customer.
Conversation with customer
Talk to your prospective consumers. Ask them about the most pressing problems and the methods being used to solve them. Also ask them what they'd do if they didn't have that solution.
In the course of developing a new product, we discovered that the client base is often younger and more urban. Focusing on a certain group of customers may help us restrict our target market.
LEARN ABOUT: Client Management
Have conversations with as many different customers as you can. Find similarities among the characteristics you're looking for. The more specific you can be about your target audience, the better your chances of succeeding.
Consider the popularity of the product
The popularity of your items is one of the most effective methods for identifying your target customers. For example, if you own an online pet business and more than 60% of your sales are cat-related goods, you just discovered some helpful information about your target market.
Analyze your sales data and customer feedback to determine what kind of items are most popular and how you can meet or exceed customer expectations.
Analyze site visitors with SEO tools
You may learn a lot about your website's visitors by using SEO tools. For example, you'll discover the keywords and phrases people use to find your website. You'll also receive similar questions that let you know what other people are thinking about the subject.
An additional benefit of SEO software is the ability to study your competitors. Analyze their website to see which keywords they rank for and which pages get the most visitors.
If you already have clients, you may use their information to identify your target the right audience and gain further insight into your target market. You might utilize a customer relationship management system (CRM) to organize and maintain user data.
Identifying your target customer is easier when you have a large amount of customer data. This data can be used to find out a lot of different things. Examples include names, email addresses, phone numbers, and many other things.
Take a look at your competitors
Check out the store or website of a competitor to find out who they are trying to reach. You'll get a sense of who your audience is, but you'll also get a sense of who they're missing. You may be able to identify a niche market that they are ignoring. You'll also be able to determine what parts aren't performing well for them.
Now, it's time to find out how you can improve it. You may take a look at social media sites. Examine the types of individuals that engage with their postings and the material that get a lot of attention.
Despite your want to avoid investigating your competitors, keep an eye on how they adapt in the face of these circumstances. Don't forget that your audience isn't steady. As the economy, technology, and your organization develop, so will your target audience.
The best learning method is observing and listening to what others say online. You can learn much about your audience by looking at their questions on social media and forums. It may tell you about their pain areas, why they need support, and their overall objectives. You may determine your target market based on their requirements rather than their demographics.
Making buyer personas or customer profiles is crucial when deciding on your target customer. These profiles include important details about your clients, such as purchasing patterns, age, location, problems, education, income level, way of life, and more.
After you've gathered a few customer profiles, you may understand your customers' characteristics and how your company might meet their wants. As a result, you may continue to provide relevant information, goods, and services.
Conclusion
The most important step in developing marketing strategies that reach the right people at the right time is identifying your target customer. You may establish your brand strategy and marketing strategy by working hard to identify your target audience. It will serve as a solid foundation upon which you may grow your brand over time.
LEARN ABOUT: Perfect Customer-First Strategy
If you only have one marketer and a lot of potential customers, you shouldn't feel like you have to focus on all of them simultaneously. You should focus only on one audience at a time to ensure you do everything right.
In this article, we've defined a target audience and offered advice on how to identify them. Now, all that's left to do is implement these tips. Good luck!
At QuestionPro CX, we give you the best tools to track target customers for your organization. Get in touch! We would love to work with you to improve your customers' experiences.