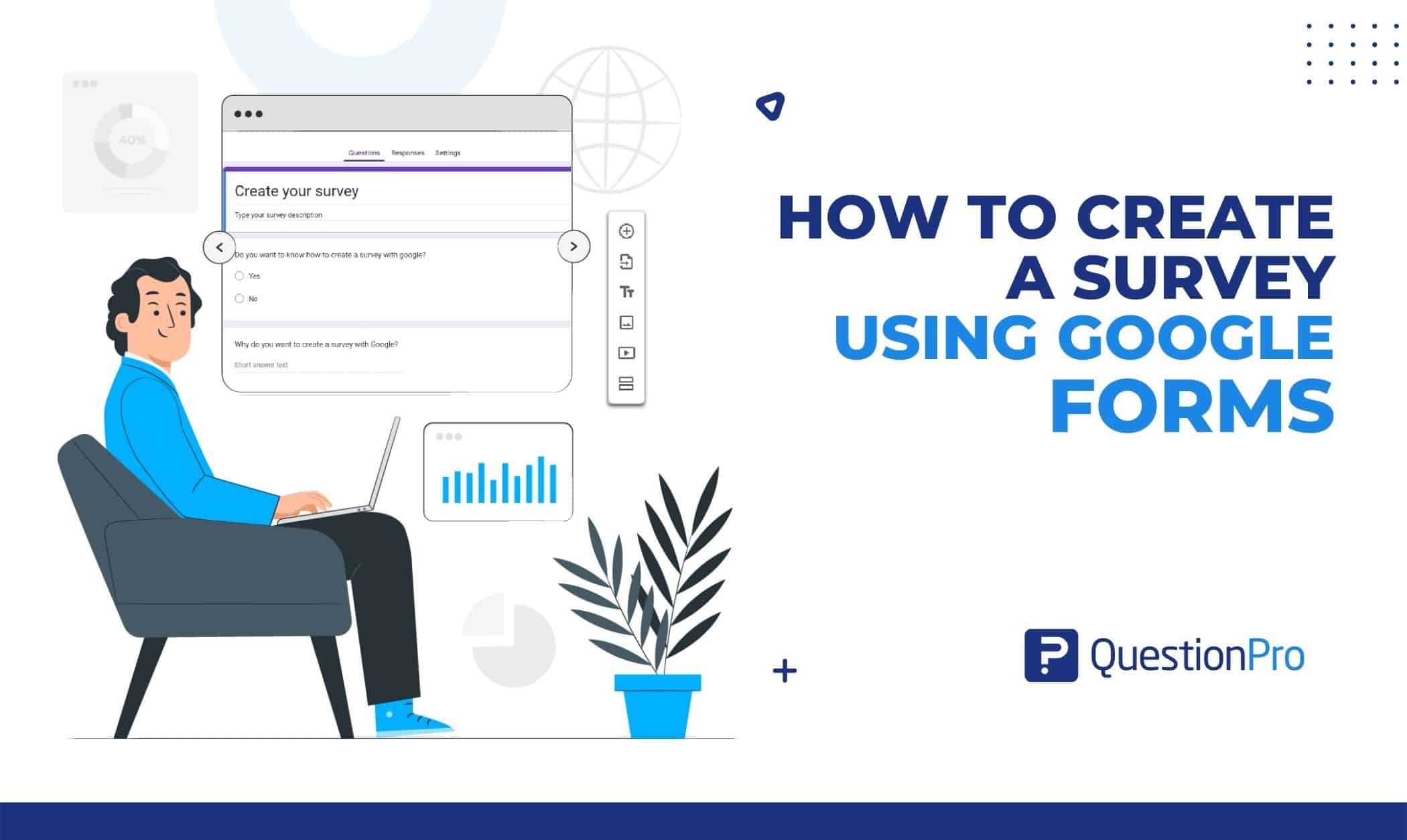 If you've ever wanted to make a survey, quiz, or online questionnaire, you can use Google Forms instead of emailing a list of questions or writing them down. You may quickly gather survey responses using Google Forms, which can help you keep track of problems affecting your business. Let's discuss how to create a survey using Google Forms.
Anyone with a Google account, including G Suite/Google Workspace subscribers, can create a survey using Google Forms. For Forms, there is no additional charge. It is a component of your free Google account and the subscription level you have chosen for G Suite or Google Workspace.
We've compiled information and survey tips to assist you in making the most of the Google Forms survey and its features. Let's get started.
What is the Google Forms?
Google Forms is survey management software available as part of Google's free online Google Docs Editors package. No special software is needed to create and analyze surveys using Google Forms on a mobile device or web browser.
Only the browser version of Google Forms is accessible. Users can collaborate in real-time with other users while creating and editing surveys online using the app. The gathered data may be automatically added to a spreadsheet.
Google Forms: Where to find them?
Sign into your Google account from the Google home page to start using Google Forms. If you see a Sign In button on the Google home page, you'll need to enter your information to get to your Google account. You don't need to sign in if you see a photo of yourself or a symbol identifying you on Google's homepage.
To find the Google Forms app:
Click on the 3×3 grid that's located in the top right corner.

Scroll down the list.

If you need help seeing it, click the More From Google icon to view other Google programs that you might not be familiar with.

A list of apps can be found by scrolling to the bottom of the page.
Select "Forms" from the list (A purple paper symbol).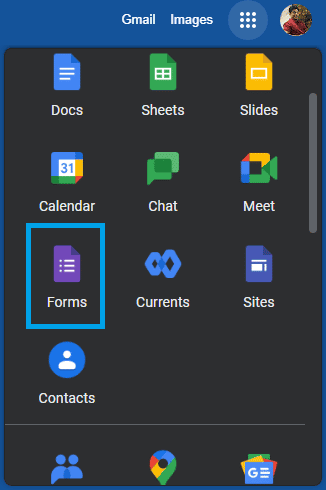 How to create a survey using Google Forms?
Creating a Google Forms survey is simple. A list of survey-creation templates may be found at the top of the Google Forms webpage. To view the offered templates, click on the Template Gallery button in the top right corner.
Every survey template is focused on a particular concept that serves as both inspiration and a foundation for your unique survey. Click on the template you want to use, and Google Forms will walk you through the setup process.
You can change or add to the text that Google Forms puts in a template. Instead of choosing a template, you can click on the Blank button if you'd like to create your own from the start.
0

1. Survey Title & Description
At the top of the page is the title area. Enter the title you wish to use for the survey in the Untitled form area by clicking on it.
In the section labeled Form description directly below, enter the survey description.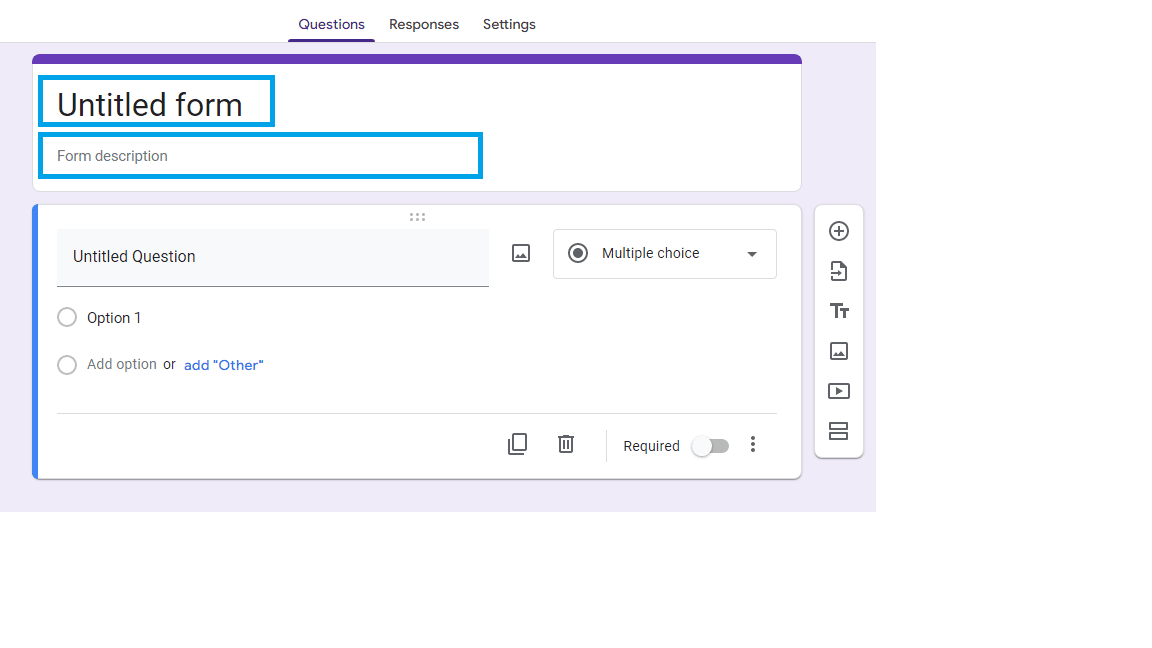 0

2. Add Questions
The main component of a survey is the question through which data is collected, or feedback is given. Listed below is a brief explanation of the symbols and their actions.
Plus sign (+) with a circle:

Add a new question

Arrow on paper:

Add questions from a different source, such as a different Google Form you previously made.

Large and small T (TT):

Create a text box with a title, a description, and no questions to provide more background information.

Image icon:

Add a new question with an image.

Video icon:

Add a new question with a video.

Two rectangles:

Add a new section to the survey to make it stand out from the other sections.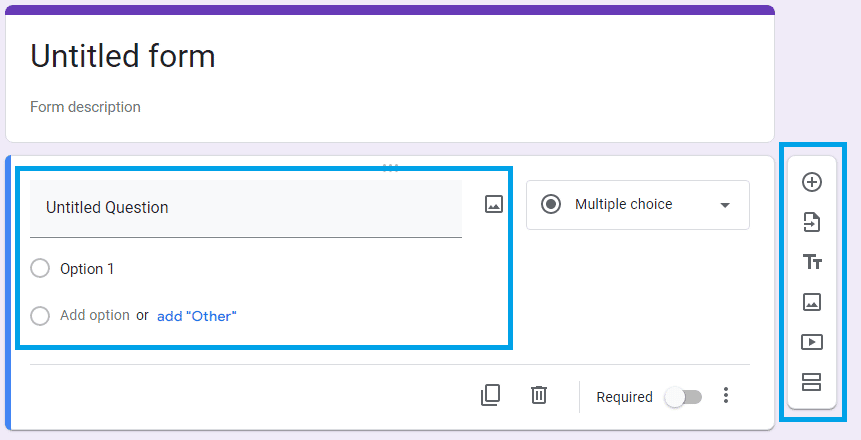 0

3. Types of question
Users can react in various ways, including multiple-choice and short-answer formats, depending on the question asked. A pull-down menu appears within the question area, from which you can select the desired answer format. Included in the variety of questions that might be asked are:
Short answer:

A single-line response.

Paragraph

: A lengthy response.

Multiple choice:

Multiple options are present to respondents, yet there is only one right choice.

Checkboxes:

Respondents can choose from a list of multiple responses.

Dropdown:

From a dropdown menu of alternatives, choose the correct response.

File upload:

Upload a file to respond to this question. It can be anything from a document to a picture.

Linear scale:

The respondent provides their response by choosing a point on a quantitative or qualitative scale.

Multiple choice grid:

Respondents must combine and match a grid's responses.

Checkbox grid:

The respondent can choose from a grid of several options.

Date:

A date is required as an answer.

Time:

A specific time is required as an answer.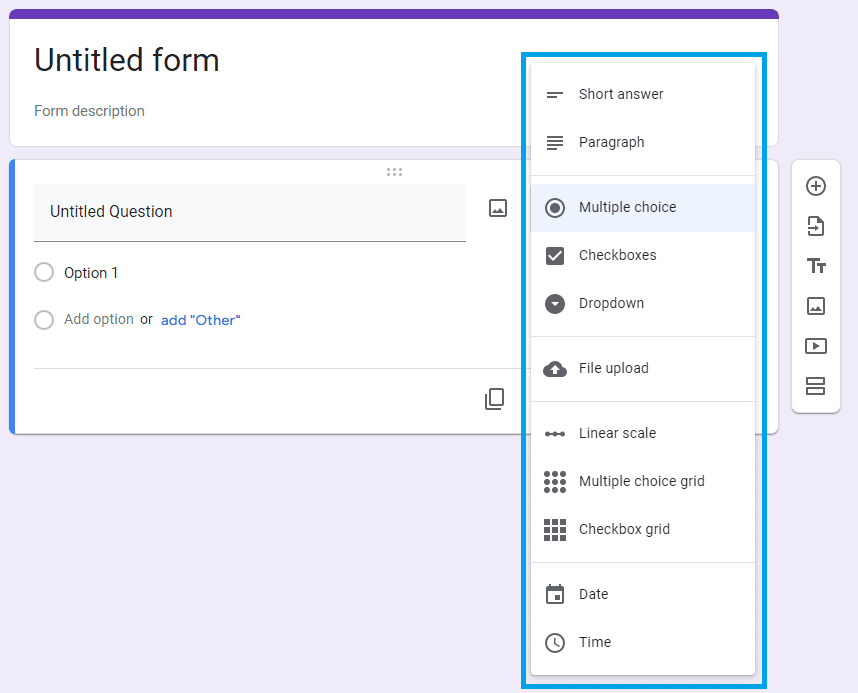 0

4. Customize questions
After adding a question type, you can compose the question and specific answer choices. Click on the appropriate field and enter the desired text to complete this.
By clicking the

X

button to the right of a response, you can remove it.

The

Trash Can Icon

is located at the bottom of the question field, where you can delete questions by clicking there.

The

Copy Icon

is located to the left of the trash icon. Click on it to copy a question.

You may also use the

Required Slider

to make responses mandatory or optional.

Select the 'more' option (

the 'three dots'

) for extra customization options.

Continue until you have all the questions you require for your survey.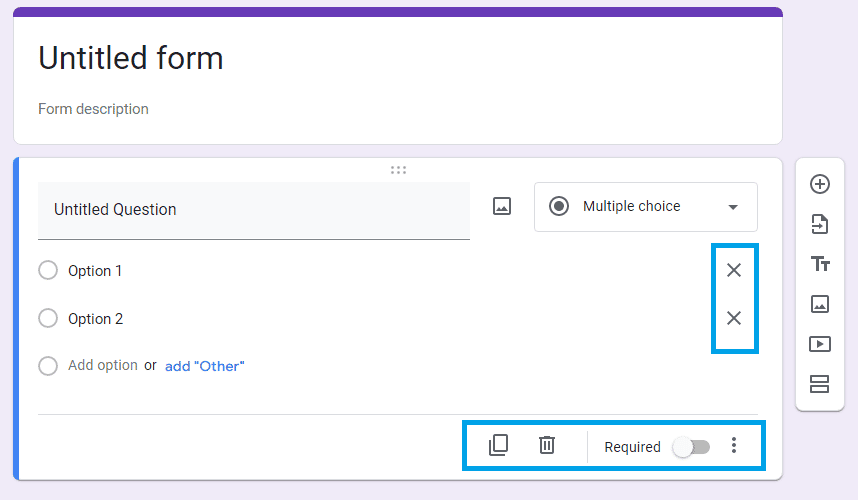 LEARN ABOUT: How to Create Online Surveys
How do you send a Google Forms survey?
You have a few options for sharing your survey with others when you've finished creating it. To begin, click the Send button in the form's upper right corner.
Email the survey to recipients
Put your targeted survey respondents' email addresses in the "To" section after selecting the Email tab. You may also choose to add a message. When you're done, click Send in the lower right corner to distribute the survey to all recipients.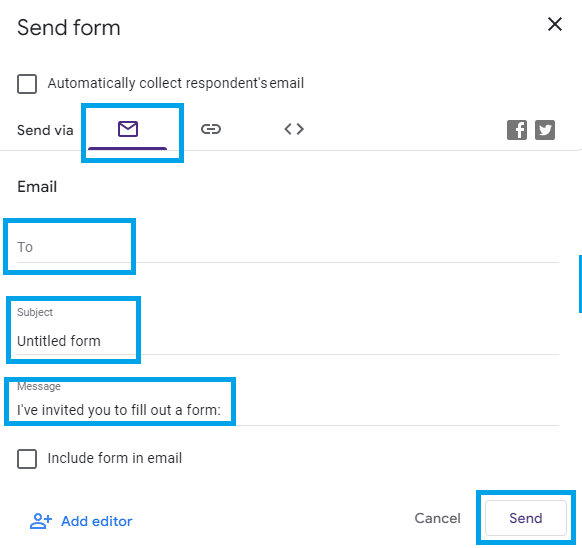 Post the survey link elsewhere
With the Link tab selected, click the Copy button. To shorten a link, click Shorten URL and then Copy. You may then share the link on social media, and anyone who clicks it can take your survey.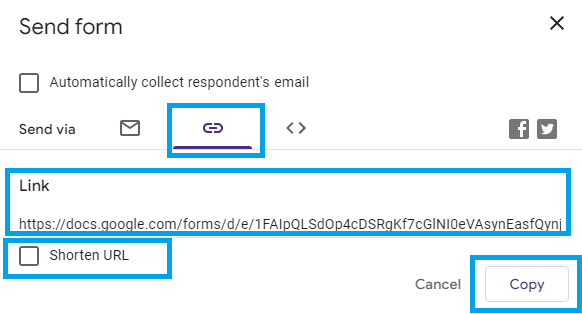 Embed the survey to your website
Select the Embed HTML tab, then click Copy in the bottom-right corner of the screen. It will copy the survey's code, allowing you to embed it in the HTML of your website or blog. You'll need to do this on the host site for your website.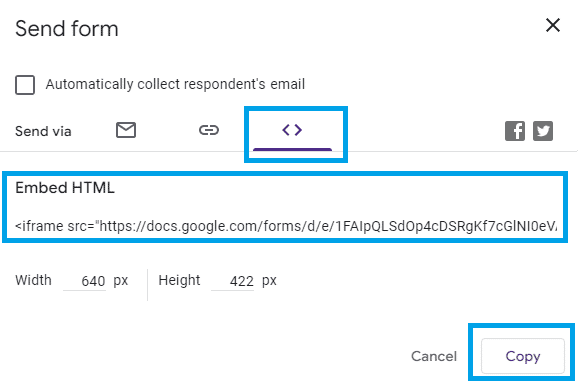 View Responses
As respondents fill out your survey, Google Forms will gather and display their responses. When you click on Responses, Google Forms will display the statistics from your survey responses.
If survey replies have been received, the number of responses shows to the right of the Responses text link.
Click the Sheets icon in the upper right to create a Google Sheets spreadsheet with the survey data. Click the three vertical dots to view other data use options.
To turn off the response, slide the Accepting Responses button to the left.

LEARN ABOUT: Top 12 Tips to Create A Good Survey
QuestionPro vs. Google Forms: Which is better?
Now you know how to create a survey using Google Forms. Both platforms are ideal for the tasks for which they were created. Google Forms is suitable for simple research that doesn't require much analysis or collecting. If you want to create simple surveys that don't need any data analysis, you can use Google Forms.
If you need to design surveys that can receive a lot of responses, can distribute them via online and offline channels (such as print, word, internet, mobile devices, etc.), and then perform an immediate analysis, then the solution is QuestionPro.
Using QuestionPro, you'll be able to gather a lot of data and conduct an immediate analysis. It also features logic, which enables you to construct insightful surveys, and, of course, the assurance that a fantastic team is prepared to walk you through the process entirely in your language.
So, the answer is surveys are a serious and professional topic, and if you want to do advanced research, QuestionPro is your best choice. To see the difference, sign up for a free account.