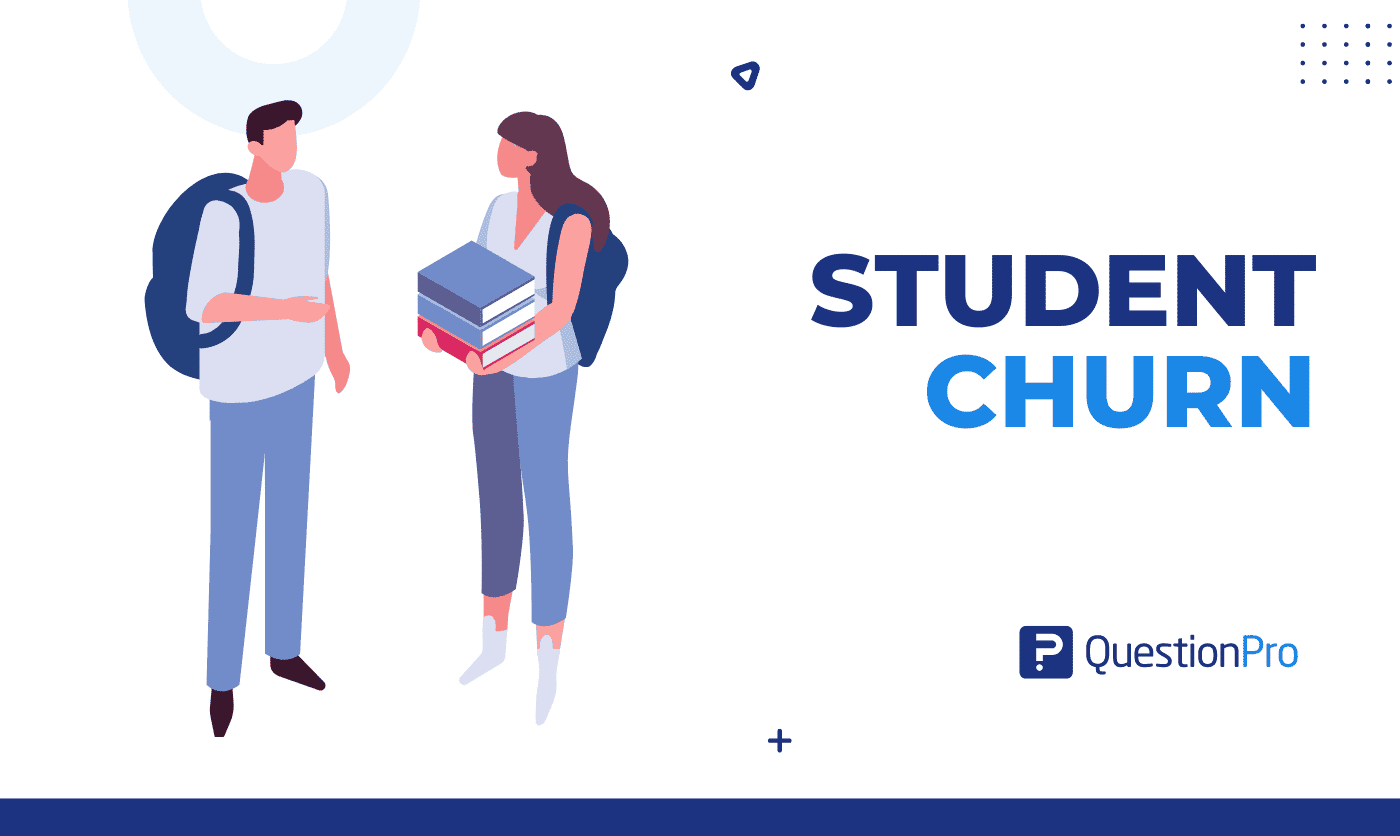 Student churn rate is the first challenge affecting K-12 and High Education Institutions (HEI) performance. As public aid is becoming more uncommon and tuition fees are increasing, many parents and students are questioning whether the value of education is adequate to the money spent on it. Students dropping out of school has become more frequent from the memento the COVID-19 pandemic started and has only started showing signs of recovery in the second semester of 2022. 
Lack of innovation while designing learning methodologies, rising operational costs, and the departure of many teachers from faculties are among the most common reasons students worry about taking a four-year course.
Data-driven decision-making has become more relevant for educational administrators. The improvement of both policies at the institutions and redesigning the "one size fits all" to a more tailored education system can drastically improve academic performance.
What is student churn?
In standard terms, student churn can be defined as the likelihood of a student dropping out of college. Student retention is one of the most essential challenges educational institutions face today, and the COVID-19 pandemic made this problem even more complex.
According to the National Student Clearinghouse Research Center (NSCRC): the retention rate, which is the percent of students returning to a second year to the same institution, 23.6% of the students change from the institution after their first year; persistence rate, which is the percentage of people returning to a second year, is down by 25% of undergraduate students that don't enroll at all for a second year.
Data via NSCRC, Persistence and Retention Fall 2020 Beginning Postsecondary Student Cohort, June 2022.
Every company, industry, and sector, including education, has its churn rate, and it is an especial task to keep an eye on it. Regardless of the monthly or yearly tuition fee, if a student decides to drop out, the cost of acquiring new students will increase in the long run to cover the hidden expenses of that dropout.
The churn rate formula is simple: (Lost Customers ÷ Total Customers at the Start of Time Period) x 100. For example, if your institution had 250 students at the beginning of the semester and lost ten students by the end, you would divide ten by 250. The answer is 0.04. You then multiply 0.04 by 100, resulting in a 4% semesterly churn rate.
Why is student retention important?
Student retention can be defined as the process of keeping students enrolled in an educational institution. It's an essential part of education, as the student rate percentage determines, most of the time, other factors such as graduation rates and the enrollment of future generations.
In different types of businesses, acquiring a new client can be 5 to 25 times more expensive than retaining one. According to Harvard Business School, just increasing the customer retention rate by 5% can increase profits by 25% to 95%.
Higher education institutions are keener to receive the impacts of student dropout. Unlike K-12 institutions, HEI's success is measured by its revenue, graduation rate, and student retention. The primary objective of an HEI is to accommodate its graduates in the workforce right after education.
For private institutions, the more students enrolled help them to have a better career service office to land a job more easily after graduation; for public institutions is even harder, as most of their funding comes from the government, which is often tied up to enrollment and retention rates.
LEARN ABOUT: Service Recovery
4 Strategies to Reduce Student Churn Rate
Now that we review the fundamental concepts of student churn rate and student retention, here are some strategies educational institutions can use to improve student retention:     
High student satisfaction levels
Getting information on students' satisfaction is no easy job. Most of the time, the expectations of students can be way over the bar or unrealistic. But making an effort on little things can significantly impact student retention.
Educators or administration staff use a student satisfaction survey for students to give an opinion on a variety of topics. The quality facilities, the performance of teachers or administration, and the experience with other students making this type of question can be done with ease. Most of the time, it does not require any specific, so the same survey can be used across different faculties or grades to have overall feedback from the whole institution.
Explore their interests
Engaging with students can be more easily done by doing a student interest survey before designing the educational plan. By creating learning experiences that produce interest in students, the probability of an individual being captivated by the topic increases drastically, making it more enjoyable for the student experience and creating a feeling of studying beyond what's taught in the classroom.
Experiencing a situational interest can promote learning by increasing student engagement and attention. Studying a second language, for example, learning the basics of how to use verb tenses, can be difficult. Why not try to use the top 100 Billboard charts to engage with music? Or watch the movies nominated for an Oscar dub in that language? There are plenty of possibilities, but getting to know students' interests beforehand is key to developing new ways of teaching.
Evaluate the evaluations
Creating educational plans is not easy; the combination of material for engaging, compelling, and exciting can be a significant challenge for educators. You can get proper feedback from those taking the course by developing and using course evaluations. Measure the quality of teaching and learning by asking students to report on educators teaching practices and responsiveness, the learning environment, and students' understanding of what they learned through the entire course.
This kind of evaluation can also be used by school administration to make the right strategy on the courses that are going to be in students' plans; reducing those whose qualifications don't meet the criteria can benefit in both a reduction of cost and an increase in the school academic overall performance.
How QuestionPro can help you with Student Retention
Reducing the number of students dropping out is one of the biggest challenges education institutions will face in the post-COVID-19 pandemic. Insights and data analytics are most important in this era, where students seek to gather more soft skills and expertise than a college degree. To decrease the student churn rate, HEIs can opt for multiple solutions: learning design, lowering tuition fees, providing support mechanisms for mental health, etc.
QuestionPro is the top survey platform software to solve insight-gathering problems. From basic research with the user lite service to our more advanced Education Research Solutions, we can provide the most innovative solutions for student retention.