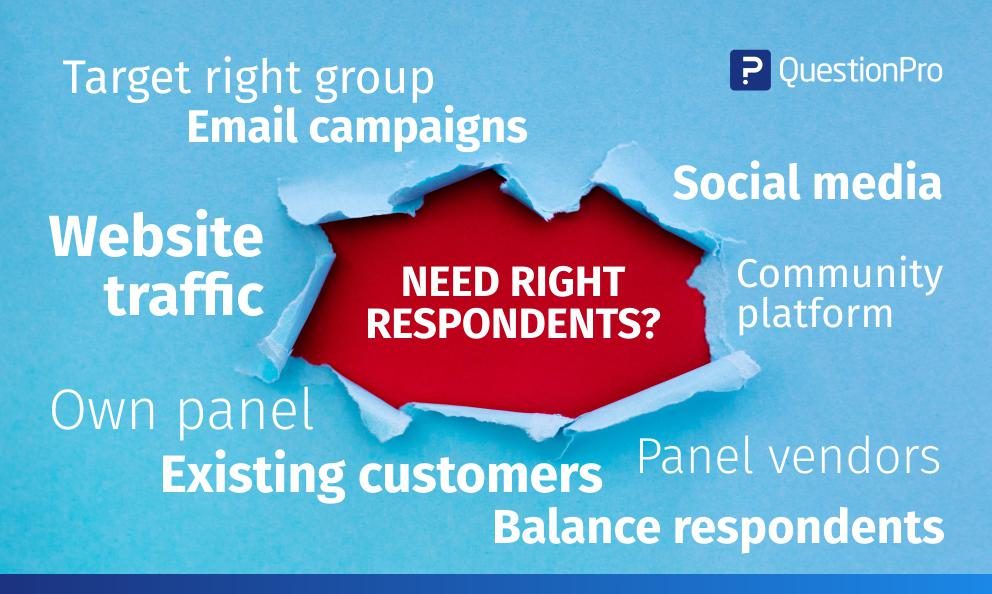 What does targeting the right respondents for an online survey mean? About fifteen years ago, researchers knew very little about conducting online surveys. Almost all interviews were still completed via telephone, paper and pencil or face to face. Today, researchers know much more about online research, and most interviews are completed online.
There's nothing more frustrating than spending vital amounts of time and energy on a survey research project, only to realize that your survey respondents don't qualify for the survey. When using a survey to support a research initiative, it's far too common for the researcher to focus on designing and building the survey, while neglecting the target audience.
No matter how well the survey is designed, all the effort is useless if you are not able to put forward your questions to the right target. In this article, we address the most suitable ways to identify survey respondents.
9 tips to target the right target respondents for online survey
There are multiple options to recruit the right respondents for online surveys. Here are the top 9 tips:
1. Target the right group
One of the most important and first factors to consider is targeting the right group of people. You can get a higher response rate only by selecting the correct audience. Remember, only the appropriate audience can produce valuable information. Targeting the wrong respondents will deem your survey redundant.
2. Figure out the right balance of respondents
Finding the correct respondents is essential, but getting the right balance of survey takers is equally essential for the success of the survey. To get the most representative data, demographic segmentation is important. You must consider the percentage of male and female customers, or the percentage of teenagers and adults, based on the requirement.
3. Email campaigns
If you have an existing list of contacts that have opted-in to receive emails from you, you can send your survey to them. Just bear in mind to send your survey to a sample representing the population and not everybody in your contact list.
4. Social media posts
You can share your survey link to Facebook, Twitter, LinkedIn, or any other social platform your audience visits. This often is an affordable and quick way to gain lots of responses. Be sure to add some screener questions to the survey, so that you do get the target audience that you were anticipating.
5. Take advantage of the website traffic
Organic website traffic is a viable and suitable method to identify survey respondents. Depending on the nature of the study, you could host a survey invitation on your website's homepage, and allow potential survey respondents to choose whether they qualify or not to take your survey.
This method should not be used if your topic is relatively niche; but, if you're interested in a broader and more approachable topic, it's more likely that a random visitor to your website could provide you with the feedback necessary to derive some insight.
6. Use an online community platform
For online user studies, there are several platforms, the most popular being Reddit, Craigslist, Ethnio, QuestionPro Communities, etc. This is a great way to target the right respondents for an online survey. With close to a quarter-million unique users and thousands of communities or "subreddits," Reddit can be used to target people over a range of niche topics. You need to gauge the motivation of participants to participate in your research. Some are focussed on making quick money, and getting feedback from those participants could be bad for your research.
7. Recruit from your panel
Depending upon the size of your company and customer base, you may want to set up and nurture your user panel. Although building a panel costs a significant amount of money and effort, the investment pays off in the longer run. The respondents are readily available. You also already have a pre-screened list ready. The challenge here is to keep the panelists engaged and making sure that all panelists evenly get the opportunities to participate in user research. Always avoid creating "experienced testers". Engaging a company, specializing in UX or user research, to create and manage your panel helps you to focus on running other important aspects of research.
8. Use the existing customers
Existing customers are great at providing feedback on new features or upgrades to existing products or services because they already have the first-hand experience of using your platform. This approach doesn't work too well due to the recency effect bias, etc. and definitely not advised as the only source when researching new products. In such cases, you need to opt for other sources for recruitment.
9. Use online panel vendors
Several panel providers offer this service online. Panel recruitment vendors are very useful but their pricing could be high. Online panels are respondents who are profiled by completing relevant pre-screening questionnaires. These audiences are actively ready to partake in online surveys. Re-check on the participants' demographics and psychographics because the database information might not be most up-to-date. This is the best way to target the right respondents for an online survey.
Keeping up with the market trends
Among the above methods, the most convenient and efficient approach to identifying survey respondents is by using panel services. Panels allow you to specify the criteria of your target respondents for an online survey. The panel service providers then take the lead on identifying groups of people that fit your needs, taking most of the work off of your plate. This helps you collect the data and analyze your project faster with more efficiency.
Interested in having a QuestionPro panel specialist walk you through the panel process? Fill out our Panel Request Form and a team member will assist you every step of the way.