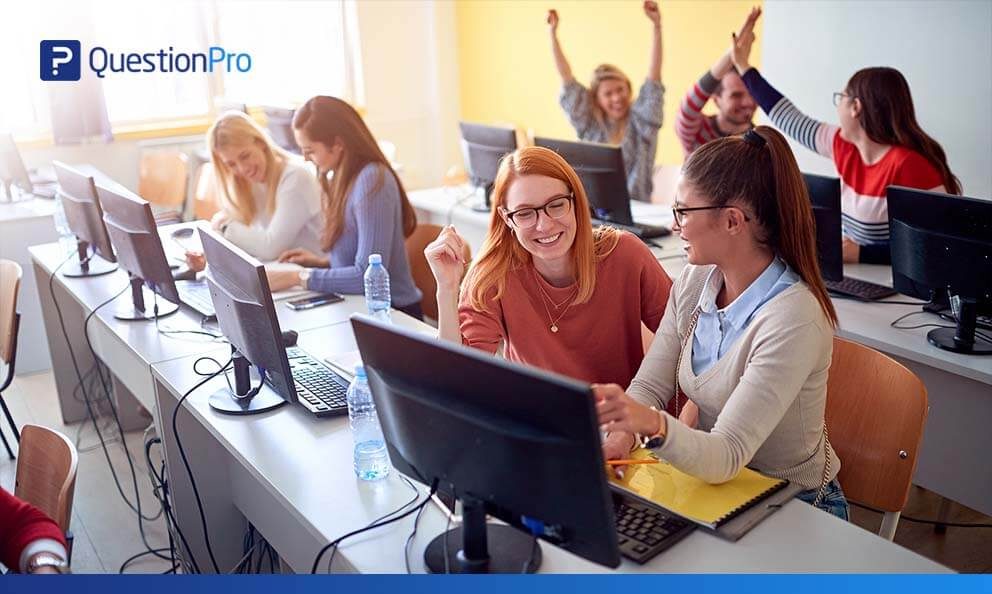 How often have you heard the phrase "DATA IS THE NEW OIL?" Hands down, the world's most 'sought after' resource in the 21st century is data. It is increasingly becoming important to possess actionable, ready-to-use data by the day. With every industry racing to harness data and the advantages that it brings, we at QuestionPro understand the role that data plays, especially in educational institutes. QuestionPro's University-Wide Survey Software provides you with a robust tool to cater to your university needs – elevating learning.
EDUCAUSE is a nonprofit association and the largest community of technology, industry, academic, and campus leaders advancing higher education through the use of Information Technology. The EDUCAUSE Annual Conference 2019 brings you the best presenters and content, pooling together professionals and technology providers from all around the globe. They come together to share ideas, grow professionally, and discover solutions to today's challenges. Be a part of it! It's the biggest gathering of your peers… persons you can learn from, relate to and stay connected to throughout the year. 
What can you expect to see at booth 357?
Did you know that more students and faculty rely on QuestionPro than any other Research Platform? Find everything you need to know about the 'QUESTIONPRO UNIVERSITY-WIDE LICENCE' and 'COURSE EXPERIENCE' under one roof at QuestionPro's booth 357. 
Location: McCormick Place West | Chicago, IL
When: October 14-17, 2019
QuestionPro University-Wide Survey Software License
The QuestionPro University-Wide Survey Software License provides you with all the features available with the QuestionPro Enterprise-level license. Get full access to powerful and engaging surveys to expand your research and capture the most accurate data with intelligent survey creation. Use the advanced survey logics to create intelligent and optimized surveys. Distribute your surveys with the assistance of a powerful list management system. Expand your reach through embedding surveys on blogs or through social media and email integration. With data security placed on top of our list, we are SSL secured and are proud holders of the US/EU Safe Harbor and SSAE16/SOC-2 certificates.
Advanced data analytics helps get a better understanding of the research topic. Collaborate with ease, share project data and work on survey projects together. With a host of analytical tools like Max Diff, Correlation Analysis, and Trend Lines to name a few, you're assured to capture actionable data. Respondent data is showcased in an easy-to-interpret visual infographic report. Run important reports and organize data, all using the same software. Furthermore, share reports with your team for instant collaboration. Easily export reports to SPSS, Excel, Dropbox, Tableau, and Google Drive to share on any platform.
Our solutions to your needs – To help you customize your survey to best suit your needs, we support custom scripting and custom designing options. We also support multi-lingual surveys to make the surveys look more localized. With over 108 languages supported and translation services provided, we ensure that language is never a barrier.
A few features worth mentioning
Easy migration from Qualtrics, SurveyGizmo, and SurveyMonkey

Conjoint Analysis

Complex Question Types

Survey Encryption

Advanced Logic Workflows for Smarter Surveys

Qualitative and Quantitative Analysis

Import Data

Consolidate Report

Data View And Storage

SalesForce Sandbox Integration

Google Analytics

Datacenter Versatility

Webhooks
QuestionPro Course Experience – The Course Evaluation Platform
Get a free demo on the QuestionPro Course Experience tool which helps bridge the gap between university students, the faculty, and the university. QuestionPro's course experience and evaluation platform enable universities to get a holistic perspective of students' voice, in an instructor report. The tool being intuitive and technologically advanced, enable yourself to automate processes with simple and easy to use the software. Distribute surveys in real-time via multiple online and offline methods. 
What more?
We possess the

world's largest database

of 300+ ready-to-use survey templates.

We provide you with the freedom of accessing 80+

ready-made question types

such as Likert Scale, Van Westendrop Scale, Semantic Differential Scale and, Net Promoter Score.

Readily available

24*7 assistance

via live chat, email and, phone so that you may never get held up in your research activities.

Use the QuestionPro app for

offline

survey data collection.

Responses

automatically

reported and analyzed in a

customized

survey dashboard.
How will you benefit?
Come experience the difference QuestionPro can make in the lives of students and professors when it comes to project collaboration. It is a one-stop solution for universities to collect and collaborate research data with real-time automated survey data collection and advanced analytics. Be a part of the 5000 universities and colleges with over 1+ million students who use QuestionPro to power their research.