Go ahead, you can call us irreverent, we're used to it.  But that's how we roll over here are QuestionPro — making online surveys and everything that goes along with making them easy to take and share super easy and accessible to a business on the move.
We've added Apps to help you share data anytime, anywhere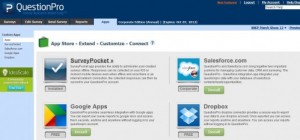 When you log into your QuestionPro account, you'll see a new tab called "Apps" — it was called "Mobile" before.
There you'll find four powerful apps that will make your online survey management a breeze.
SurveyPocket App:  The first is the SurveyPocket app.  When you download this app, you'll be able to synchronize all your surveys to the app and then run those surveys off your iPad or smart phone — online or offline.   In case you didn't realize it, your QuestionPro license comes with a FREE device key for one iPad.
Google Apps:  Have you ever been in a meeting and wanted to share your survey results?  Or have you ever been on the road and had someone call you to pull data from a survey — and you're completely disconnected?  All of these problems go away with QuestionPro's Google App integration.  Now you can upload your reports directly into Google Apps and share them easily without logging into QuestionPro.
Salesforce.com integration:  We've written about online survey's being a great lead qualifier or even a way to track certain event triggers that go on within an account — now you can integrate your CRM solution with the data that you've collected via QuestionPro.
DropBox: You can also upload your reports and files into DropBox for easy access without logging into QuestionPro.  Once again – you don't have to be a slave to your team and others meetings.  Your survey reports, results and presentations will be available for anyone you designate to access.
It's not enough to just have great online survey software — what good is it if you can't share it with the people on your team?  Now you can share all your data with your clients, colleagues and team members.