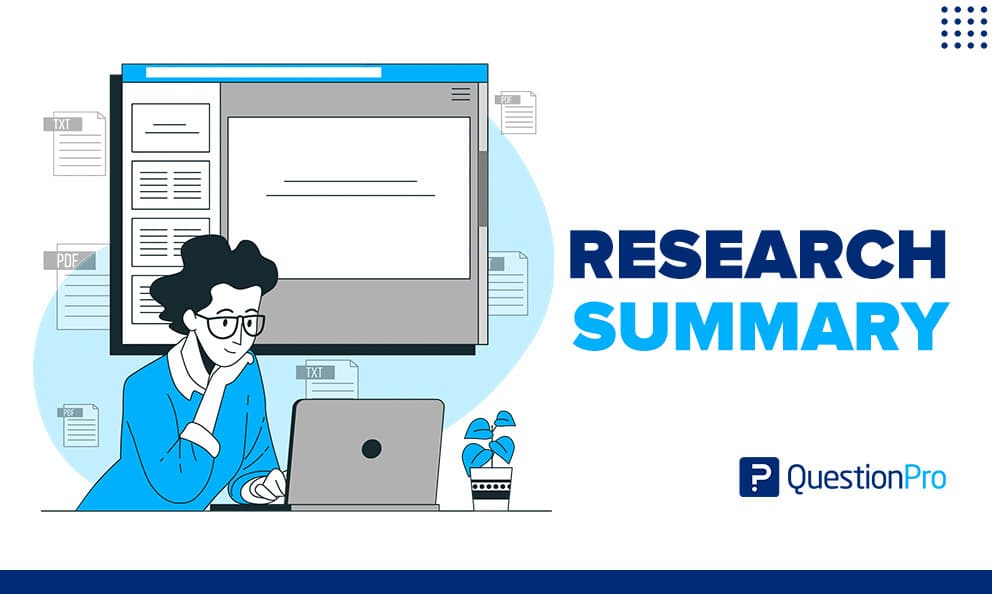 The Research Summary is used to report facts about a study clearly. You will almost certainly be required to prepare a research summary during your academic research or while on a research project for your organization.
If it is the first time you have to write one, the writing requirements may confuse you. The instructors generally assign someone to write a summary of the research work. Research summaries require the writer to have a thorough understanding of the issue.
This article will discuss the definition of a research summary and how to write one.
What is a research summary?
A research summary is a piece of writing that summarizes your research on a specific topic. Its primary goal is to offer the reader a detailed overview of the study with the key findings. A research summary generally contains the article's structure in which it is written.
You must know the goal of your analysis before you launch a project. A research overview summarizes the detailed response and highlights particular issues raised in it. Writing it might be somewhat troublesome. To write a good overview, you want to start with a structure in mind. Read on for our guide.
Why is an analysis recap so important?
Your summary or analysis is going to tell readers everything about your research project. This is the critical piece that your stakeholders will read to identify your findings and valuable insights. Having a good and concise research summary that presents facts and comes with no research biases is the critical deliverable of any research project.
We've put together a cheat sheet to help you write a good research summary below.
Research Summary Guide
Why was this research done?

 – You want to give a clear description of why this research study was done. What hypothesis was being tested?

Who was surveyed?

– The what and why or your research decides who you're going to interview/survey. Your research summary has a detailed note on who participated in the study and why they were selected. 

What was the methodology?

– Talk about the methodology. Did you do face-to-face interviews? Was it a short or long survey or a focus group setting? Your research methodology is key to the results you're going to get. 

What were the key findings?

– This can be the most critical part of the process. What did we find out after testing the hypothesis? This section, like all others, should be just facts, facts facts. You're not sharing how you feel about the findings. Keep it bias-free.

Conclusion

– What are the conclusions that were drawn from the findings. A good example of a conclusion.

Surprisingly, most people interviewed did not watch the lunar eclipse in 2022, which is unexpected given that 100% of those interviewed knew about it before it happened.
Takeaways and action points – This is where you bring in your suggestion. Given the data you now have from the research, what are the takeaways and action points? If you're a researcher running this research project for your company, you'll use this part to shed light on your recommended action plans for the business.
LEARN ABOUT: Action Research
Conclusion
If you're doing any research, you will write a summary, which will be the most viewed and more important part of the project. So keep a guideline in mind before you start. Focus on the content first and then worry about the length. Use the cheat sheet/checklist in this article to organize your summary, and that's all you need to write a great research summary!
But once your summary is ready, where is it stored? Most teams have multiple documents in their google drives, and it's a nightmare to find projects that were done in the past. Your research data should be democratized and easy to use.
We at QuestionPro launched a research repository for research teams, and our clients love it. All your data is in one place, and everything is searchable, including your research summaries! 
Authors: Prachi, Anas