The COVID-19 pandemic has affected all spheres of our lives, from the way we work, we travel to the way we shop. Big events like this bring about a major shift in the economy, and hence it makes it imperative to know how are consumers spending their money now and how do they plan to spend in the coming months. The analysis of this data can offer interesting insights into consumer behavior and psychology. Businesses can take a cue from these insights to better understand consumer needs, target the right customer segment, and customize their products and services as per the need of the hour.
According to a survey conducted by QuestionPro on 500 adults in the U.S., we found that American consumers are cautiously returning to discretionary spending. They are using cash or savings to pay their debt, purchase clothing, and buy gifts. The data points that the consumers have still not been able to overcome the financial challenges that the pandemic has brought with it, and so they are warier about spending money on frivolous items. 
In contrast to the speculations about "Revenge Spending", the Americans have adopted a practical, thoughtful, compassionate, and risk-averse approach to spending in the coming months.
About 40% of respondents plan to spend the same as they did in the last six months, whereas 34% say they will reduce spending money. Nearly 27% responded they will increase spending in the near future.
Indeed, this pandemic has brought some of the real changes in the purchase behavior of consumers. But, what are the Americans spending on?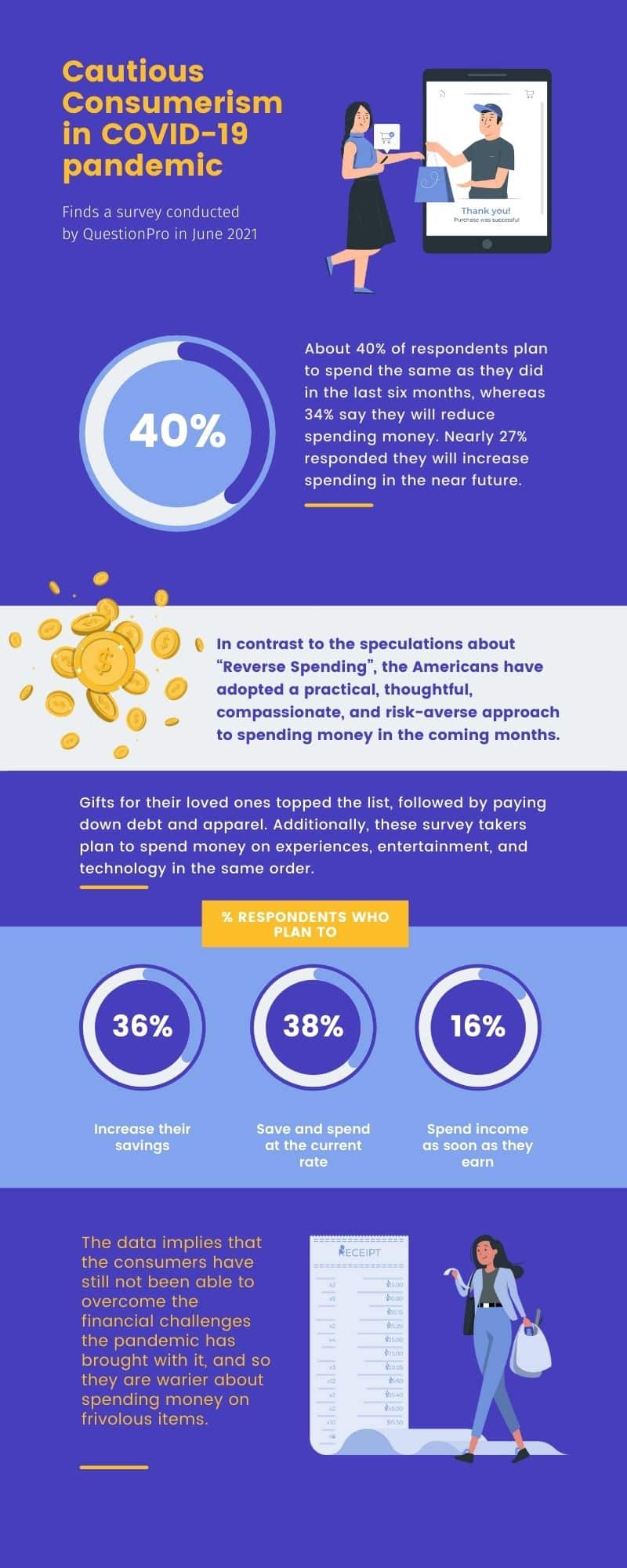 Gifts for their loved ones topped the list, followed by paying down debt and apparel. Additionally, these survey takers plan to spend money on experiences, entertainment, and technology in the same order. 
Another interesting insight shows only 13% of respondents use their credit cards to shop, with 54% using cash and 33% using their savings.
The pandemic has had a significant psychological impact too on consumer spending behavior and how people plan to spend in the future. About 36% of respondents plan to increase their saving, 38% plan to save and spend at the current rate, whereas 16% will be compelled to spend income as soon as they earn. These 16% of consumers don't make enough money to save. Only 10% said that they are spending it as they earn because "you only live once and can't fear the future."
The survey was fielded to U.S. consumers on June 16, 2021, and has a +/- 3% margin of error. It was distributed using technology that detects multi-behavioral frauds to verify respondents including
80+ Security variables

Rejection of suspicious IP addresses

Digital fingerprinting

Captcha bot detection

Event streaming and analysis

Copy-Paste detection

Translation of text detection

Mouse movements
With the majority of Americans staying at home, it is likely that they will need to spend more on the essentials like groceries, furniture, and household items, while some are going to spend less on discretionary expenses. 
If you are looking for a solution that simplifies survey design, distribution, and data analysis while offering sophisticated features like integrations, advanced question types, collaboration, dashboards and reports, connect with us at sales@questionpro.com. Our products comply with data regulatory requirements such as GDPR and are ISO: 27001 compliant.