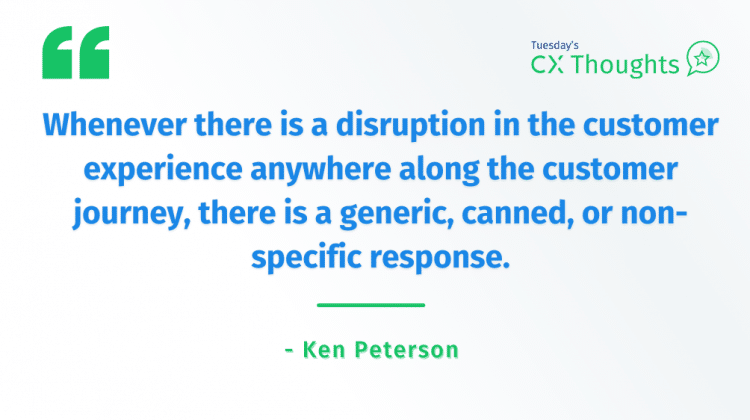 There is something that can be said about a very direct and straightforward statement to customers, particularly when their confidence is lacking. It seems to be in the news quite frequently these days. Just conduct a quick social media analysis and you will hear about brands that failed their customers in one way or another. I have written about that previously in my blog (Powerful Messages About Failure) and it will also be discussed in an upcoming article, so it is fitting that I am talking about it again today.
Undoubtedly, there are individuals who have heard about the controversy with Bud Light that has been covered in the media. I am not here to go through those arguments, rather I wanted to take a look at the statement that was issued by the company following the headlines that were made. Regardless of your opinion on this particular topic, what stood out to me was how little was actually said in the statement – there was no mention of advocacy or support to one side, nor was there any apology to the other side. It was very much like a politician making a statement.
This stands in sharp contrast to another failure that probably did not get as much media attention. Our local airline, following some system upgrades, had a few things go wrong across many customer experience touchpoints. Within a week, there was a statement, acknowledging the mistakes and actually using the word "apologize" in the statement.
Too often, we see the former instead of the latter in business today. Whenever there is a disruption in the customer experience anywhere along the customer journey, there is a generic, canned, or non-specific response. Nothing that would give confidence to the customers or positively support the employee experience for those that must deliver on the customer experience strategy. 
When you look at the bigger picture, we are seeing uncertainty in the market and customers that are carefully deciding how to spend their hard-earned money. Given the news of the collapse of First Republic Bank, just behind the failure of Silicon Valley Bank, many customers are also trying to decide where to keep their money as well. Over the years, I have worked with many smaller to mid-sized financial institutions where they acknowledged the need for maintaining a customer experience software platform, yet decided not to capture the Voice-of-the-Customer for budgetary reasons. Others that have implemented programs, generally capture the bare minimum of feedback – often one or two touchpoints, because that is what their CX Enterprise Software offers.
While many are now prepared to buckle down, save a few dollars on expenses, if you are one of those small to mid-sized financial institutions – whether a regional bank or a credit union – now is actually a good time to listen more to your customers. It is time to fill you customers with confidence, look at your customer journey templates and decide where your customer journey maps need to reflect the new reality that customers are looking for confidence in where they place their deposits and will be listening to offers from larger and "more secure" institutions. You need to build a more sophisticated customer feedback loop. When you incorporate root cause analytics like you'd get with our QuestionPro NPS+ question type, you will be able to move from tactical responses with customers to strategic Outer Loop activities. Add tools like CX Reputation where you can listen to what customers are saying about your brand and respond. It may not apply to every financial institution type, but it is even more critical to pay attention to your B2B focused business lines where those customers have their confidence shaken with the First Republic failure and the deposits lost there. 
Beyond just reassurance, communicate with your customers honestly, let them know your positioning (they will find out otherwise) and provide them with the information they need to know to be emotionally engaged with you as a customer. In that way, you can confidently keep them as customers and not suffer from potential cash runs that would come with customers that do not feel they are best positioned with you in their corner.
Don't let uncertainty in the market and negative press shake your customers' confidence in your brand. Now is the time to listen to your customers, fill them with confidence, and communicate with them honestly. At QuestionPro, we can help you build a more sophisticated customer feedback loop and tailor your customer journey maps to reflect the new reality that customers are looking for. Join us today and take your customer experience strategy to the next level.