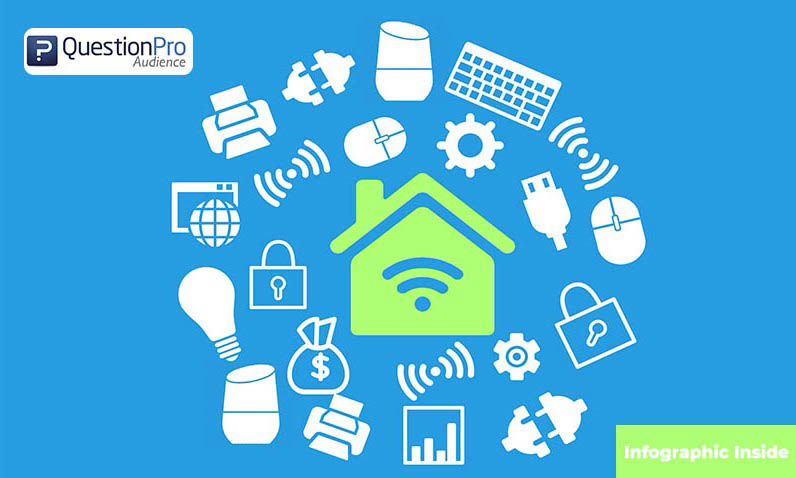 2017 was predicted to be the year of the smart home, and consumers are slowly integrating the new technology into their homes. With smart speakers like Amazon Echo, Google Home, and the soon-to-be-released Apple HomePod, consumers have many options when it comes to a digital voice assistant, and the ability to optimize and control lighting, heating, energy consumption, electronic devices and security features. Currently, 16.3% of Americans live in a smart home, and that number is expected to increase to 35.6% by 2021.
We polled over 450 respondents from our consumer panel to gauge their thoughts on the smart home. 56% of those polled feel digital voice assistant devices (such as the Amazon Echo, Google Home, Microsoft Cortana and Apple HomePod) will have an impact on society in the same way the iPhone has, but only 25% own one. 19% are considering purchasing one, while 60% do not feel they need a digital assistant.
Consumers have apprehension regarding the technology. 60% feel a digital assistant isn't a beneficial addition to their household, 15% do not like the idea of a device always listening, and 6% are worried hackers could access their personal information. In fact, 55% of consumers are concerned implementing these devices into their household could lead to invasion of privacy.
There have been reports that brick and mortar retail is declining, and our data supports that theory, with only 23% of our respondents purchasing their device in-store. The Google Home was the most popular digital voice assistant (46%), followed closely by Amazon Echo (40%) and the Microsoft Cortana Invoke (7%). As for their decision to purchase a digital assistant? Consumers are hoping a digital assistant will make their life easier (46%), and 38% just think it's a cool device. Our respondents primarily use their digital assistant to play music (15%) get the weather report (12%), create reminders for themselves (11%), or search online (9%).
46% of consumers are planning to use digital assistant devices to convert their house into a smart home in 2018, by linking up their television (23%), lighting (19%), smart speakers (16%), thermostat (14%), security camera (13%) or kitchen appliances (11%). Move over, smartphone—62% of consumers are using their smartphone less frequently after purchasing a digital voice assistant.
Below is a preview. Download the full 14-page research report here!