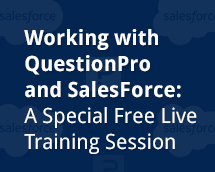 We're holding a special training session (no charge to attend), to cover some of the new enhancements with QuestionPro's SalesForce integration.


If you are using QuestionPro and SalesForce together using out integration, we've added more functionality so you can do even more with your survey data.
If you are using QuestionPro and SalesForce, but not together, now is the perfect time to see how you can save a whole lot of time through the integration.
If you are using QuestionPro but not SalesForce, come check out how smart your sales efforts can be using this powerful CRM.
If you're not using QuestionPro but are using SalesForce, survey data can significantly impact your CRM.
And finally, if you are using neither QuestionPro nor SalesForce, wow are you in for a treat! You'll see data in action, from survey completion to closed sale.





The Top Three Things this Training Will Cover:
Send a QuestionPro survey directly from within SalesForce.
Transfer survey response data into SalesForce.
Create a new SalesForce record from a survey response.
During the session, we'll demonstrate the integration, talk about best practices, and make sure your questions get answered.
You can click the banner above to register, or go here: http://bit.ly/qp-sf.
See you there!