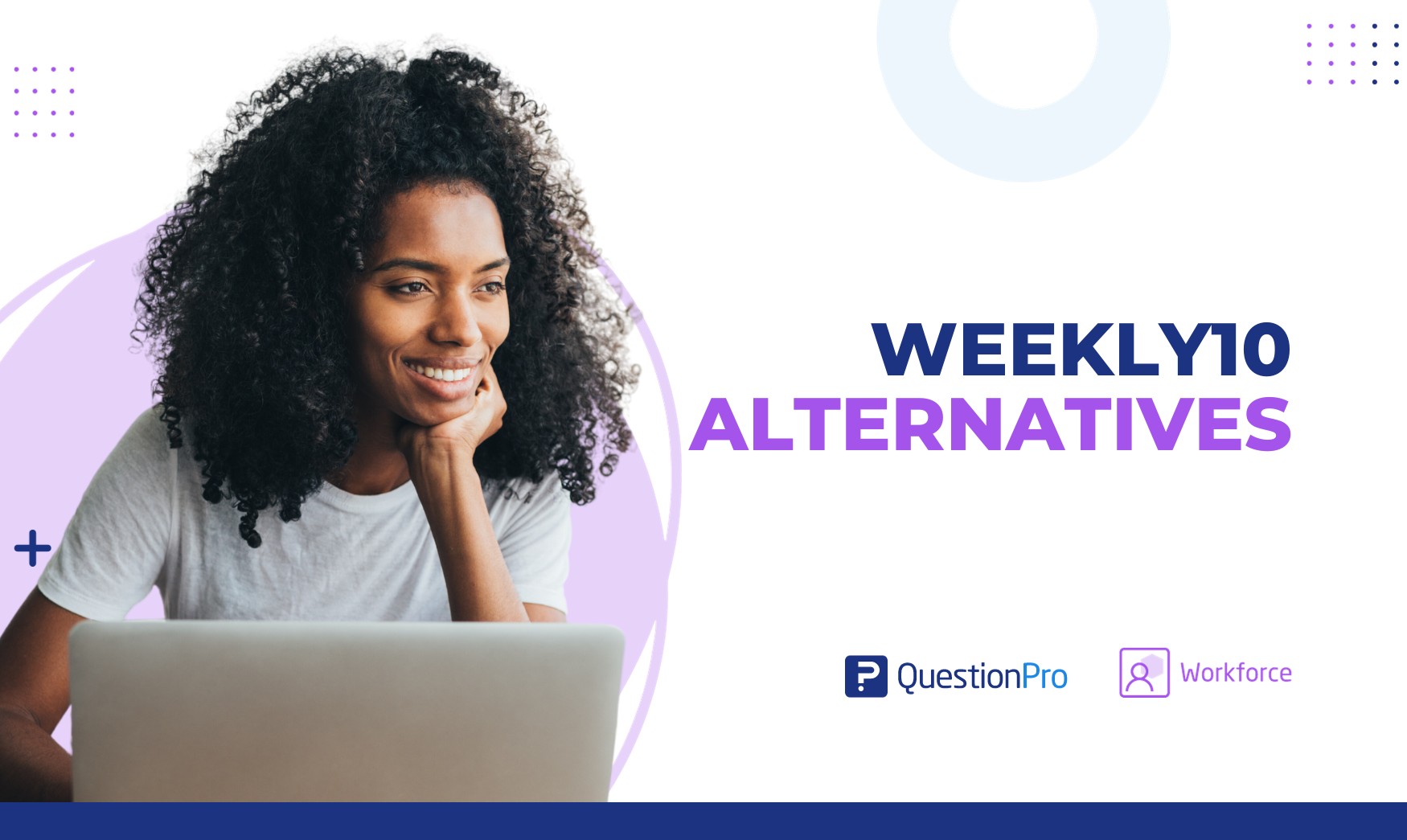 Employee performance management is a crucial aspect of any organization's success. If you're looking for Weekly10 alternatives or want to explore different options, you're in the right place.
Employee performance management is a crucial aspect of any organization's success. Weekly10, a popular software solution, has been helping businesses streamline their performance review processes.
This blog discusses the 10 best Weekly10 alternatives in 2023 to help you decide the best fit for your organization.
What is Weekly10?
Weekly10 is a performance management and employee engagement software platform designed to help organizations measure and improve their employees' performance on a weekly basis. The platform aimed to streamline the performance review process and promote ongoing feedback and communication between employees and managers.
The people management platform streamlines HR managers and processes and enhances employee engagement. Here are some key features and aspects of Weekly10 alternatives based on the last update:
Weekly10 encouraged employees to check in with their managers on a weekly basis to discuss their goals, achievements, and any challenges they were facing. These check-ins were typically conducted through the platform's digital interface.
Goal Setting and Tracking
Users could set and track their personal and professional goals within the Weekly10 platform. This feature helped align individual goals with organizational objectives.
Employee Performance Management Platform
The platform provides data and analytics to help organizations measure entire employee lifecycle performance over time. Managers could track progress, identify trends, and make data-driven decisions.
Weekly10 emphasized the importance of regular feedback and recognition. Employees and managers could provide feedback, praise, and constructive criticism through the platform.
Weekly10 is often integrated with other HR teams and performance management systems, making it easier for organizations to incorporate the platform into their existing processes.
10 Best Weekly10 Alternatives
Here are ten best weekly10 alternatives, including QuestionPro, along with descriptions, key features, and their respective pros and cons:
01. QuestionPro:
QuestionPro is not just your ordinary survey and feedback platform; it's your strategic ally in elevating your workforce's potential. As a top-tier provider, it offers a robust suite of solutions tailor-made for gathering and deciphering 360 degree employee feedback, making it the go-to choice for comprehensive performance assessments and fostering engagement that goes above and beyond.
Key Features:
360 Feedback Surveys: QuestionPro's Workforce suite excels in crafting 360-degree feedback surveys that provide a holistic view of employee performance. These surveys go beyond the traditional self-assessment by incorporating insights from peers, managers, and subordinates. It's like having a comprehensive feedback ecosystem at your fingertips.
Customization at its Best: No two organizations are alike, and QuestionPro knows this well. That's why they offer fully customizable surveys and questionnaires, allowing you to tailor the feedback collection process to match your unique needs and culture. It's your canvas; paint your feedback masterpiece.
Real-Time Feedback Power: The pace of business demands real-time insights, and QuestionPro delivers. With their platform, you can collect feedback as it happens, ensuring you stay agile and responsive in today's dynamic work environment. No more waiting for annual reviews to spot trends.
Advanced Reporting and Analytics: In the world of feedback, data is gold. QuestionPro's advanced reporting and analytics tools transform raw feedback into actionable insights. Dive deep into the data, uncover trends, and make informed decisions that drive positive change.
Seamless Integration: Your feedback ecosystem doesn't operate in isolation. QuestionPro understands the importance of integration with your existing systems. Their suite seamlessly integrates into your workflow, ensuring a smooth and efficient feedback process.
Pros:
Flexible survey creation.
Strong analytics capabilities.
Integration options with other software.
Provides anonymous feedback
Cons:
It may require additional features for comprehensive performance management.
Limited emphasis on goal setting.
02. 15Five:
15Five is a performance management platform that encourages regular or daily feedback and communication between employees and managers.
Key Features:
Weekly check-ins and feedback.
Goal tracking and alignment.
Pulse surveys for employee sentiment.
Pros:
Easy-to-use interface.
Effective for fostering communication.
Integration options with HR tools.
Cons:
Limited advanced analytics.
Some users may find it simplistic.
03. Lattice:
Lattice is a comprehensive performance management platform known for its recurring feedback and goal-setting capabilities.
Key Features:
360-degree feedback.
Goal tracking and OKRs.
Performance reviews and one-on-one meetings.
Pros:
Robust goal-setting features.
Strong reporting and analytics.
Scalable for growing organizations.
Cons:
It may require customization for specific needs.
Pricing can be higher for smaller businesses.
04. Culture Amp:
Culture Amp specializes in employee engagement and performance management, providing tools for feedback and sentiment analysis.
Key Features:
Employee survey and feedback.
Goal tracking and development plans.
Performance reviews and analytics.
Pros:
Emphasis on employee engagement.
Customizable surveys.
Data-driven insights.
Cons:
Complex for small businesses.
Implementation can be time-consuming.
05. Reflektive:
Reflektive offers real-time feedback and performance management tools designed to enhance employee engagement.
Key Features:
Recurring feedback and recognition.
Goal setting and tracking.
Performance reviews and analytics.
Pros:
User-friendly interface.
Focus on real-time feedback.
Integrations with other HR systems.
Cons:
Limited customization options.
Pricing may not suit all budgets.
06. Glint:
Glint focuses on employee engagement and provides tools for collecting feedback, analyzing data, and taking action to improve the workplace.
Key Features:
Employee feedback surveys.
People analytics and insights.
Action planning and tracking.
Pros:
In-depth analytics and reporting.
Emphasis on actionable insights.
Integrates with HRIS systems.
Cons:
Pricing may be high for small businesses.
Implementation can be complex.
07. Small Improvements:
Small Improvements offers a performance management platform with a focus on regular or daily feedback and goal-setting.
Key Features:
Recurring feedback and peer recognition.
Goal setting and tracking.
360-degree reviews.
Pros:
User-friendly interface.
Customizable workflows.
Good for smaller organizations.
Cons:
Limited advanced features.
It may lack scalability for larger enterprises.
08. Workday:
Workday is a comprehensive human capital management (HCM) system that includes performance management features.
Key Features:
Performance reviews and goal management.
Integration with HR functions.
Analytics and reporting.
Pros:
All-in-one HR solution.
Strong analytics capabilities.
Suitable for large enterprises.
Cons:
Complex implementation.
Higher cost.
09. BambooHR:
BambooHR is a cloud-based solution that offers a range of HR software solutions, including performance management tools.
Key Features:
Employee records and performance tracking.
Customizable workflows.
Goal setting and feedback.
Pros:
User-friendly interface.
Affordable for small to midsize businesses.
Integrations available.
Cons:
It may lack advanced features.
Limited scalability for larger enterprises.
10. BetterWorks:
BetterWorks focuses on goal-setting and alignment, helping organizations track progress and foster continuous improvement of entire workforce.
Key Features:
OKR (Objectives and Key Results) tracking.
Alignment and transparency.
Feedback and recognition.
Pros:
Strong OKR capabilities.
User-friendly interface.
Integrations with productivity tools.
Cons:
Pricing may not suit all budgets.
Limited emphasis on employee journey feedback.
Enhanced employee productivity and engagement with QuestionPro 360 degree feedback
QuestionPro 360-degree feedback is a powerful tool that can indeed enhance employee productivity and engagement when implemented effectively. Machine learning technologies continue to revolutionize various industries, from healthcare to finance. Here's how it can achieve these outcomes and be one of the best weekly10 alternatives:
360-degree feedback gathers input from multiple sources, including supervisors, peers, subordinates, and even self-assessments. This comprehensive feedback provides employees with a holistic view of their performance, strengths, and areas for improvement. This transparency can motivate employees to excel and take ownership of their development.
It helps individuals identify blind spots or areas they may not be aware of, thereby increasing self-awareness. When an employee receives feedback from various perspectives, they can pinpoint areas that require attention and take proactive steps to improve.
Goal Setting and Development Plans
QuestionPro 360-degree feedback can be used to set performance goals and create personalized development plans. This process empowers employees to work on their weaknesses and leverage their strengths, which in turn enhances the team's productivity.
The feedback process promotes open communication between employees, their managers, and colleagues. This can lead to improved working relationships and collaboration, fostering a more engaging and positive work environment.
Recognition and Appreciation
Positive feedback from peers and managers can boost an employee's morale and motivation. Employees who feel recognized and appreciated are more likely to be engaged and committed to their work.
360-degree feedback encourages ongoing feedback conversations rather than relying solely on annual performance reviews. This continuous feedback loop helps employees stay on track with their goals and make adjustments as needed, leading to increased productivity.
In cases where there are conflicts or misunderstandings, 360-degree feedback can help address these issues constructively. Facilitating discussions based on feedback can lead to conflict resolution and improved team dynamics.
For managers and team leaders, 360-degree feedback is invaluable for leadership development. It can highlight leadership strengths and areas for improvement, allowing them to become more effective leaders who inspire and engage their teams.
Customized Training and Development
Based on the feedback received, organizations can offer targeted training and development programs to help employees acquire the skills they need to excel in their roles. This investment in employee growth can lead to improved productivity and job satisfaction overall employee satisfaction.
Employee Engagement and Retention
Employees who see that their organization is invested in employee benefits, growth, and development are more likely to remain engaged and committed to the company, reducing turnover rates.
Conclusion
Choosing the right performance management software is essential for fostering employee development and enhancing organizational success. While Weekly10 is a popular choice, These 10 weekly10 alternatives in 2023 offer various features and capabilities to meet your organization's unique needs.
Take the time to evaluate these options carefully to find the best fit for your business and ensure a more efficient and effective performance management process.
However, it's essential to implement 360-degree feedback carefully to ensure its success. This includes ensuring confidentiality, providing training on how to give and receive feedback, and using the feedback for constructive purposes rather than punitive measures. Additionally, the feedback process should be tied to clear development plans and ongoing support for employees.
QuestionPro 360-degree feedback can be a valuable tool in enhancing employee productivity, which will help to improve employee engagement when integrated into a broader performance management and development strategy.