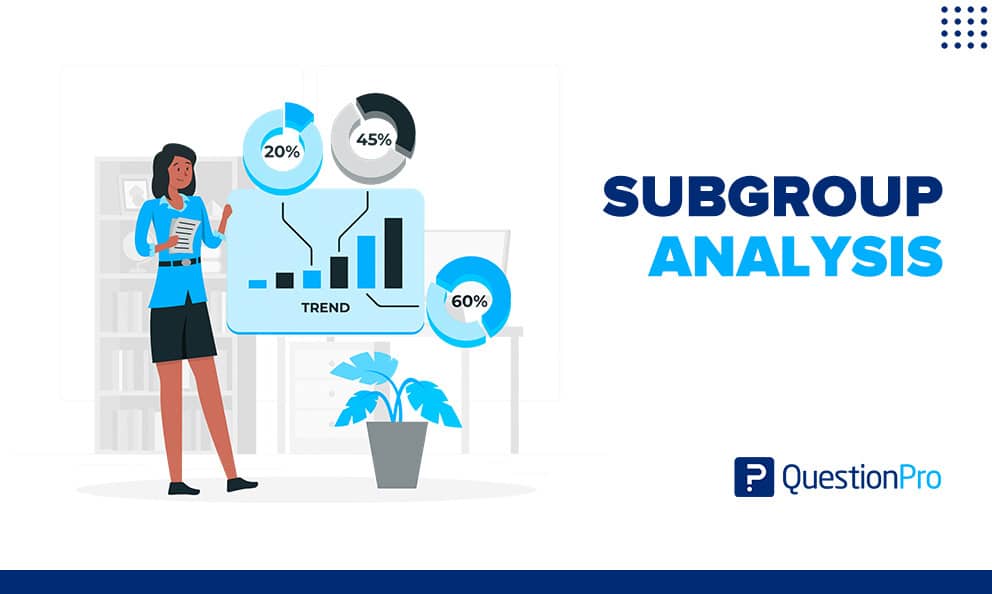 The first step in conducting a subgroup analysis is to define the groups you want to include in your study. You aim to determine whether any of these groups risk developing a particular disease more than others.
For example, if you're studying breast cancer, you may want to know whether women who have had previous surgeries are at higher risk than those who have not.
Once you've decided what your subgroups will be, it's time to collect data from each group. You'll want to collect information from your target population. This can be done through polls, surveys, or by collecting medical records for those diagnosed with the condition during your project.
Once you've collected data from both healthy people and those with the disease or condition under study, it's time for statistical analysis! 
The purpose of statistical analysis is twofold: firstly, we need to make sure there aren't any errors in our sample size; secondly, we need to see whether there are any differences between our samples (that is, whether there are differences between populations with different characteristics).
What is subgroup analysis?
Subgroup analysis is a process that allows you to drill down to see how specific variables affect the outcome of secondary data analysis. Respondents are grouped according to demographic characteristics like race, ethnicity, age, education, or gender. Other variables can be party identification, health status, or attitudes toward certain situations.
A researcher might analyze differences in variable means or distributions across subgroups to identify disparities or other differences.
For example, let's say that you have a survey about people's attitudes toward the use of animals for scientific research, and you're interested in whether there are any differences between men and women in their opinions on this topic.
You could perform a subgroup analysis by dividing your sample into male and female respondents and examining their answers to see if there is any difference between them.
In subgroup analyses (for instance, an intervention or a treatment), we seek to determine a factor's outcome in specific population segments or on specific parameters.
Types of subgroup analysis
Subgroup analysis can indeed be classified into two main types based on the timing of their implementation:
1. Pre-specified Subgroup Analysis
Researchers define specific subgroups and their corresponding hypotheses about treatment effects in pre-specified subgroup analyses before collecting or analyzing the data.
These subgroups are typically chosen based on prior knowledge, existing theories, or biological mechanisms. By determining subgroups and hypotheses in advance, researchers reduce the risk of data-driven biases and increase the reliability of their findings.
Pre-specified subgroup analyses are considered more rigorous and credible because they guard against the temptation to selectively report significant findings that arise by chance.
2. Post-hoc Subgroup Analysis
Post-hoc subgroup analysis, also known as exploratory or unplanned subgroup analyses, is conducted after the data has been collected and initial analyses have been performed.
Researchers may identify potential subgroup differences that were not originally hypothesized. While post-hoc analysis can lead to new insights and generate hypotheses for future research, it's prone to inflated false positives due to multiple comparisons.
As a result, findings from post-hoc subgroup analysis should be considered exploratory and treated with caution. They require validation in independent datasets before being interpreted as definitive results.
Both pre-specified and post-hoc subgroup analyses have their own advantages and challenges. Pre-specified analyses provide more credibility due to reduced bias and the avoidance of data dredging. On the other hand, post-hoc analyses can be useful for generating new research directions but necessitate careful interpretation and replication.
Researchers should transparently report whether subgroup analyses were pre-specified or post-hoc to provide readers with a clear understanding of the analytical process and potential limitations.
LEARN ABOUT: Level of Analysis
How to avoid mistakes
Performing multiple tests on the same data can result in false positives in large-scale projects. Some researchers may ignore a large number of tedious or repetitive results in favor of subset results that they tend to be biased toward.
This is especially true when working with machine learning algorithms, which are often used to generate a lot of repetitive results that may need to be more useful to the user. The time it takes for these algorithms to run can be very long and should be factored into the cost of running an experiment.
This issue can lead researchers down a path without considering other possibilities that may exist in their data set or alternative approaches that would produce better results.
When you analyze your data using subgroups, you're breaking it down into smaller groups to see if there are any differences between them.
If you want to look at how gender affects a certain outcome, you might break up your study sample into men and women and then compare their responses. But how many people should be in each group? And how many comparisons do you need to make?
There are two main reasons subgroups can lead to error. The sample size can be too small, and too many comparisons can be made. When you break down your study sample into many subgroups, you may end up with too few participants to detect differences or ensure differences aren't just a matter of chance.
One of the most common mistakes in subgroup analysis is cherry-picking subgroups post-analysis. To avoid this, researchers should pre-specify their hypotheses about potential subgroup effects before data collection or analysis begins.
Statistical Significance vs. Clinical Significance
While subgroup analyses might yield statistically significant results, assessing whether these differences are clinically meaningful is crucial. Statistical significance only sometimes translates to practical importance.
Conducting multiple subgroup analyses increases the likelihood of finding false positives due to chance. To mitigate this, apply appropriate statistical adjustments (e.g., Bonferroni correction) to control the overall Type I error rate.
Subgroup analyses require a sufficient sample size within each subgroup to yield reliable results. Small subgroup sizes can lead to stable estimates and accurate conclusions.
Ensure that subgroup divisions are biologically or clinically plausible. Subgroups created arbitrarily are less likely to yield meaningful insights.
Validate the findings of subgroup analyses in independent cohorts or studies. Reproducibility enhances the robustness of your conclusions.
Transparently report the methods, variables tested, and results of subgroup analyses. This allows readers to understand the scope of your analysis and the potential limitations.
Subgroup Analysis Advantages
The main advantage of subgroup analysis is that it allows researchers to test their hypotheses further. They may find out that certain subgroups respond better than others or that there are differences between men and women, for example.
Subgroup analyses are a common technique used in medical research. It is an extension of the approach used in a standard study, where different groups are examined to see if they respond differently to a treatment. However, this technique can be problematic for several reasons:
Some studies don't define their subgroups upfront or state how many subgroups will be examined. If a researcher doesn't do this, it's difficult for others to understand why they chose certain groups and what they were trying to show with each analysis. A good researcher should also report on all of the subgroups he or she analyzed, not just the ones that gave rise to interesting findings.
It's possible that when analyzing subgroups, researchers might find something statistically significant but clinically insignificant (that is, something that doesn't really matter). For example, let's say we're studying whether aspirin works better than acetaminophen for treating headaches; we find that 80 percent of people who took aspirin had no relief whatsoever.
LEARN ABOUT: Statistical Analysis Methods
How to do a subgroup analysis
The important role of subgroup analysis in significant research cannot be overstated. Because of this, it is essential that the following elements are included in any report:
A clear indication that the analysis results are subgroup results.
The appropriate significance levels are calculated and reported.
If the research was pre-specified or post-hoc, this should be stated in the write-up.
Subgroup analyses are an important component of a research project. You will find many different products on the market. They have all been designed to benefit your research endeavors, but you have to know how to take advantage of them effectively.
Benefits of Subgroup Analysis:
Subgroup analysis can help identify which groups of individuals are most likely to benefit from a particular treatment. This paves the way for personalized medical interventions tailored to specific patient profiles.
Researchers can gain insights into the underlying mechanisms that influence treatment outcomes by studying subgroup responses. This knowledge can lead to the development of more targeted therapies in the future.
Understanding subgroup differences can aid in optimizing resource allocation by focusing on groups more likely to respond positively to treatment.
Examples of subgroup analysis
In the realm of clinical research, particularly in therapeutic cardiovascular studies, the significance of subgroup analysis within randomised controlled trials (RCTs) cannot be underestimated. These trials form the cornerstone of evidence-based medicine, and conducting reasonably credible subgroup analyses within them can unveil valuable insights.
Consider a scenario where a large-scale randomized clinical trial aims to evaluate the efficacy of a novel cardiovascular treatment. By analyzing the treatment effects across different patient characteristics, such as age, gender, and baseline health status, researchers can identify if certain subgroups respond more favorably to the treatment than others.
A recent systematic review of therapeutic cardiovascular clinical trials highlighted the importance of accurate clinical trial reporting and pre-specified subgroup analyses. The review emphasized the need for interaction tests to validate subgroup-specific analyses.
These tests help determine if the treatment effect truly differs among various patient subgroups or if the observed differences are mere chance occurrences.
By examining baseline data and employing rigorous statistical methods, researchers can ensure that their findings from subgroup analyses are robust and reliable. These findings can subsequently guide more personalized treatment approaches, optimizing patient care in cardiovascular medicine.
In summary, the integration of well-designed subgroup analyses within randomized clinical trials elevates the quality of evidence generated and contributes to more informed clinical decision-making.
QuestionPro for analysis
Subgroup analysis is a powerful tool that can uncover hidden insights within complex datasets. When conducted with care and transparency, it contributes to a more comprehensive and accurate understanding of research outcomes.
By adhering to rigorous methodologies and avoiding common pitfalls, researchers can harness the full potential of subgroup analyses to drive informed decision-making and advance scientific knowledge.
At QuestionPro, we have a quota control logic that you can use for subgroup analyses. We can provide and distribute survey URLs with custom variables to differentiate subgroups. You can also create subgroup-specific questions in the same survey by creating logic based on the subgroup.
For example, let's say you want to analyze 50 male and 50 female respondents. You can add gender as a select one question and then add quota control logic for males and females. Based on gender question responses, we can create logic for male or female-specific questions.
This way, in response, you can easily subgroup male and female respondents with their responses and, based on quota control limits, ensure you get an exact number of respondents.