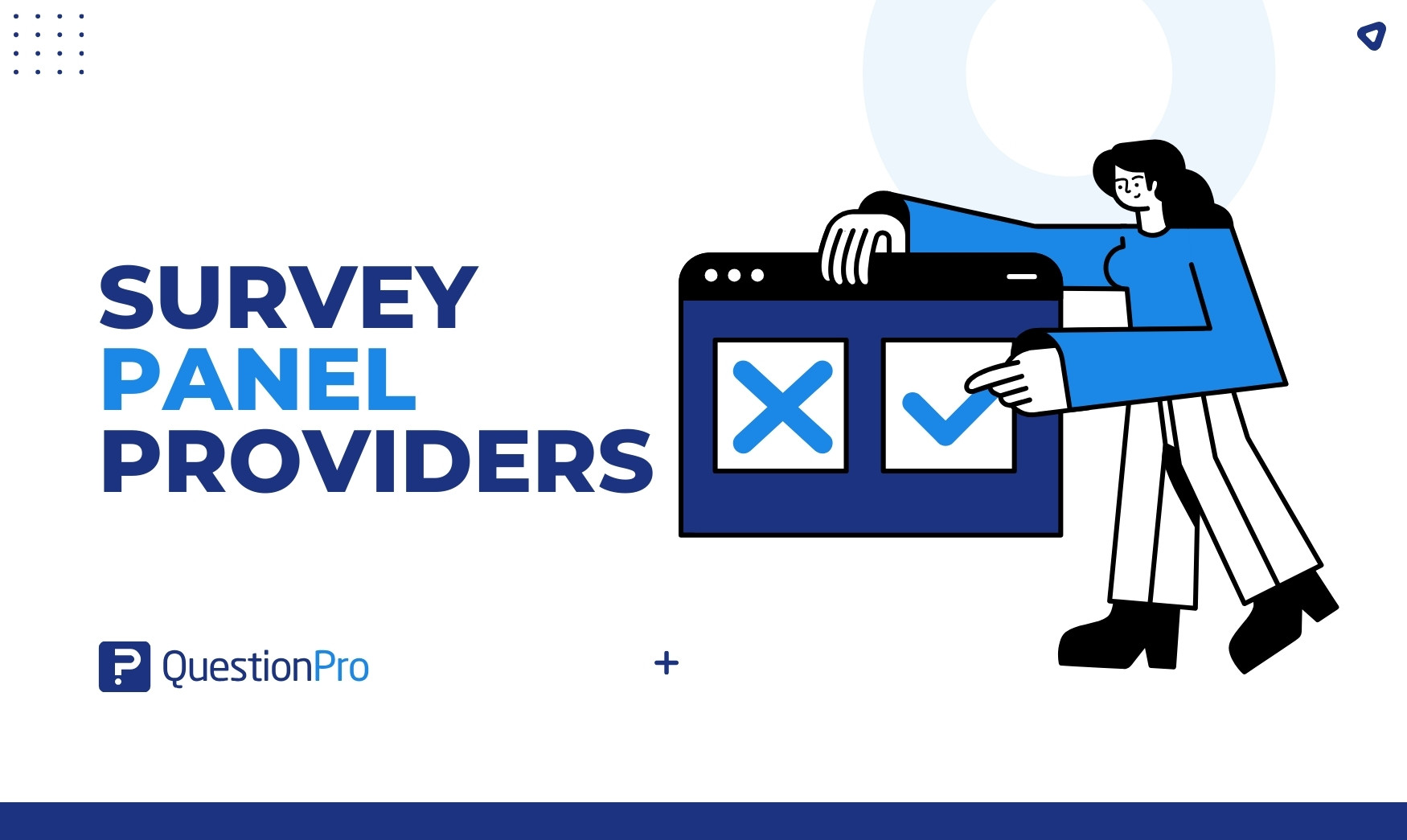 Conducting effective research often involves collecting data from a diverse and representative group of respondents. One powerful tool for accomplishing this is through survey panels, and numerous survey panel providers are available to assist researchers in reaching their goals.
In this blog post, we'll explore the world of survey panel providers and how they can help you meet your research objectives.
What are a survey panel providers?
Survey panel providers are companies or platforms that connect researchers with a panel of potential survey respondents. These panels typically consist of individuals from various demographics, locations, and backgrounds, allowing researchers to target specific groups based on their research requirements.
Panel providers often maintain databases of willing participants who are ready to take surveys on a wide range of topics.
Why should you use survey panel providers?
Using survey panel providers can offer several advantages when conducting market research or collecting data for various purposes. Here are some reasons why you might consider using this:
Access to a Diverse and Targeted Audience
Survey panel providers often have access to a large and diverse pool of respondents. This allows you to target specific demographics, such as age, gender, location, income level, and more, ensuring that you gather data from your desired audience.
Building your own panel of respondents can take time and effort. This has pre-screened and ready-to-participate respondents, saving you time and resources when conducting surveys.
Using a survey panel provider can be cost-effective compared to building and managing your own panel. You only pay for the responses you receive, reducing upfront expenses.
Reputable survey panel providers typically have quality control measures to ensure that respondents provide accurate and reliable data. This includes screening for fraudulent or low-quality responses.
Sample Size and Scalability
It can help you quickly achieve the desired sample size and scale up or down based on your research needs. This flexibility is valuable when conducting large-scale surveys or testing various hypotheses.
Many such panel providers offer support and guidance throughout the research process, from survey design and deployment to data analysis and reporting. They may have experienced teams to help you make the most of your survey efforts.
Suppose you need responses from specific regions or countries. In that case, it can help you access a global or localized audience, ensuring that your research is representative of the target market.
Building your own panel may introduce bias, as respondents could be biased toward your brand or have prior knowledge of your research objectives. It offers a more neutral respondent pool, reducing bias in your data.
Reputable survey panel providers adhere to data privacy regulations and industry standards, helping you ensure that your research is conducted ethically and in compliance with legal requirements.
With a ready-made panel of respondents, you can start collecting data immediately, reducing the time it takes to gather insights and make data-driven decisions.
Ways of Choosing the Right Survey Panel Provider
Choosing the right survey panel provider is crucial to the success of your research or data collection services and efforts. Here are some key steps to help you select the most suitable survey panel provider for your needs:
01. Define Your Research Objectives:
Clearly outline your research goals, objectives, and the specific data you need to collect. This will guide your choice of a survey panel provider and help you determine the type of respondents you require.
02. Research Potential Providers:
Start by conducting research to identify potential survey panel providers. You can do this through online searches, asking for recommendations from colleagues or peers, or checking industry directories.
03. Evaluate Reputation and Reliability:
Look for reviews and testimonials from other clients who have used the survey panel provider's services. Consider their reputation for delivering high-quality, reliable, and unbiased data.
04. Assess Panel Quality:
Inquire about the panel recruitment and validation processes the provider uses. Ensure they have mechanisms in place to screen for fraudulent or low-quality respondents. Ask about their panel demographics to ensure they align with your target audience.
05. Compliance with Data Privacy and Ethics:
Verify that the survey panel provider complies with data privacy regulations and industry standards, such as GDPR, CCPA, or ESOMAR. Ensure they follow ethical practices in respondent recruitment and data handling.
06. Sample Size and Targeting:
Determine whether the provider can offer the sample size you need and whether they can target specific demographics or characteristics that are important for your research and panel research companies.
07. Cost Structure:
Understand the provider's pricing model. Compare survey costs across different providers to ensure you are getting value for your budget. Be clear about any additional fees or charges that may apply.
08. Support and Expertise:
Assess the level of support and expertise the provider offers. Do they provide assistance with survey design, deployment, and data analysis? Having access to a knowledgeable support team can be valuable.
09. Transparency and Reporting:
Ask about their reporting capabilities and how they provide data results. Ensure that you will have access to raw data, cross-tabulations, and any other reporting features you require.
10. Request a Test or Pilot Study:
Before committing to a survey panel provider, consider running a small test or pilot study to evaluate the quality of the data and the provider's performance.
11. Contract and Service Level Agreement (SLA):
Clearly define the terms and conditions of your engagement with the survey panel provider in a contract or SLA. This should include details about data delivery, timing, and any guarantees they provide regarding response rates and data quality.
12. Monitor and Review:
Continuously monitor the performance of the survey panel provider during your research project and project management. Be prepared to make adjustments or switch providers if you encounter issues with data quality or other concerns.
The Benefits of Using Survey Panel Providers
Let's delve deeper into the benefits of using survey panel providers for your research:
Quick Access to a Diverse Pool
Survey panel providers maintain extensive databases of pre-screened panelists, allowing researchers to tap into a broad and diverse range of respondents. This diversity is essential for ensuring that your research sample is representative of the population you want to study. Whether you need input from various Focus groups such as age groups, geographic locations, or specific demographics, It offers quick access to the right participants.
Building and maintaining your survey panel can be resource-intensive and time-consuming. This offers a cost-effective alternative by providing access to a ready-made pool of respondents. This can significantly reduce the financial burden associated with participant recruitment, screening, and management, allowing you to allocate your research budget more efficiently.
Recruiting and managing survey participants can be a time-consuming process. It streamlines this aspect of research by handling participant recruitment and management on your behalf. This frees up your time and resources, enabling you to focus on designing surveys, analyzing data, and drawing meaningful insights from your research.
Reputable survey panel providers implement rigorous quality control measures to ensure the reliability and validity of the data collected. They often use various techniques to identify and filter out low-quality or fraudulent responses, such as duplicate submissions or responses from individuals who need to meet your target criteria. This commitment to data quality is crucial for maintaining the integrity of your research findings.
It offers flexibility in terms of sample size. Whether you need a small sample for an exploratory study or a large sample for a comprehensive research project, you can scale your panel size accordingly. This adaptability allows you to align your research efforts with the specific requirements of your study.
Many such panel providers have a global presence, allowing you to conduct research on an international scale. This is particularly valuable if your research requires data from different regions, cultures, or languages. It can help you access panelists from around the world, making cross-cultural comparisons and global research feasible.
Access to Specialized Panels
Some survey providers offer access to specialized online market research panels that cater to niche markets or specific industries. This is beneficial when you need to gather insights from a particular group of experts or professionals. Specialized online panels can provide valuable expertise and in-depth knowledge on niche topics.
It typically offers user-friendly platforms and tools for designing, distributing, and collecting survey data. Additionally, they often provide customer support to assist you with any issues or questions that may arise during your research project. This support can be invaluable in ensuring a smooth research process.
QuestionPro in Survey Panel Providers
QuestionPro is a comprehensive survey software platform that offers a wide range of features and tools to help researchers create and distribute surveys, collect data, and analyze results. While QuestionPro is primarily a survey creation and management tool as well as an online audience engagement platform. It can be used with survey panel providers to enhance your research efforts.
Here's how QuestionPro can complement the services of a survey panel provider:
01. Survey Design and Distribution
QuestionPro allows you to create highly customizable surveys with various question types, branching logic, and multimedia elements. When working with a survey panel provider, you can use QuestionPro to design your survey instrument to collect the specific data you need. Once your survey is ready, you can easily distribute it to the panelists provided by the survey panel provider.
02. Data Collection
QuestionPro offers multiple methods for data collection, including online panel surveys, mobile surveys, email surveys, and more. You can leverage these data collection options to reach your panelists efficiently and gather responses. This integration streamlines the process of data collection, as you can manage everything from within the QuestionPro platform.
03. Real-Time Reporting and Analytics
QuestionPro provides real-time reporting and analytics features that allow you to monitor the progress of your survey and access preliminary data insights as responses come in. You can use these features to track response rates, view response distributions, and generate charts and graphs to visualize your data. This is especially helpful for monitoring the quality and quantity of responses obtained through the survey panel provider.
04. Integration with Panel Providers
Some survey panel providers may offer integrations with survey software platforms like QuestionPro. This integration can simplify the process of sending surveys to panelists and receiving responses. It can also enable automated data transfer, making it easier to manage and analyze the data collected from the panel.
05. Data Security and Compliance
QuestionPro takes data security and compliance seriously. When working with a survey panel provider, ensuring that your data is handled securely and in compliance with relevant regulations is essential. QuestionPro offers features to protect respondent privacy and data, which can be important when dealing with sensitive information.
06. Customized Panel Recruitment
Depending on your research requirements, you may have specific criteria for panelists. You can work with both the survey panel provider and QuestionPro to ensure that panelists recruited for your survey meet these criteria. This customization ensures that you get the right participants for your study.
Conclusion
Survey panel providers have revolutionized the way researchers collect high-quality data by offering access to diverse, motivated panelists. Whether you're conducting market research studies, academic studies, or gathering customer feedback, choosing the right online market research panel and survey panel provider can significantly impact the success of your research.
You can select a provider that aligns with your research needs and objectives by considering factors like target audience, panel size, reputation, and additional services. With the right provider, you can unlock valuable insights and make informed decisions that drive your projects forward.
While QuestionPro primarily focuses on survey creation and management, it can enhance your experience when working with survey panel providers by providing tools for survey design, data collection, real-time reporting, and data security. The integration of survey software like QuestionPro with a survey panel provider can streamline your research process and help you obtain valuable insights from your target audience.