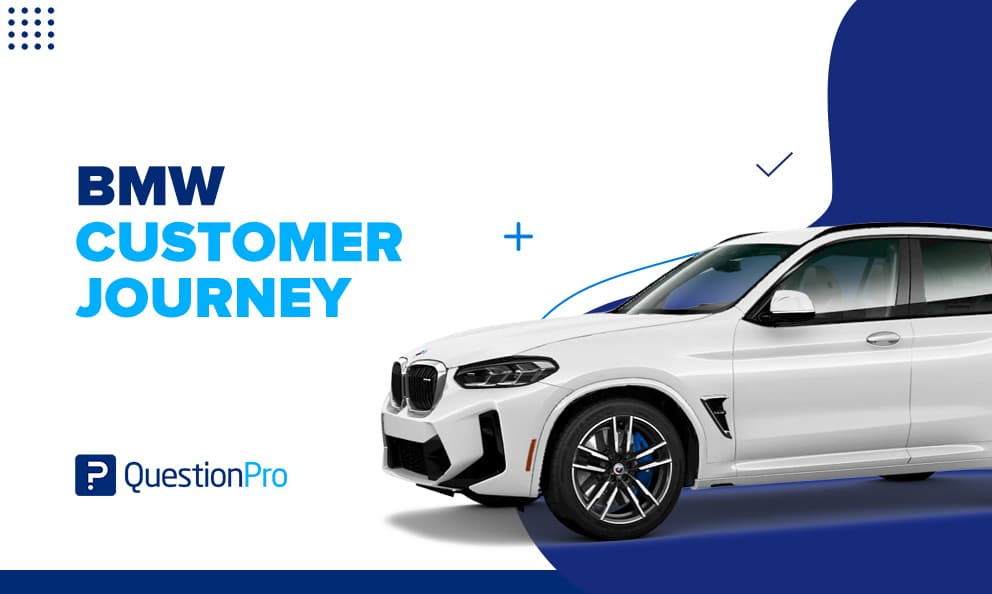 In recent years, the way we buy and sell cars has undergone a dramatic transformation, forever changing the landscape of the automotive industry. The BMW Customer Journey is a clear example. Let's explore it.
The days when the only option for people who wanted to buy a car was to go and visit several dealerships to negotiate with salespeople are long gone. Today the process is much more complex due to the large number of variables that have been added to the equation.
For this reason, in this article, we will explore one of the great references in terms of offering an excellent experience to its customers and what a good car buyer journey looks like today. You will also learn about the BMW Customer Journey, its great successes, and some tips and lessons you can implement in your own business.
BMW: Setting the Bar for Customer Experience
When it comes to providing an exceptional customer experience in the automotive industry, BMW stands out as a prime example. Known for its commitment to luxury, performance, and innovation, BMW has successfully integrated cutting-edge technology with personalized customer service.
BMW's online presence is unparalleled. Its user-friendly website provides comprehensive information about its vehicles, including detailed specifications, pricing, and configurators that allow customers to customize their dream car. The website also features engaging content, such as videos and virtual tours, enabling prospective buyers to immerse themselves in the BMW brand.
In addition to its online presence, BMW has embraced the concept of omnichannel retailing, seamlessly integrating its online and offline channels. Customers can start their car buying journey online, configuring their desired model, and then seamlessly transition to a physical dealership for a test drive and finalize the purchase. This omnichannel approach ensures a consistent and personalized experience throughout the entire customer journey.
BMW has prioritized customer service by implementing innovative features such as BMW Genius, a program that provides customers with personalized product presentations and expert advice. This initiative helps buyers better understand the features and technology of their chosen BMW vehicle, enhancing the overall ownership experience.
BMW Customer Journey
Based on this, we have created an example of what the BMW customer journey would look like so that you can more clearly visualize the buying process and the strategies they implement at each customer touchpoint.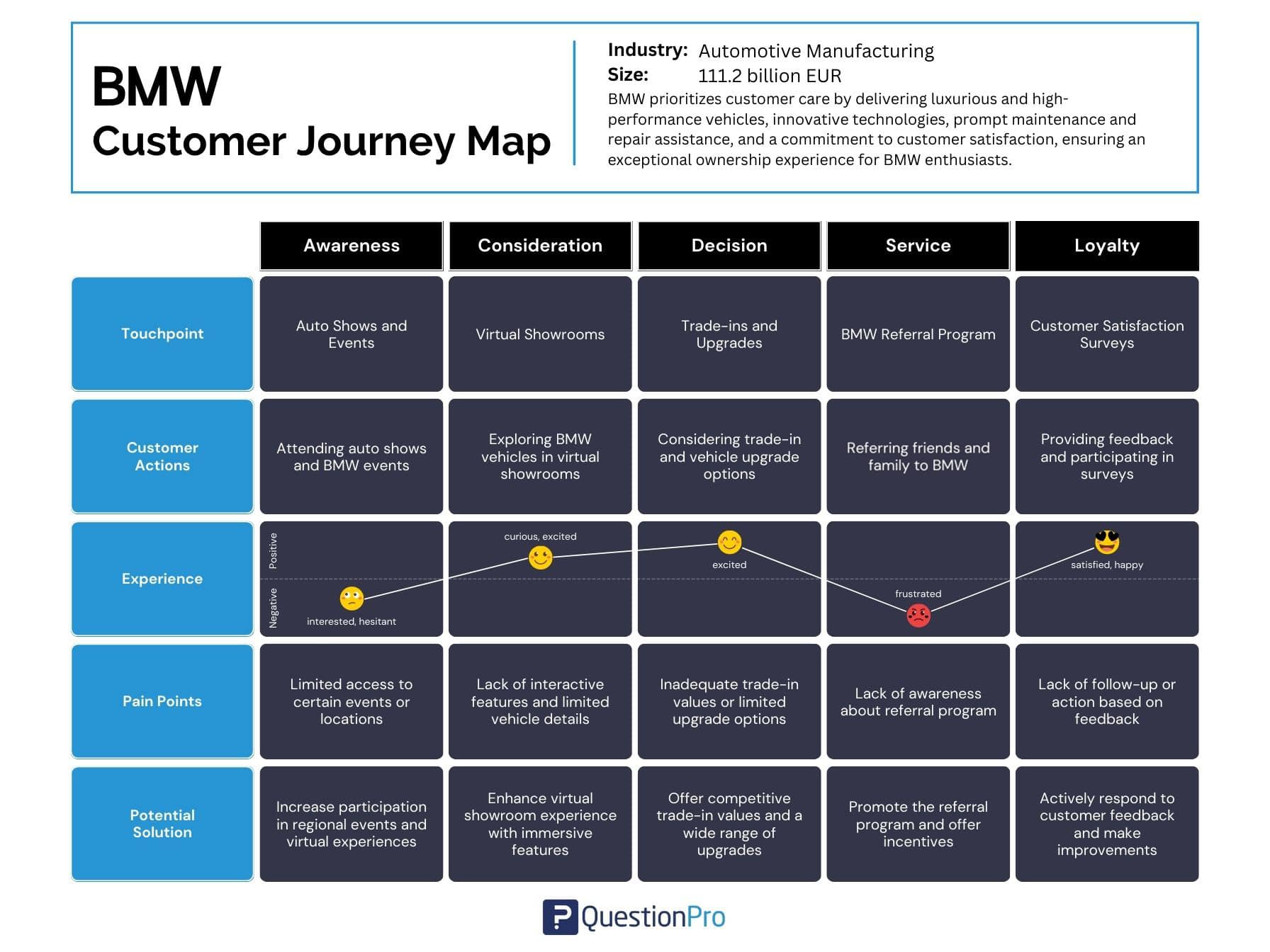 1. AWARENESS
| | | | |
| --- | --- | --- | --- |
| Touchpoint | Customer Activity | Pain Point | Solution |
| Television Commercials | Watching BMW commercials on TV | Ad fatigue and channel surfing | Create engaging and memorable commercials |
| Online Display Ads | Viewing BMW ads on websites and apps | Ad blockers and banner blindness | Target specific audience segments and optimize ad placements |
| Social Media Content | Coming across BMW posts on social media | Oversaturation of sponsored content | Provide authentic and valuable content |
| Print Advertisements | Seeing BMW ads in magazines and newspapers | Decline in print media readership | Focus on targeted publications and digital advertising |
| Auto Shows and Events | Attending auto shows and BMW events | Limited access to certain events or locations | Increase participation in regional events and virtual experiences |
2. CONSIDERATION
| | | | |
| --- | --- | --- | --- |
| Touchpoint | Customer Activity | Pain Point | Solution |
| Website and Online Configurator | Exploring BMW's website and vehicle options | Confusing navigation and overwhelming choices | Improve website user experience and simplify configurator |
| User Friendly Website | Engaging with engaging content on the BMW website | Information overload and difficulty finding specific information | Provide engaging and user-friendly website content and navigation |
| VR Virtual Reality | Immersing in virtual showroom experiences | Limited availability or technical issues | Enhance virtual reality experiences and ensure accessibility |
| BMW Genius | Participating in personalized product presentations and expert advice | Lack of knowledge about specific BMW features and options | Offer personalized product presentations and expert advice through the BMW Genius program |
| Comparison and Rankings | Comparing BMW models with competitors | Conflicting information and biases in rankings | Provide objective and unbiased comparisons and rankings |
3. CONVERSION
| | | | |
| --- | --- | --- | --- |
| Touchpoint | Customer Activity | Pain Point | Solution |
| Dealership Visits | Visiting BMW dealerships for purchases | High-pressure sales tactics and long wait times | Train staff in customer-centric approach and reduce wait times |
| Omnichannel Approach | Seamlessly transitioning from online to physical dealership | Disconnected online and offline experiences | Ensure a smooth transition and consistent customer experience |
| Financing and Lease Options | Exploring financing and lease plans for BMW | Lack of transparency in pricing and terms | Simplify financing options and provide clear terms |
4. LOYALTY
| | | | |
| --- | --- | --- | --- |
| Touchpoint | Customer Activity | Pain Point | Solution |
| Service and Maintenance | Visiting BMW service centers | Inconvenient scheduling and long service wait times | Streamline service scheduling and reduce wait times |
| Personalized Communication | Receiving personalized offers and updates | Irrelevant or excessive communication | Tailor communication based on customer preferences |
| Loyalty Programs | Participating in BMW loyalty programs | Unclear program benefits or rewards | Clearly communicate program benefits and improve rewards |
| Referral Program | Referring friends and family to consider BMW | Lack of awareness about referral program | Promote the referral program and offer incentives |
5. ADVOCACY
| | | | |
| --- | --- | --- | --- |
| Touchpoint | Customer Activity | Pain Point | Solution |
| Social Media Sharing | Sharing BMW experiences on social media | Concerns about privacy and negative feedback | Provide social media guidelines and monitor brand mentions |
| Customer Testimonials | Sharing positive experiences and testimonials | Reluctance to publicly share experiences | Encourage customers to share testimonials and reviews |
| Owner Events | Participating in exclusive BMW owner events | Limited access to events or lack of event opportunities | Organize more owner-exclusive events and experiences |
| Customer Satisfaction Surveys | Providing feedback and participating in surveys | Lack of follow-up or action based on feedback | Actively respond to customer feedback and make improvements |
| BMW Support Channels | Contacting BMW support for assistance | Unresponsive or unsatisfactory support experiences | Improve response times and enhance customer support channels |
Do you want to know more about how BMW obtains information about its target audience and the techniques it uses to better understand its market? Then we invite you to read our BMW Case Study.
Other tips and initiatives to improve your car buyer experience:
Below, you can find some actions and tips you can implement in your business to improve your buyers' experience. Some are very innovative, but others are easy to implement, so what are you waiting for? Start improving the experience of your consumers right now.
Online Research: Empowering Consumers with Information
The internet has become an invaluable tool for car buyers, empowering them with a wealth of information at their fingertips. Before making a purchase, consumers can extensively research different car models, features, pricing, and reviews from the comfort of their own homes. This access to information has leveled the playing field, enabling buyers to make more informed decisions based on their specific needs and preferences.
Online Marketplaces
Online marketplaces have emerged as a game-changer in the automotive industry. These marketplaces offer a wide selection of vehicles, allowing consumers to compare prices, features, and seller ratings. This transparency fosters seller competition, ultimately leading to more competitive pricing and better buyer deals, provides convenience, and addresses health and safety concerns during these uncertain times.
Data-Driven Decision-Making
Data analytics and artificial intelligence have become integral components of the modern car-buying journey. Dealerships and online marketplaces leverage vast data to personalize the customer experience, recommend relevant vehicles, and provide tailored financing options.
Through predictive analytics, these platforms can anticipate consumer preferences and offer customized solutions, ensuring a seamless and efficient buying experience.
Virtual Reality: Bringing the Showroom to Your Living Room
Virtual reality (VR) technology has bridged the gap between online research and in-person experiences. Car buyers can now explore vehicles through immersive virtual showrooms, allowing them to examine every detail and even take virtual test drives.
This technology saves time and enhances the overall customer experience, enabling buyers to make more confident decisions without leaving their homes.
Conclusion
Technological advancements and changing consumer expectations have forever transformed how we buy and sell cars. The rise of online research, the advent of online marketplaces, contactless transactions, data-driven decision-making, and the integration of virtual reality have reshaped the automotive industry. Today, consumers have more control, transparency, and convenience when purchasing a car.
The BMW customer journey focus on customer experience and integration of technology serves as a prime example of a brand that has embraced these changes and set a benchmark for others to follow. By continually innovating and delivering exceptional customer service, businesses in the automotive industry can position themselves as leaders, catering to modern car buyers' evolving needs and preferences.
In this ever-changing landscape, staying ahead requires a commitment to adaptability and an unwavering dedication to providing the best possible car-buying experience.
How QuestionPro can help you improve your customer experience?
Incorporating the customer journey methodology and specialized customer experience programs can be a great difference when it comes to delighting your customers.
At QuestionPro, we have developed a series of solutions that will become your main allies when it comes to knowing the levels of satisfaction of your customers and understanding their perception of your brand, products, and services.
With a user-friendly interface and robust features, our software enables you to visualize each step of your customer journey, identify pain points, and optimize touchpoints with precision. Start delivering exceptional customer experiences by signing up for QuestionPro SuiteCX.