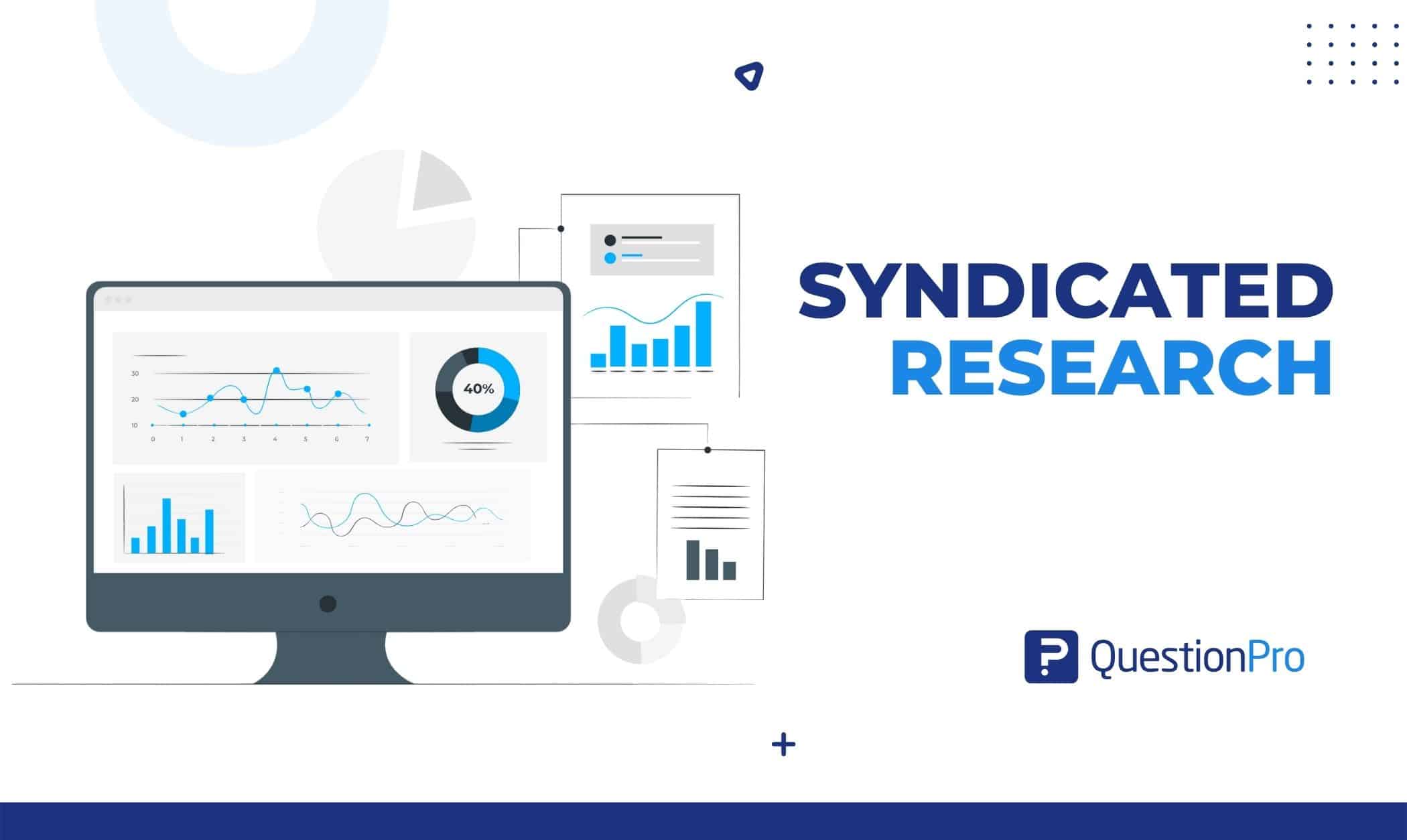 Syndicated research is a type of study financed and executed by a market research company without being done for a particular customer. Generally, a market research firm provides two types of research: 
Custom research:

Custom research is typically performed for and financed by a single customer/client.

Syndicated research:

However, it is intended for many companies or industries.
The systematic collection of data and analysis of the variables that affect an industry, such as new trends, consumer behavior, brand positioning, product usage, etc., constitute market research. For experts in brand marketing, competitive intelligence, or corporate strategy, the data produced by market research is a priceless resource.
LEARN ABOUT: Market research vs marketing research
Companies can make data-driven decisions to secure the most return on investment by arming themselves with knowledge generated by reliable research methodologies (ROI). Utilizing their marketing budget, they should concentrate on the appropriate market segments and prepare for upcoming market advancements and changes.
This blog will discuss syndicated research and its importance for market research with examples.
What is Syndicated Research?
Syndicated research initiatives always include several clients. It generally falls into one of two categories:
The joint industry committee (JIC) or market research institution-initiated syndicated research

The omnibus-style, or regularly scheduled, syndicated research.
A market research company that conducts syndicated research engages in activities that allow them to regularly collect information and then provide that data, along with the reports that result from analyzing that information to other companies.
The project's outcomes are available to anyone who wants to buy them. They are frequently offered in reports, presentations, or even unprocessed data.
Investing in this research is frequently a financially sensible choice for businesses seeking insightful market knowledge. Cost-effectiveness is one of the main advantages. The research expenses are divided among companies that acquire the same study results.
The importance of systematic research in market research
The creation of a strong business plan requires extensive market research. Organizations sometimes skip the research process or are uncertain about the market research that best supports their company strategies. Businesses should start by considering research if they consider incorporating market research into their process.
LEARN ABOUT: Market research industry
A syndicated market research provider focuses on particular data or sectors. Some market research companies may only concentrate on specific data, such as scan data, surveys, or product launch analyses. They may also offer a more extensive perspective or long-term strategic insights. A company may specialize in research for a single industry, while others may cover a variety of industries.
Syndicated market research is a wonderful place to start. It provides:
Quickly reliable information.

A thorough description of the market as a whole.

A look at the industry's history, currents, and potential problems.

Brand awareness, as well as consumer opinions about specific firms and goods.

Superficial evaluations of the competition.
There are many importance to syndicated market research that a custom study might not provide. So let's explore the significance in more detail.
To offer a representative market overview.
While effective syndicated research assures a representative sample of the entire market, custom research frequently focuses on a more specific subject, issue, or group. It gives a distinct picture of all the market participants, including consumers, clients, and companies. The large, weighted sample should provide accurate, relevant, and actionable intelligence.
To understand trends in the industry.
A macro-level perspective of the problems affecting a specific industry is frequently provided via syndicated research because it is conducted on a wide scale. This is helpful for organizations wishing to obtain a head start on issues likely to impact the industry. Those wishing to comprehend the market environment and their place within it will find this helpful.
To define brand awareness, power, and perception metrics.
Similar to what was stated above, this market overview perspective helps companies that invest in syndicated research assess how their brands and product offerings are evaluated among present and potential customers compared to their rivals.
To understand competitive intelligence services.
Syndicated research can be a valuable resource for competitive intelligence professionals looking for information on positioning their companies in a competitive market. It provides insights into broad-level industry trends and a detailed understanding of particular issues within an industry or market.
Syndicated Research Examples
A syndicated research report would cover a general subject that applies to many industries or many people in one or multiple businesses.
Another option is market research, where businesses can obtain a report that includes data on the demographics of a given zip code, county, DMA, state, and other areas.
Let's go over a few more examples.
Broad-based industry strategy
Businesses may use a typical syndicated research study across several industries.
For example, a research company will survey Americans about their holiday buying habits to learn more about their preferences before the holiday shopping season.
Many retail industries, including the electronics industry and the clothing industry, may use the data.
Industry-specific technique
Syndicated research tools might only offer data for particular industries or sub-industries.
Consider the possibility that a particular research firm will create a study to identify the sentiments of car owners and buyers. Therefore, automakers or dealerships may be among the report's intended audience.
LEARN ABOUT: Dealership Marketing Strategies & Tips
However, we may include inquiries about the current vehicle loan interest rates.
Financial institutions like banks or credit unions can then decide to acquire the data since they value the data. Frequently occurring occasions, like holidays, or popular themes, like electric vehicles, might provide syndicated research ideas.
Conclusion
The most useful syndicated research provides actionable insights. An organization's ability to develop particular plans and measures that will result in growth and higher income can be strengthened by representative data and analysis of a market, consumer behavior, product usage, emerging trends, and other industry themes. Investing in it allows organizations to acquire that crucial knowledge for optimum ROI.
We at QuestionPro provide tools for data collection, such as our survey software, and a library of insights for any lengthy research. If you're interested in seeing a demo or learning more, visit the Insight Hub.