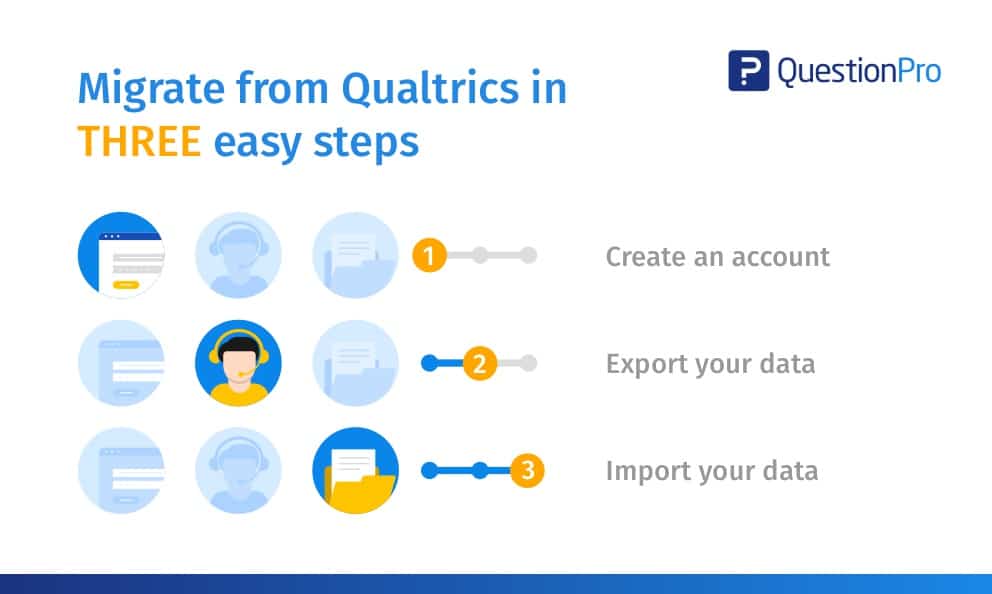 Ever since the news broke that SAP purchased Qualtrics for $8 billion dollars in early November 2018, we've been getting an influx of questions from current and former customers of Qualtrics. They're nervous about what's going to happen and whether the $8 billion investment means whether they will have to pay more for less. Acquisitions and buyouts are rarely a smooth and timely transition. Ultimately, the customer experience suffers, and market researchers can't afford to risk their projects. Many are taking action now and looking for a better alternative to de-risk some of their projects and can meet their ever-changing market research needs.
Addressing a demand for an alternative to Qualtrics, QuestionPro is launching a data migration solution for market researchers and universities who wish to seamlessly transition ongoing research projects from Qualtrics to QuestionPro. With the addition of this tool, QuestionPro has become the best Qualtrics alternative.
"This offering is something current and former customers of Qualtrics asked for." says Vivek Bhaskaran, CEO of QuestionPro. "To meet their demands, we've created a simple three-step solution to make it easy to transition and continue their research projects. We are looking forward to working with customers who are considering an alternative solution to what they think is out there. Our global customer base proves that we can work with anyone anywhere no matter how you choose to collect insights."
Migrate to QuestionPro in 3 easy steps
QuestionPro has made it easy for Qualtrics customers to port their surveys directly into the QuestionPro platform. Below is the three-step process to import you Qualtrics data and surveys into your new and better survey platform – QuestionPro.
Create an account with QuestionPro

We will help you with exporting your data (from a QSF File)

We'll help import your data (QSF file) into QuestionPro
In addition to supporting all question types, settings, customization, and reporting options seen on Qualtrics, QuestionPro offers a suite of product and service solutions that fit well with an organization's ever-evolving market research objectives including:
An offline mobile application for field research studies

In-site purchases for  respondent sample through QuestionPro Audience

Build your own panel or online communities portal through QuestionPro Communities

The ability to track the customer journey through QuestionPro CX

Mobile software development kits to integrate existing business apps with our powerful insights solutions

Tackling employee engagement surveys from the workplace culture perspective through Workforce

24/7 live support and dedicated customer success management for enterprise solutions

ISO 27001, GDPR, HIPAA, PCI/DSS and localized server security compliance to ensure secure accessibility.
Connect with us today and get attractive pricing options off of your existing Qualtrics license.