Our Engineering and Product teams had a great quarter in preparation for QuestionPro's second official Engineer Appreciation Day. Huge congratulations and recognition goes to Ronak Shah, Sr. Java Developer, who was awarded for his relentless dedication and knack for problem-solving on August 22nd, 2017 in QuestionPro's office in Pune, India. Our team of 40+ engineers gathered to celebrate their collective hard work and accomplishments throughout the second quarter. But during this celebration, Senior Managers gave Ronak the spotlight with company-wide recognition, a Certificate of Appreciation, and Amazon gift card (plus bragging rights)!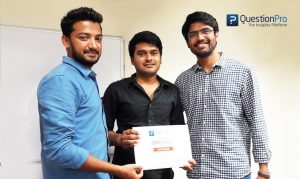 Ronak started at QuestionPro in November 2015 and over the past couple of years, he has had a huge impact on our survey creation and survey taking experiences, while resolving the highest number of customer issues to date. He has been a vital part of helping our team redesign the edit survey experience through React Javascript, in addition to his contributions to the updated survey sending experience.
Currently, Ronak focuses primarily on improving details within the platform that have a large impact on our customer, while acting as our go-to person when it comes to particularly tough problems.
As we continue to make Employee Appreciation Day a QuestionPro tradition, we can't wait to see our engineer and product teams go above and beyond for some healthy competition—setting the bar throughout Q3 and taking QuestionPro's products to the next level.