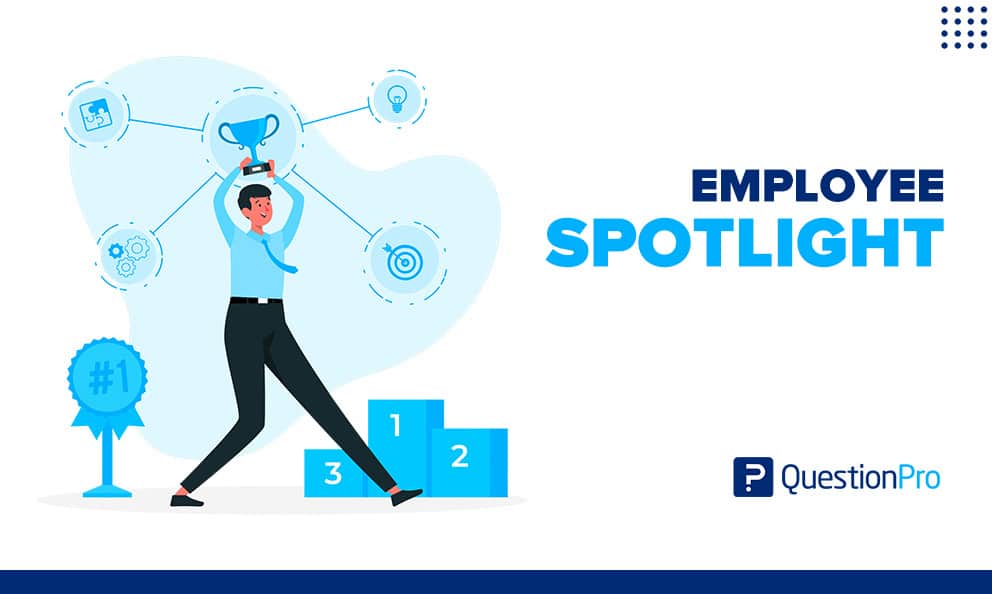 Employee Spotlight content focuses on your employee's work history. Employee Highlight posts are a great way to tell stories about your team. It contributes to the growth of employee connections.  Many organizations have significant benefits for employees intending to increase their performance, keeping them happy with the organization and always practicing a positive work culture. Employee spotlight helps to improve your company's and employer's brand. Let's talk about it.
We recommend having a series of benefits exclusive to the employees in the spotlight. These can be having a flexible schedule, giving you a couple of days off, attending an exclusive event of the organization, etc.
What is Employee Spotlight
The employee spotlight highlights your company's most valuable asset, its employees. Employees describe what it's like to work for your company and what sets it apart from others. This will increase employee retention.
Employee Spotlights can be published in a variety of methods. A picture of an employee, for example, may be accompanied by a brief text, a brief video, or a written interview. These posts are shared on the company's internal communication channels and social media networks.
Let's take a look at the Employee Spotlights, its benefits, as well as some great examples of it.
Benefits of Employee Spotlight
Employees who show excellent performance get the job done and usually perform well in areas beyond their job description. It typically includes supporting peers, taking risks, and seeing projects through to the end in areas beyond their job. Still unsure whether an Employee Highlight initiative is valuable? Explore the benefits listed below:
Employee Recognition
Employees in the Spotlight highlights the outstanding work of individual employees. Recognition boosts a person's motivation. As a result, they work harder and give their all. Employee motivation fuels employee engagement and retention.
Creating an Appreciation Culture
Employee spotlights help to create an environment in which good performance is recognized by management. It helps form a workplace where people recognize and value one another. It also communicates your company's positive workplace culture to the outside world. Future employees learn about your terrific company culture from online posts of a happy and engaged workforce.
LEARN ABOUT: Workplace Employee Experience Examples
Employee networking
It can be challenging to get to know each other when working in a large company with multiple teams working remotely or across various locations.
Communication and collaboration are critical in a remote work environment. Because it is breaking down barriers between coworkers and teams.
Employee spotlights can serve as a conversation starter between individuals and departments. These initial conversations can lead to stronger interpersonal bonds. When different groups connect on a deeper level, it leads to greater engagement and teamwork. 
Material for authentic employer branding
Finding people who connect with your company's branding and culture is difficult. When people are looking for their next job, they want to learn everything they can about the company they are applying to. They are interested in learning about the benefits and possible teammates.
Candidates are looking for reliable information about working for you. They trust your staff 3 times more than the firm to deliver such information. To make your organization a nice place to work, you must address the issues raised by your (former) employees in their reports. A well-designed employee spotlights program can also help to improve your company's image. What employees say about their work environment might show whether your company is a rewarding place to work.
LEARN ABOUT: Employee Rewards Ideas for Employee Engagement
A powerful sales tool
Employee spotlights can be implemented as your company's sales and branding tool. When discussing a business's reputation, prospective customers should look at its About page. Knowing the individuals that work for the company can help you trust its products and services.
LEARN ABOUT: Employee Trust
Employee spotlights on your website are powerful in and of themselves. When you share them on social media, where they may be seen, liked, commented on, and shared by your employees and potential customers, their value to your company skyrockets.
You may also use them as material for your business newsletter. Because you aren't competing with other firms on LinkedIn. When you use email, you have a better chance of getting spotted by prospects. It's also a more personal manner of communicating with them. Because you're speaking with them one-on-one.
Prepare your employee spotlight questions
To know what kind of questions to ask employees, first choose a topic for the spotlight. The following are some of the most discussed topics in employee spotlights:
Something unique about your company or yourself

The culture of the company

The work environment of the team

Leadership

Mission and core values

Professional growth

Employer testimonials
Here are some examples of possible questions:
How would you sum up your work?

What motivates you to continue working for us?

What about our management team impressed you the most?

How have you developed professionally while working with us?

What do you like best about our company culture?

What best advice can you give someone who wants to work for us?
Employee Spotlight Examples
Are you unsure about which platforms or formats to use when telling your employer branding and employee stories? Here are five examples of employee spotlights. It will assist you in developing your employee recruitment marketing strategy.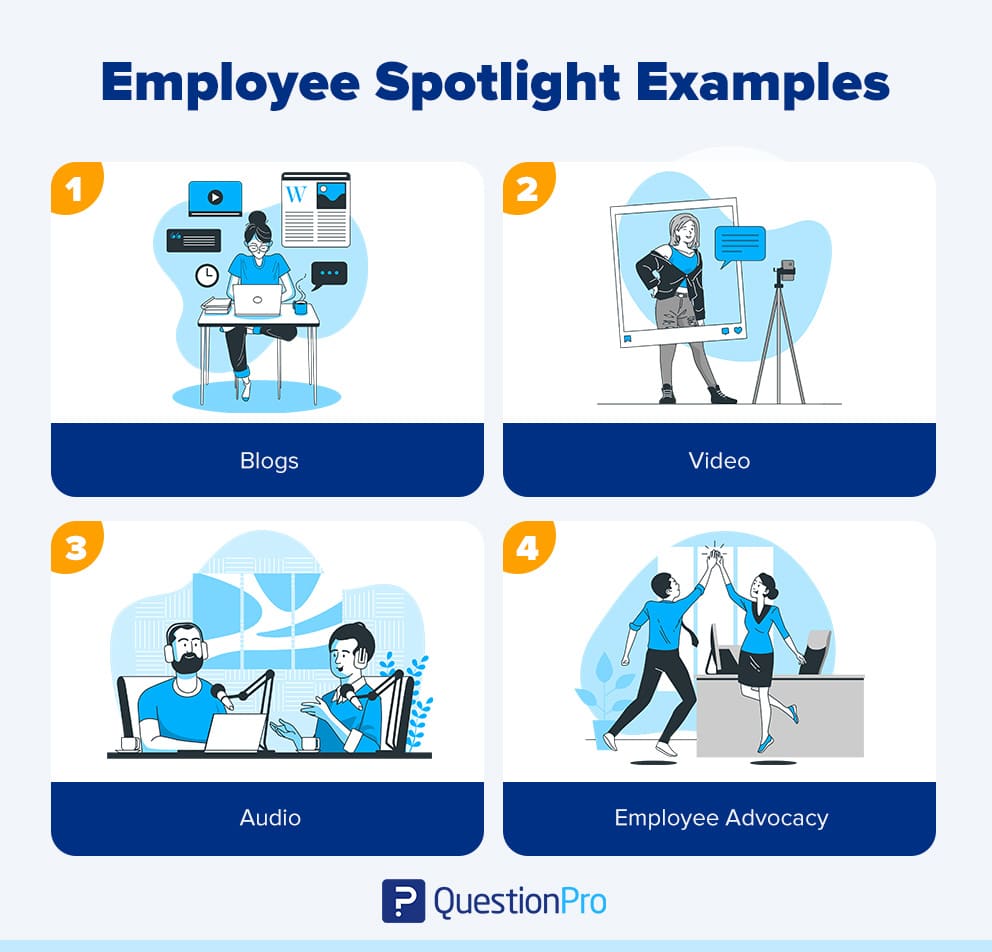 Blogs
Blogging is one of the most popular ways to share the stories of your employees. In fact, many companies have a blog feature on their career website. so they can share company news, insights into the culture, and more. Make sure to include call-outs and headlines in whatever format you choose. It will make it easier for the reader to scan for the information that is most important to them.
Video
Video has quickly become another popular option for employer branding professionals. Especially with the introduction of new platforms for creating user-generated and live videos. Employer branding videos used to be time-consuming and expensive. However, with the rise of social media features such as Stories and live streaming, the need to create highly polished videos is becoming less important. Make sure to include captions regardless of which option you choose. Because many people watch videos without sound. including captions can increase the likelihood that people will watch your videos all the way through.
Audio
Another way to share employee stories is through podcasting. With so many people juggling a million things at once. They may be too busy to read a blog or watch a video. As a result, audio can get your employee stories out when people cannot sit and stare at a screen.
Employee Advocacy
What better way to share your employees' voices than to empower them to use them directly? Employee advocacy tools such as GaggleAmp and Bambu are available. It enables employees to reshare content, add their commentary, and suggest content for the company to share.
Giving employees prompts, digital assets or tools is another way to increase employee advocacy. It will inspire people to post directly on their social networking sites. For example, if you send new employee swag, include a note encouraging them to share a photo with their LinkedIn network using your employer branding hashtag.
Conclusion
Your employees are the primary source of your company's success. They are the people who work hard behind the scenes every day to achieve goals, create new opportunities, and help those around them grow professionally. Employee Spotlight is a great way to highlight their internal and external efforts.
Are you ready to develop a work environment where everyone can achieve their full potential? Learn more about getting ongoing feedback from your employees and start taking action to positively impact your organization with QuestionPro Workforce.