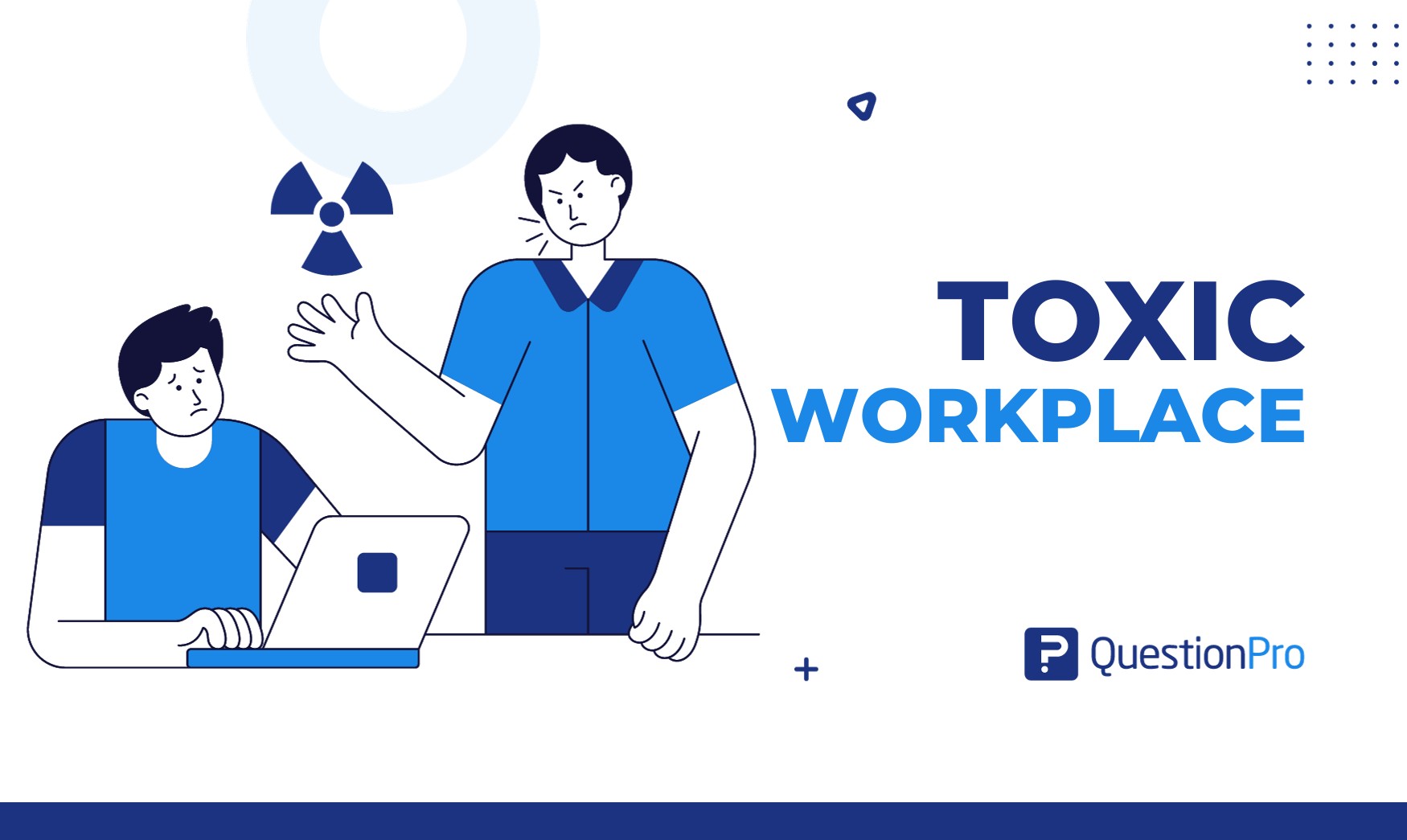 A good work environment is really important for how we feel and how well we can do our job. A good work environment is really important for how we feel and how well we can do our job. But sometimes, the workplace isn't nice, and it makes us feel bad. That's what we call a toxic work workplace culture.
The first thing to do is to know what signs show that our workplace is getting toxic, and then we can learn some easy ways to handle these problems and take care of ourselves. Let's find out about the signs that tell us about toxic workplaces and what we can do to manage these issues.
What is a toxic workplace?
A toxic workplace is a bad and unhealthy environment at a job. It's a place where the way people act and the rules or customs make it hard for employees to feel good or do their jobs well.
In such a place, people might not talk nicely to each other, causing arguments and bad feelings. Sometimes, there's a lot of stress because employees have too much work or face unrealistic goals. This stress can make them feel very tired and unhappy.
Bullying, mean behavior, or unfair treatment are also common in toxic cultures. It's when someone is treated badly or picked on, which makes the workplace feel unsafe and uncomfortable.
Often, the bosses or leaders don't support their workers properly. They might not listen to their problems, show favoritism, or be too controlling, which makes workers feel unappreciated and unsupported.
In a toxic work environment, people might quit their jobs more often, feel sad or not satisfied, and not want to work as a team. This kind of environment affects the company, too, making it harder for the business to do well and for employees to do their best work.
Companies need to recognize these problems and fix them, creating a place where everyone feels respected, happy, and comfortable doing their jobs.
How toxic work culture affect employee productivity?
A toxic work environment can deeply impact your employee productivity in several ways:
Emotional strain and stress
Toxic work environments are filled with tension, conflicts, and constant stress. Dealing with these emotional strains can overwhelm you, making it challenging to focus on your tasks.
It's like having a heavy load on your mind, which affects your ability to work efficiently and meet deadlines. Constant stress can also lead to physical symptoms like headaches or fatigue, further impacting your productivity.
Demotivation and disengagement
In a toxic workplace, negativity is often rampant. Continuous exposure to negativity can make you feel less motivated about your job. When you're not excited or engaged, it becomes difficult to put your heart into your work. Feeling unappreciated or undervalued can also decrease your interest in doing your best.
Hostile work environments are filled with distractions. You might find it hard to concentrate on your work when there's a lot of tension or conflict around you. Your mind might be preoccupied with problems, making it tough to focus on the task at hand. This lack of focus affects your ability to complete work accurately and efficiently.
Signs and symptoms of a toxic workplace
Recognizing the signs and symptoms of a toxic workplace is crucial for understanding how your workplace affects you. Here's what you might observe:
In a toxic culture, leaders might show behaviors that control, manipulate, or disrespect. This could make you and your coworkers feel fearful or like certain people are favored, which might affect how happy you are with your job.
Poor communication in a toxic work environment means that important information isn't shared openly or regularly. This might leave you feeling confused, left out, or uninformed about important decisions.
When lots of people keep leaving your workplace, it's a sign that something might be wrong. This high turnover might mean that people aren't happy or stressed or there are issues with how the workplace works.
Mistreatment, whether obvious or subtle, creates a toxic atmosphere. It could involve bullying, discrimination, or a general lack of respect among your colleagues.
If your boss is always watching and doesn't trust you to do your job, it can make the work environment feel suffocating. This might make you feel frustrated, less creative, and not happy with your job.
Having too much work or goals that are impossible to reach can make you stressed and feel like you can't do your job well. This can really affect how you feel mentally and how much you like your job.
When your hard work goes unnoticed, it can make you feel disengaged and less motivated. In a toxic work environment, people might not appreciate or acknowledge your efforts.
Gossip and a negative atmosphere
Toxic work environments often have a lot of office gossip, rumors, and negative talk. This can make it hard to trust your coworkers and create a generally unpleasant work environment.
Understanding these signs can help you see how your workplace might be affecting your well-being. If you notice any of these signs at your job, it's important to think about how to deal with these problems for the sake of your mental health and career growth.
How to deal with a toxic workplace?
Dealing with a toxic workplace culture is tough, but it's essential to take care of yourself in such a tricky environment. When you're in a toxic workplace where everything seems challenging, it can take a toll on your well-being. But worry not; here are some helpful tips on how you can handle this situation:
Understand what makes the workplace toxic. Signs may include constant conflicts, high-stress levels, gossip, favoritism, lack of support, or even bullying behavior. Recognizing these signs is the first step to dealing with them.
Take care of your physical and mental health. Ensure you get enough sleep, exercise, and maintain a balanced diet. Engage in activities outside of work that bring you joy and relaxation.
Establish clear boundaries to protect yourself from toxicity. Learn to say no to excessive workloads, unreasonable demands, or toxic behaviors. Protect your time and energy to make a better work-life balance.
Find allies within the workplace. Having trustworthy colleagues can provide emotional support and a sense of solidarity. Additionally, consider seeking support from friends, family, or a therapist outside of work.
Keep a record of any toxic incidents or behaviors. Documentation can serve as evidence should you need to report issues to HR or higher management.
If you feel safe and comfortable doing so, address the issues directly with the individuals involved. Express your concerns calmly and professionally, focusing on specific behaviors or incidents. However, this might not always be feasible in all situations.
Start exploring other job opportunities or career paths. Updating your resume, networking, and looking for openings in other companies can offer a way out of the toxic environment.
Understand company policies
Familiarize yourself with your company's policies regarding harassment, discrimination, or any other toxic behaviors. This will help you understand the procedures in place for reporting such incidents.
Report to HR or higher management
If the situation doesn't improve or becomes unbearable, consider reporting the issues to HR or higher management. Present your documented evidence and seek a resolution that ensures a healthier work environment for everyone.
In severe cases of harassment or discrimination, consider seeking legal advice. Know your rights and consult with a lawyer specializing in employment law to understand your options.
Practice stress management techniques
Utilize stress management techniques such as mindfulness, meditation, or deep breathing exercises to cope with the stress generated by toxic workplace cultures.
Remember, every situation is unique, and your steps should prioritize your well-being and psychological safety. Sometimes, the best solution might be to find a healthier work environment that values and respects its employees.
How QuestionPro helps in managing toxic workplace culture?
QuestionPro, a survey and insights platform, can assist in managing a toxic workplace by providing tools and strategies to address issues and improve the work environment. Here are six ways QuestionPro can help handle toxic work cultures:
Anonymous employee surveys
QuestionPro enables the creation and distribution of anonymous surveys, allowing employees to express their concerns, experiences, and feedback without fear of reprisal. This platform helps gather insights into specific issues, including bullying, harassment, conflicts, or managerial problems, providing valuable data to identify areas for improvement.
Pulse surveys for real-time feedback
Using pulse surveys, QuestionPro allows for frequent, shorter surveys to gather real-time feedback. These can measure the current mood and concerns within the workplace, enabling management to promptly address emerging issues and prevent them from escalating into more significant problems.
360-degree feedback assessments
The platform facilitates 360-degree feedback assessments, providing a comprehensive view of the workplace dynamics. This feature allows employees to assess their peers, managers, and themselves, uncovering patterns of toxic behavior and areas for improvement.
Customizable survey templates
QuestionPro offers customizable survey templates specifically designed to evaluate workplace culture, employee satisfaction, and stress levels. These templates can help identify and address toxic elements within the work environment, such as favoritism, lack of support, or excessive workload.
Data analytics and reporting
The platform provides robust data analytics and reporting features. It assists in analyzing survey results, identifying trends, and generating detailed reports. This data-driven approach helps management visualize and understand the extent of toxicity within the workplace, guiding informed decision-making for necessary interventions and changes.
Action planning and follow-up surveys
QuestionPro allows for action planning based on survey results. It assists in setting goals, strategies, and interventions to address the identified issues. Additionally, the platform facilitates follow-up surveys to track the effectiveness of implemented changes, ensuring ongoing improvement and a healthier work environment.
Conclusion
Recognizing the signs of a toxic workplace is the first step toward finding solutions and creating a productive workplace culture. Whether it involves addressing issues directly with colleagues or management, setting boundaries, seeking support, or considering a change in the work environment, your mental and emotional health should always remain a priority.
Don't hesitate to take the necessary steps to ensure a healthy and conducive work environment for yourself. Organizations can proactively detect, resolve, and address issues that contribute to a toxic work environment by utilizing the tools and features of QuestionPro. Contact QuestionPro to learn more!