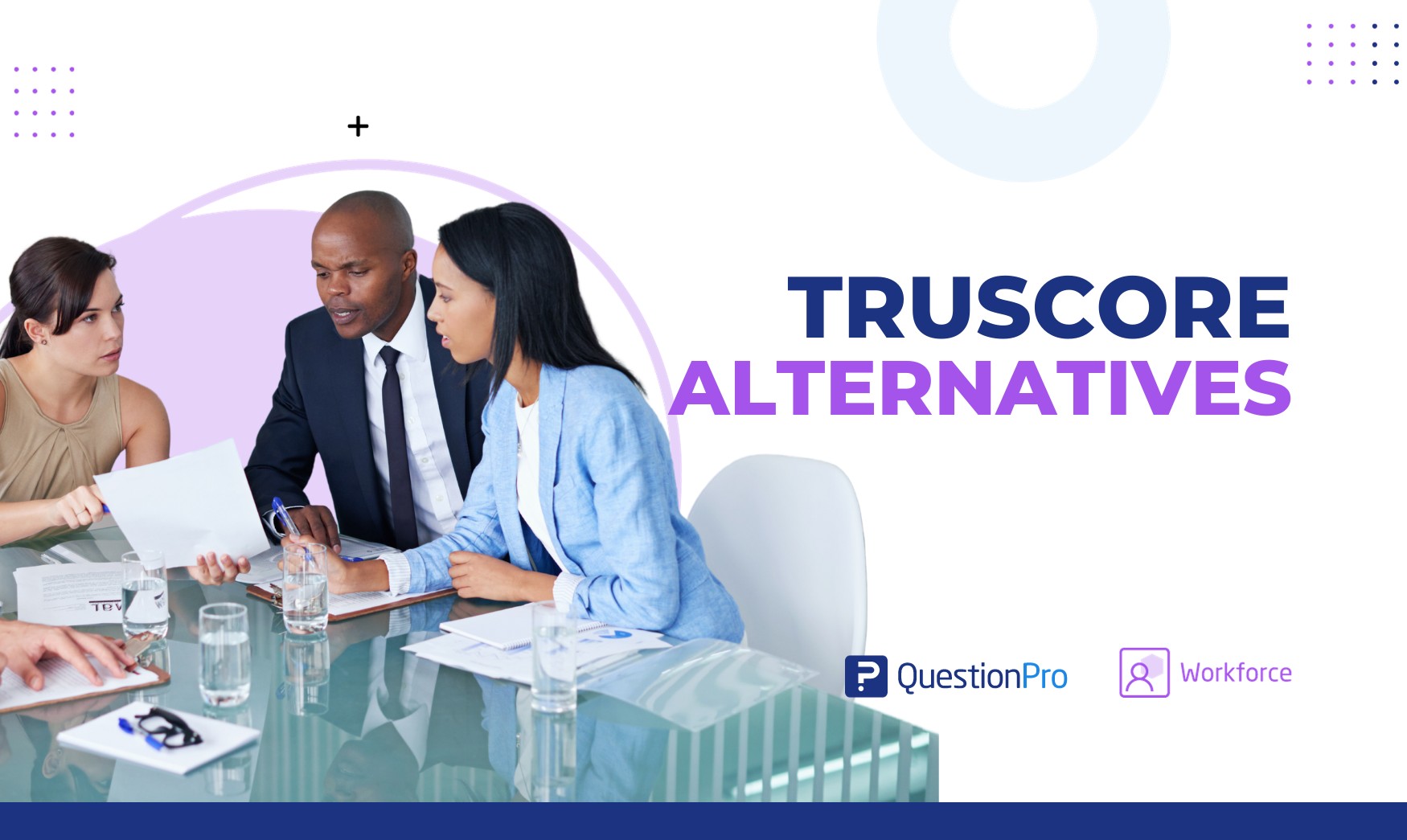 In today's business world, keeping ahead of the curve often means using powerful tools to measure performance and look at your competitors. TruScore is a well-known and respected name in this field, providing useful information and tools for keeping track of and beating your competitors. But for different reasons, you might want to look for TruScore alternatives.
This blog post will discuss why you might be looking for TruScore alternatives and then give you a full rundown of 12 excellent alternatives to help you reach your goals.
What Is TruScore?
TruScore is a well-known performance measurement and competitor analysis tool that has been used by businesses of all sizes to gain critical insights into their market positioning, competitor strategies, and overall performance reviews.
It offers a range of features and functionalities designed to help businesses thrive in a competitive environment. It's essential to identify your specific needs, priorities, and constraints to find suitable alternatives and then research and evaluate different options based on those criteria.
Keep in mind that the landscape of products and services can change rapidly, so it's a good practice to regularly assess your options to ensure you're using the best solution for your situation.
Why Seek TruScore Alternatives
There are several reasons why individuals and company culture might consider seeking alternatives to TruScore:
Cost: The current solution may be too expensive, and individuals or organizations may be looking for more cost-effective alternatives.
Functionality: The existing product or service may not offer all the features or capabilities needed, and alternatives may better fit specific requirements.
Performance: Users may run into issues or be constrained by the current solution when trying to improve performance evaluations.
Scalability: The current solution may not scale well as needs grow or change. Seeking alternatives can be a way to find options that better accommodate growth.
Customer Support: Poor customer support or service can significantly motivate exploring alternatives.
Reliability and Stability: If the current solution is prone to crashes, downtime, or security vulnerabilities, users may seek more reliable and stable alternatives.
Innovation: Sometimes, older or outdated solutions may not keep up with technological advancements or industry trends, leading users to explore more innovative options.
Vendor Lock-In: If users feel trapped by a particular vendor or provider, they may seek alternatives to regain flexibility and avoid dependency.
Compatibility: Compatibility issues with other software or hardware can enable users to look for more seamlessly integrated alternatives.
Lack of Customization: Users may want more control and customization options than what their current solution offers.
Key Considerations When Choosing Competitor Solutions
Before we dive into the alternatives, let's discuss some key considerations to keep in mind when selecting a competitor analysis solution:
Data Accuracy: Ensure that the tool provides accurate and up-to-date data about your competitors.
User-Friendliness: A user-friendly interface can save time and make the analysis process more efficient.
Features: Evaluate the features and functionalities offered by each alternative to determine if they align with your needs.
Pricing: Consider your budget and the pricing structure of each solution.
Integration: Check if the tool integrates seamlessly with your existing software and workflows.
Customer Support: Good customer support can be invaluable when encountering issues or having questions.
12 TruScore Alternatives Worth Exploring
Selecting an alternative to TruScore, carefully evaluate your specific needs, budget, and whether you require features such as employee engagement surveys or complex survey logic.
Each of these alternatives has unique strengths and limitations, so choose the one that best aligns with your organization's requirements. Here are 12 TruScore alternatives worth exploring:
01. QuestionPro
QuestionPro is a comprehensive survey and research platform offering various survey types, data analysis tools, and reporting options. It's suitable for both simple and complex survey needs.
Features:
Wide range of survey templates.
Advanced survey logic and branching.
In-depth analytics and reporting.
Integration with CRM systems.
Multilingual support.
Pros:
Scalable for various business needs.
Strong analytics and reporting capabilities.
Excellent customization options.
Integration with third-party tools.
Cons:
Premium features can be expensive.
The learning curve for advanced survey logic.
02. Qualtrics Employee Experience
Qualtrics is a powerful platform known for its flexibility and robust features, including specialized solutions for employee experience surveys, customer experience, and market research.
Features:
Employee engagement surveys.
Real-time reporting and dashboards.
AI-driven sentiment analysis.
Integration with HRIS systems.
Pros:
Tailored for HR and employee development programs and engagement.
Robust analytics for workforce insights.
Strong integration options.
Cons:
High pricing for enterprise-level features.
Primarily designed for employee surveys.
03. Weekly10
Weekly10 is designed specifically for employee feedback, real-time feedback, and performance management. It focuses on weekly check-ins and goal tracking to enhance employee engagement and productivity.
Features:
Weekly check-in templates.
Goal tracking and performance analytics.
Integration with HR tools.
Pros:
Focused on improving employee performance appraisals.
Encourages ongoing feedback and goal setting.
User-friendly interface.
Cons:
Limited to performance task management.
It may lack advanced survey features.
04. SurveyMonkey Enterprise
SurveyMonkey is a popular survey tool with a user-friendly interface. The enterprise version offers advanced features like collaboration, data analysis, and integration options.
Features:
Extensive survey creation tools.
Collaboration features.
Advanced reporting and data exports.
Integration with business software.
Pros:
User-friendly interface.
Versatile survey design options.
Strong integration capabilities.
Cons:
Limited advanced logic for complex surveys.
Pricing can be high for enterprise-level features.
05. Google Forms
Google Forms is a free, straightforward survey tool ideal for basic survey needs. It integrates seamlessly with other Google Workspace apps.
Features:
Basic survey creation.
Real-time collaboration.
Integration with Google Sheets.
Pros:
Free and easy to use.
Seamless integration with Google products.
Collaborative editing.
Cons:
Limited advanced features.
It may not be suitable for complex surveys.
06. Typeform
Typeform is known for its aesthetically pleasing and interactive surveys. It's great for creating engaging forms and surveys with a focus on user experience.
Features:
Conversational survey design.
Customizable themes and branding.
Integration with third-party apps.
Pros:
Provides an engaging survey experience.
Mobile-friendly design.
Attractive themes.
Cons:
The free plan has limitations.
Advanced features can be costly.
07. Zoho Survey
Zoho Survey is part of the Zoho suite of business software. It offers a range of survey templates, reporting features, and integrations for businesses.
Features:
Survey design and distribution.
Collaboration and reporting.
Integration with Zoho CRM.
Pros:
Seamless integration with other Zoho applications.
Affordable pricing.
User-friendly interface.
Cons:
It may lack some advanced features compared to competitors.
Advanced analytics may be limited.
08. Alchemer
Alchemer (formerly SurveyGizmo) is a comprehensive survey platform with advanced customization options, reporting, and integration capabilities.
Features:
Advanced survey logic and branching.
Extensive reporting and analytics.
Custom branding and white labeling.
Pros:
Robust survey logic capabilities.
Highly customizable.
Suitable for complex surveys.
Cons:
Pricing can be high for high-performance and advanced features.
The learning curve for complex surveys.
09. SoGoSurvey
SoGoSurvey offers a variety of survey solutions, including employee engagement, customer honest feedback, and market research. It provides advanced reporting and analytics.
Features:
Survey creation and deployment.
Data analysis and reporting.
Multi-channel distribution and engagement
Pros:
User-friendly interface.
Employee engagement features.
Affordable pricing options.
Cons:
Limited advanced survey logic.
Reporting may lack some advanced features.
10. Survey Anyplace
Survey Anyplace specializes in interactive surveys and quizzes, which are useful for customer engagement and lead generation.
Features:
Interactive survey design.
Customizable branding.
Integration with CRM systems.
Pros:
Provides an engaging survey experience.
Suitable for marketing and lead generation.
Integration options are available.
Cons:
Limited to specific use cases.
It may not support complex surveys.
11. LimeSurvey
LimeSurvey is an open-source survey tool that offers customization and data analysis features. It's suitable for organizations looking for self-hosted survey solutions.
Features:
Open-source and highly customizable.
Advanced scripting capabilities.
Multi-language support.
Pros:
Highly customizable to suit research projects.
No licensing fees.
Cons:
Requires technical expertise for setup.
Limited customer support.
12. Microsoft Forms
Microsoft Forms is a part of the Microsoft 365 suite. It's a straightforward survey tool with integration options for Office 365 users.
Features:
Basic survey creation.
Integration with Microsoft 365.
Real-time collaborative editing.
Pros:
Integration with Microsoft applications.
Simple and user-friendly.
No additional cost for Microsoft 365 users.
Cons:
Limited advanced features.
Not suitable for complex surveys.
Considering QuestionPro as one of the TruScore Alternatives
When considering QuestionPro as an alternative to TruScore, several important factors must be considered to ensure it aligns with your needs and requirements. Here are some key factors to consider:
Survey and Assessment Features:
Assess the range of survey and assessment features offered by QuestionPro. Consider whether it supports the types of surveys and assessments you need, including employee feedback, customer satisfaction, market research, or other specific use cases.
Survey Customization:
Evaluate the level of customization QuestionPro provides. Can you tailor surveys and assessments to match your branding and specific requirements? Look for options to create custom themes and templates.
Advanced Logic and Branching:
If you require complex survey logic and branching, ensure that QuestionPro offers the necessary tools and capabilities to create intricate question flows and conditional logic.
Analytics and Reporting:
Assess the analytics and reporting features and direct reports. Does QuestionPro provide robust reporting tools, real-time data analysis, and the ability to create insightful dashboards? Consider whether it meets your reporting needs.
Integration Capabilities:
Determine if QuestionPro can integrate seamlessly with your existing software stack. Look for integrations with CRM systems, analytics tools, or other platforms you use for employee management and data management.
Ease of Use:
Evaluate the user-friendliness of QuestionPro. Is it intuitive for both survey creators and respondents? A user-friendly interface can streamline the survey creation process.
Security and Compliance:
Assess the security measures and compliance standards upheld by QuestionPro. Ensure that it meets your organization's data security and privacy requirements, especially if you handle sensitive data.
Free Trial or Demo:
Take advantage of any free trial or demo offerings provided by QuestionPro. This allows you to explore the platform firsthand and determine if it meets your needs.
Conclusion
These top 12 TruScore alternatives offer diverse survey and assessment solutions catering to various organizational needs. Whether it's employee engagement, customer feedback, or market research, these competitor solutions provide robust features and customization options, allowing organizations to make informed decisions and gather valuable insights.
QuestionPro stands out as a versatile and feature-rich alternative to TruScore in the realm of competitor solutions. With its comprehensive survey and assessment capabilities, customizable options, and strong analytics, QuestionPro offers organizations a powerful tool to collect feedback, gather actionable insights, and enhance decision-making processes.