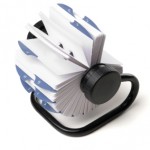 If you've already got a customer list for doing research, doesn't it stand to reason that you would use that list for more than just asking questions and collecting feedback?
While I'm sure that many organizations send newsletters and write blogs and send direct marketing pieces to their customers, I wonder how many of them actually have specific turnkey communication programs to specific segments of customers.
It used to be that creating and managing a direct sales and marketing program was an expensive proposition.  But today, any sized business can exponentially increase their bottom line by increasing sales without adding a lot of marketing cost.
Today, I've decided to share some tools that you can explore and use to keep your customers engaged and literally add sales power without adding people.
Use Constant Contact for Sending Newsletters and Basic Email Marketing
If you have a simple customer list that you'd like to upload and send easily formatted newsletters to, then Constant Contact is a great tool.  It's low cost and the newsletters are easy to create and publish to a simple list.  Another neat feature is that your list won't have to double-opt in (if they've already given you permission).  So it's easy to switch from a manual system to constant contact without disturbing your existing subscribers.  Another great feature of Constant Contact is that their stuff gets through to the audience.  Constant Contact has a terrific reputation and your list will receive their newsletter on time, every time.  In addition to all this, they've published a fantastic how-to book that will get you started on a successful e-mail marketing campaign.
iContact Is a Cost Effective Way to Run Autoresponders
By far the best way to increase the size of your sales force without adding people is to automate your selling process.  Start by creating an offer targeted toward a specific audience.  Then create a landing page that describes the benefits and features of your offer.  Include a contact form where your audience can download some free information to learn more about your offer.  Then send them regular emails that educate them about the benefits of your offer.  This process used to be very time and labor intensive, but iContact makes it easy.
While Constant Contact also has an autoresponder feature, there are some limitations as to how many messages you can send.  iContact allows you to create as many groups and messages as you'd like.  iContact also has a newsletter feature (like Constant Contact), but it's not as robust as Constant Contact's.  So it really depends on your marketing process.  I actually have clients that subscribe to both.  They use iContact to drive their leads toward a sale and they use Constant Contact to deliver newsletters to their customers.  iContact is extremely easy to use and the cost and service are excellent.
aWeber is the Standard Choice for Basic Online Sales and List Building
If you've decided to build an online business and intend on generating a large list of prospects and customers that fall into a variety of categories or segments — aWeber is the standard. aWeber delivers great results because they demand a double opt-in.  This means that aWeber is best for building a NEW list from the web.  If upload your existing list, it will ask everyone to confirm they subscription .  The good thing about that, is that it will clean your list and remove anyone who doesn't want to receive your offer.  The bad thing is that you will lose people from your existing list.
InfusionSoft: Build Leads, Sales, Customers and Relationships
If you'd really like an all-in-one solution, then it's hard to beat InfusionSoft.  They call their latest release Email Marketing 2.0 and it doesn't disappoint.  This latest release makes it easy for small businesses to create dynamic, responsive email marketing campaigns. In addition, the system's powerful customer database (CRM) tracks interest, behaviors and e-commerce, allowing email campaigns to automatically adapt to readers' behavior.  For example, imagine that John Smith is interested in your latest widget.  He fills out the form and after receiving 3 emails outlining the benefits, he decides to purchase.  Immediately he is placed in a new list where he now starts receiving a completely different set of emails about the specific widget that he's purchased and he may also receive offers for other widgets he's interested in based on which links he clicks on.  Another wonderful new feature is the Newsletter.  InfusionSoft's has a WYSIWYG feature that can literally grab colors from a picture that you place into the newsletter and design a template around that.  No technical, HTML or programming skills involved.  InfusionSoft's price point is a bit higher, but I can assure you that it's cheaper than hiring a sales person, and marketing coordinator to run this process by hand.
What are your favorite customer communication tools?