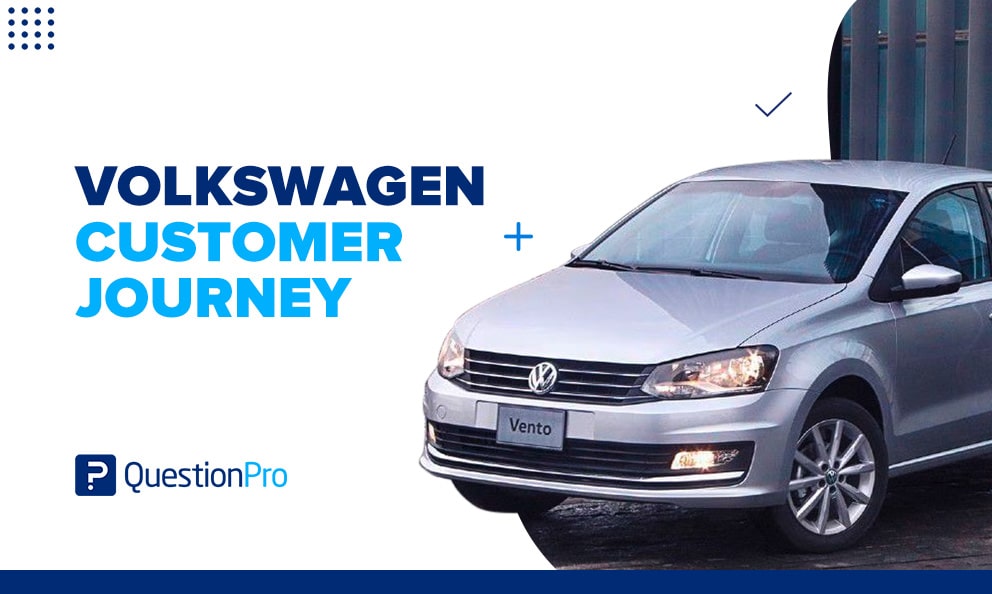 Delivering an exceptional user experience is undoubtedly one of the key factors for success in the automotive industry. This experience should be reflected in every aspect of the user's interaction with the brand, from advertising to the product itself. In this article, we will analyze the Volkswagen Customer Journey and explore how they delight their users by providing a dedicated experience supported by a robust strategy.
Volkswagen Customer Journey Example
In this example shared by The Volkswagen Newsroom, the company showcases its visualization of customer interaction. This system was presented as part of the new division led by Dr. Markus Kleimann, the brand's Chief Experience Officer (CXO).
BEFORE
USAGE
WHILE
USAGE
AFTER
USAGE
USER EXPERIENCE
USE CASES
PURCHASE
DRIVE
CHARGE
UPDATE & REVIEW
– Inform
– Seek advice
– Buy
– Navigate
– Drive
– Park
– Charge at home
– Charge on the go
– Charge at work
– Update
– Purchase extra functions
– Use service and Workshops
TOUCHPOINTS
– Website/dealer
– HM/Driving Wheel
-Wallbox / We-Connect-App
– Hotline Customer Care
The objective of these types of programs is to place the customer at the center of many of the actions to be developed. This ensures that the level of satisfaction is elevated, bringing numerous benefits across various aspects of the company.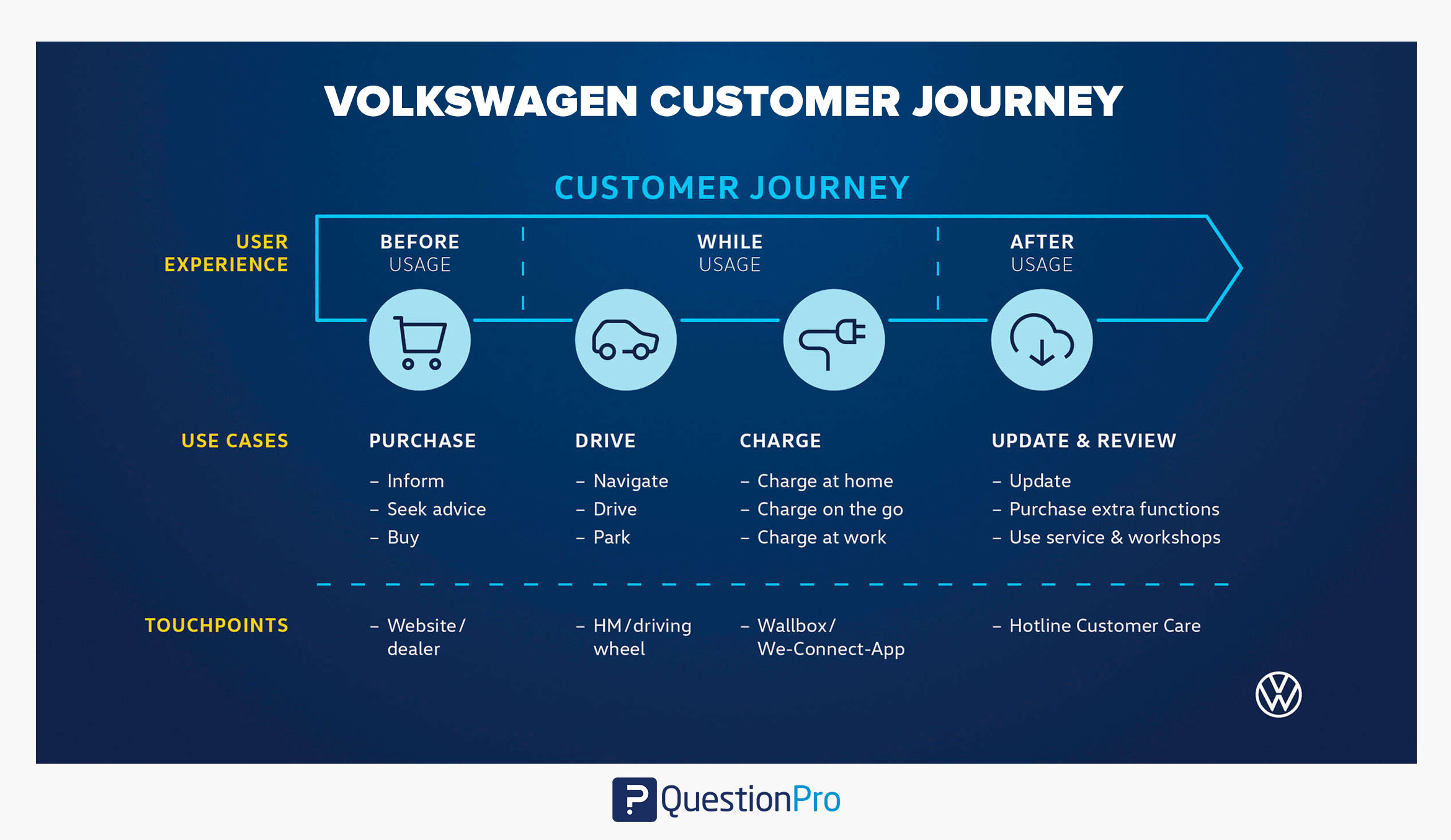 In this simplified example focused on their electric vehicle division, we can see some interesting ideas that other businesses can adopt in the automotive industry as an example of a customer-centric approach.

The journey is divided into three stages: before use (Awareness, Consideration, and Decision Stage), during use (Retention Stage), and after use (Loyalty Stage).
Stage 1: Before Use – Awareness, Consideration, and Decision
Volkswagen understands the importance of leaving a lasting impression on potential customers from the very beginning. Through a combination of traditional and digital advertising methods, the company effectively reaches its target audience.
What sets Volkswagen apart is its personalized approach based on different buyer personas. By tailoring designs and messaging to resonate with diverse audiences, Volkswagen ensures a stronger connection with potential customers.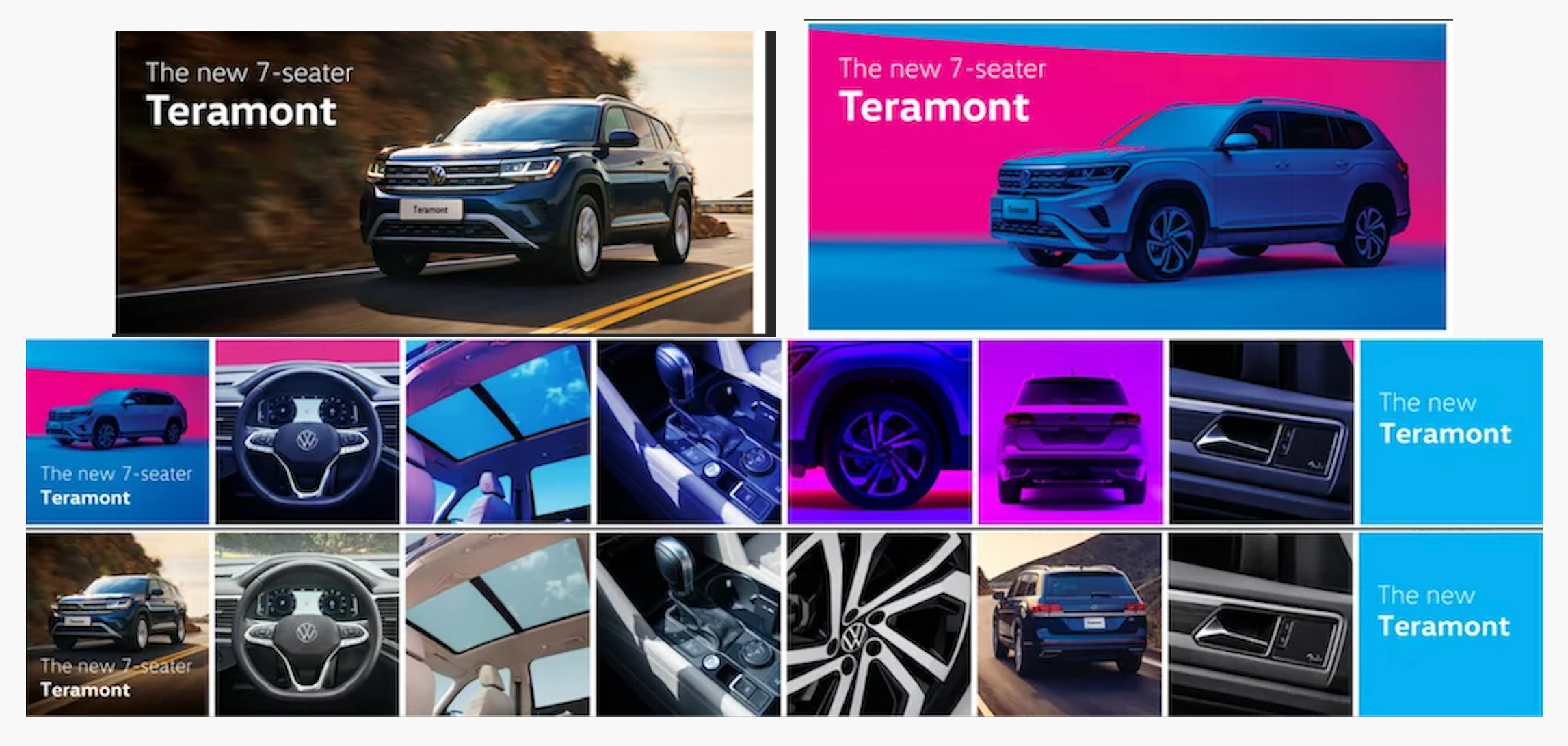 As you can notice, in this example, the brand have two advertising style variables. One showcases more traditional colors and aesthetics that align with industry standards, while in contrast, the second version presents vibrant colors such as pink and neon shades, with a style that breaks from convention and appeals to a different audience.
Digital channels play a vital role in Volkswagen's customer journey. Their user-friendly website and digital ecosystem aim to alleviate the stress associated with gathering information and making purchase decisions.
Another important aspect of their website is the section titled "My perfect VW," where users can interactively explore and visualize the various possibilities at their disposal.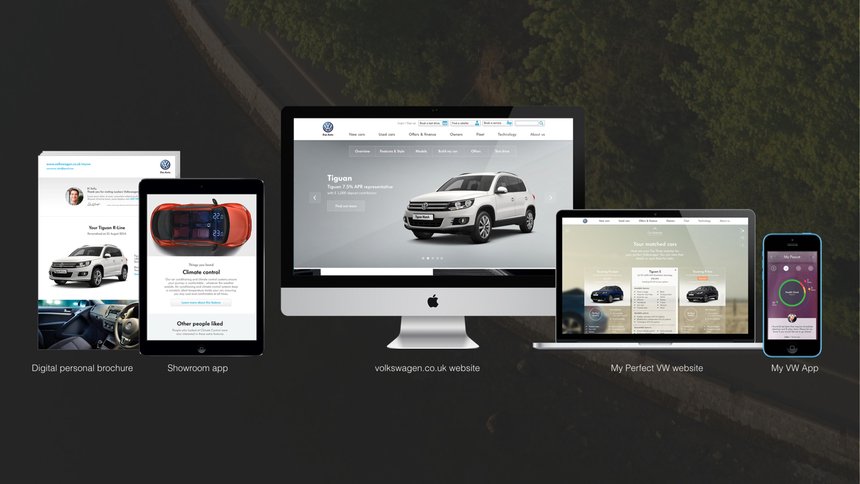 From interactive tools to a comprehensive Showroom App, the Volkswagen customer journey empowers customers to explore available vehicles and options effortlessly.
These digital touchpoints capture prospects and increase the likelihood of direct conversions.
Stage 2: During Use – Retention and Delight
Once a customer has chosen a Volkswagen vehicle, the focus shifts to ensuring a seamless ownership experience. In this stage, Volkswagen has made intelligent decisions. In addition to offering various options and specifications in their products, they have formed alliances with third parties to ensure that users have an optimal experience
These collaborations guarantee extended coverage of charging stations for electric vehicles, exemplifying their commitment to customer convenience.

The clearest example is seen in the customer map shared at the beginning of this article, which focuses on their electric vehicle division. Thanks to a partnership with the company Wallbox, Volkswagen guarantees to provide a high-quality product for the convenience of users of this type of vehicle. It's all part of the car-buying journey.
Stage 3: After Use – Support and Satisfaction
Volkswagen recognizes the significance of post-purchase support in maintaining long-term customer satisfaction. The brand's Customer Care hotline becomes the primary tool for customers to access various services as:
Updates
Purchase additional functions
Utilize services and workshops
Information
How can you improve your customer journey with what you've learned?
Everything mentioned above has likely sparked a few ideas regarding these initiatives' potential and their impact on your market. Undoubtedly, the lessons and advice are not limited solely to the automotive industry but can be replicated in other sectors.
The first significant step is to adopt a customer-centric approach and keep their needs and expectations in mind. This will ensure that the actions you take have an impact on them and bring you multiple benefits.
At QuestionPro, we have developed a series of tools and features designed to assist you in achieving this goal:
QuestionPro SuiteCX: A Customer Journey Mapping Software that will facilitate the process of creating your customer journey. Not only will you have access to a wide collection of templates, but you will also be able to personalize your user/buyer personas and include your data for more precise and visual analysis.
Start delighting your customers!