We hope you were able to join our monthly webinar where we introduce different concepts and sneak peeks into our new features but if not, we are here for you! Continue reading for the webinar overview and some of the questions that came across from attendees on the topic of Survey Block Flow, Concept Testing, Monadic & Sequential Monadic Testing, and Instant Answer!
Watch the presentation video: click here
View the webinar slide deck: click here
Speakers
Vivek Bashakaran, Founder and CEO QuestionPro
Priyesh Ghamandi, Director, Product
Timothy Cornelius, Director, Audience Operations
New Product Announcement: Instant Answers 
For too long, Academic researchers have been burdened by the varying cost of sample, inaccurate sample delivery timelines, and paying for many more data points than are necessary to conduct representative interviews. We have created infrastructure and optimized our respondents in order to bring the Instant Answers to fruition. 
What sets Instant Answers apart? 
We have lowered the cost interview down to $1.00 each instead of the industry average of $4.00! You will receive a nationally representative of United States Census balanced respondents proportionally filled by age, gender, region, and ethnicity.
With the affirmation infrastructure, this helps save on not only the cost but time. You will be guaranteed a 48-hour max turnaround time.
What are the project requirements 
In order to tap into $1 pricing, the project must stay within the following guardrails: 
Survey programmed on QuestionPro 

Anyone respondents 18+ will qualify 

Maximum 15 minute survey length 

At least 80% will complete the survey 
When to use Instant Answers
Are you asking yourself if Instant Answers is right for your study? Instant Answers can be used for all types of studies but here are some popular use cases. 
Political Polling
Let the American People tell you how they feel about a candidate or public policy. 
Advertising Testing
Bring your ads to market backed by actual consumer sentiment.
Academic Studies
Test your hypothesis with real consumer insights.
Brand Awareness
Test your hypothesis with real consumer insight.
Are you positioned to win against rival brands?
How do you get started?
Instant Answers will launch in the fall but early access is available to a special few! For early access and to save on sample now Email SampleBids@QuestionPro.com and mention the Edu discount!
What is Block Flow and why would you use it?
Block Flow is a new feature that we have introduced a pretty recently where you can add where you can view the order/flow of the blocks of questions present in your survey, rearrange them, add complex logic to them, even applying randomizations on them. 
Using block flow creates a singular location where you can see the entire outline of the survey you are programming as it would be shown to your respondents. It will divide based on the respondent's answers to the initial questions or their geo-location, device type, etc. and then can reduce the chance of order-bias and increase the validity of the data collected. 
Using Block Flow with comparison testing
The main advantage of doing a comparison test is you get a clear winner.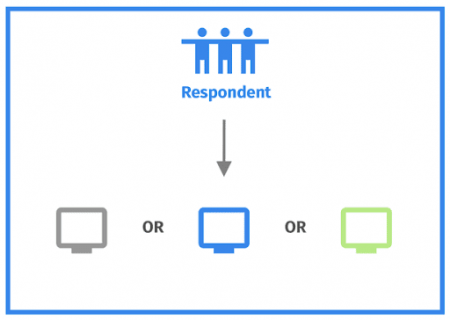 This method does come with some disadvantages as well. The key disadvantage is that no context is collected. The results will not show why they didn't like a certain answer or why they responded the way they did. There are no context or context clues given.
Using Block Flow with Monadic Test (AB Test)
In monadic testing, each group of respondents are only shown one concept at a time.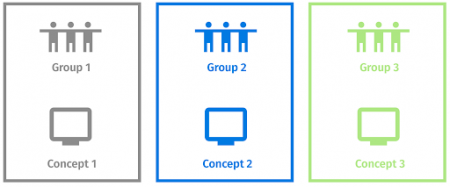 Since there's going to be just one concept shown you can add multiple questions and it really won't affect the length of the survey. The respondents are shown only one concept in isolation, independent of any external stimuli. Thus the respondent's opinions about the concept are not impaired by any distractions or outside influences allowing for the data to be validated without any outside constraints. 
A challenge when using monadic testing can be when you want to research a niche market, and it isn't easy to find enough respondents to create multiple groups.
Using Block Flow with a sequential monadic test
Each group of the sample is shown all concepts in random order.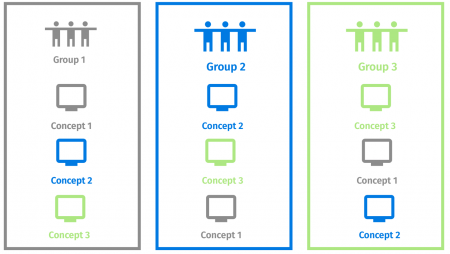 In a sequential monadic test, respondents are presented with two or more concepts in an isolated environment. Each concept is followed by the same series of questions to determine in-depth insights about each of the concepts.
Some cons of a sequential monadic question are that presenting multiple concepts at a time can often increase a survey's length. Survey length can affect completion rates and can introduce risk of non-bias responses. 
Looking for a step by step guide to implement block flow? Click here to explore!