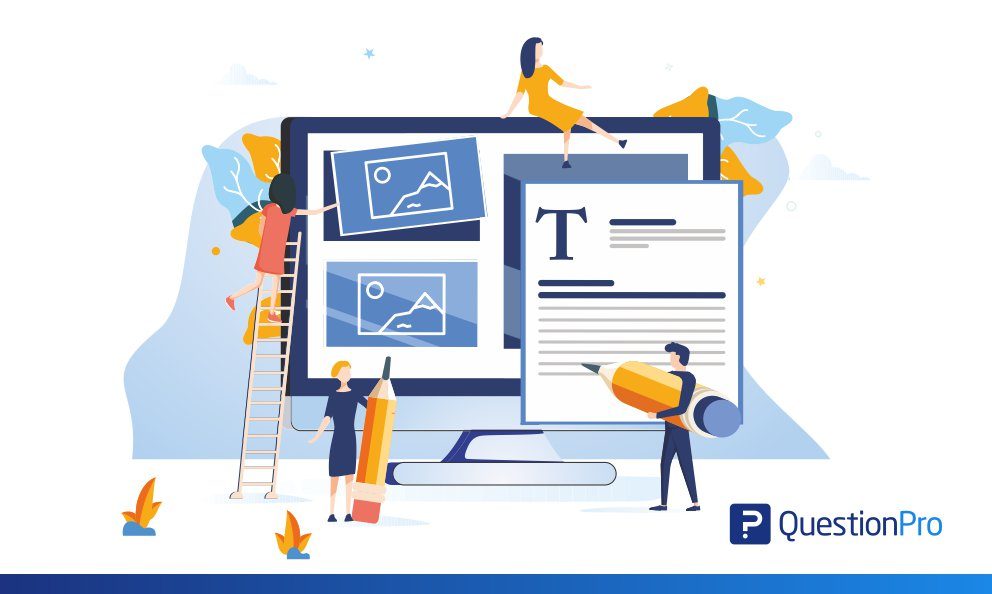 Website usability is the ease of use that visitor experiences while using your website. It's about getting what one is looking for, without spending too much effort.
It takes a lot to give that awesome experience to visitors, including but not limited to clear navigation, meaningful content, responsiveness, intuitive design, ease of readability, accessibility on different browsers and clearly visible calls to action.
But how do you know if your website is serving the purpose?
Yes, of course, you'd say that if it's getting the business then it's serving the purpose.
But we need to dig deeper and understand that unless your visitors find what they want or found meaningful what they found on your website, "visitors" won't turn into "customers".
Simply, ask questions!
Create a website usability survey asking questions about various aspects of your website such as page load speed, design, content, etc. You can use a wide range of questions types including score based questions to star-rating questions. You can also ask for their descriptive comments to learn more about their thought process using open-ended text questions.
Website Usability Survey Questions
To get the right data regarding your website (so that you can take the right decisions), it is important to ask the right website survey questions. Website usability survey questions can be divided into the below categories.
Design
This section should ask questions related to the overall color combination of the website, font color, and size, buttons, links, images, etc. Ask them if the look and feel of the website are soothing and intuitive. Make sure the design of the website is such that it has the right color contrast, but at the same time it's comfortable for eyes. Keep the menus sticky so that when users scrolls down long content, they don't have to scroll all the way to top of the page to see the menu again.
Website design survey questions
Did you like the design of the website?

Did you like the colors of the website?

Were you able to differentiate links easily?

Did you find the images on the website useful?

Did you find the images on the website relevant?
Also, a good website must have the right mechanism for visitors to connect with you. It can be in the form of HTML or Javascript forms or simple chat boxes at the bottom-right corner of the page.
A good website must also render well on both desktop and mobile screens. It is a very frustrating experience to scroll right or left to view the content on the tiny mobile screen. However, it surprises me when I see many old websites are not yet optimized for mobile devices. Also, test your website well for most popular browsers.
How was the experience with our website on your smartphone?

Was the size of web controls appropriate enough?

Could you get all the necessary features on our mobile website?

Do you think you had to click too much to get what you were looking for?

Did the website render well in your browser?
Navigation
Place the links such that they can be easily located and the visitor will not have to make too much effort to move to other pages. It is good practice to put the menus either at the top or on the left sidebar to be able to locate easily. You can also put links to important pages in the footer section. Just make sure to not stuff your page with too many links.
Website navigation survey questions
Were you able to find links easily?

Were you able to navigate to other pages easily?

Did the links take you to the relevant pages?
Content
Website content should serve what the visitor is looking for and make him/her feel that "Yeah, It was worth spending time here".
Website content survey questions
Did you find this page meaningful?

Did you find the content on the website relevant?

Did this page help you?

Could you search the content you were looking for?

On a scale of 1-10 how do you rate the clarity of the content?

On a scale of 1-10 how do you rate the conciseness of the content?
If the content on your website has multimedia or graphs and charts, you can also ask questions on the same.
Was the content presented in the right format?

Do you think there was a better way to present the same content?

Did the podcast host ask the right questions?

Did the video player have the needed controls?
Payment
In case of e-commerce sites, payment is an important part of the visitor's journey and experience with your website. If your customers don't have a pleasant experience while shopping online, chances are less they will turn up again, no matter how good the design be. Moreover, they might also share such experience with others. This can lead to a huge loss.
Website payment survey questions
Did you feel your payment details are secure on our website?

Did the website accept common payment cards?

Was the payment process smooth and fast?

On a scale of 1-10, how do you rate the overall payment experience?
Performance
A good website must also be fast to load. Make sure to minify CSS and Javascript files to reduce the page loading time. You can also standardize the image size across all the pages on your website so as to keep them light-weight.
Website performance survey questions
Did it take too long to load the website?

Did it take too long to fetch your details on our website?

Did the saving of your data take too long?

On a scale of 1-10, how would you rate the performance of our website?
General
 You can ask generalized questions about your website and are they looking for anything specific for a better experience.
What do you like most about our website?

How often do you visit our website?

What would you like to change in the website?

On a scale of 1-10, how likely are you to recommend our website to your friends or family?

Did you face any challenge while using our website?

Do you have any suggestions or comments?
The above sample website survey questions will help you design a survey for your visitors and help you improve their experience. Use a feedback software to design a website usability survey, distribute and analyze the survey results. Filter results based on various demographic and custom filters to have a better understanding of your website visitors' behavior.
Although you can always analyze Google Analytics data to gather insights on user behavior, it's best to ask your target audience to know what they think about your website.