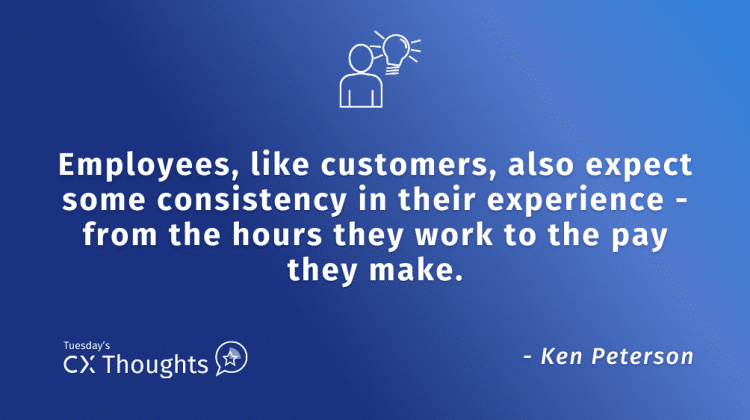 Having the right people helping your customers is important to any customer experience strategy, and no customer experience software platform, no matter how sophisticated, will make the customer experience better if you do not have the right employees. This is true at all levels, as those responsible for the company's culture will set the tone, and those that interact directly with the customers will need to execute those promises. This starts with the hiring process.
My daughter is studying Veterinary Science in college. While visiting a pet store several weeks ago that, coincidentally, was just a few blocks away from where she takes her classes, we noticed a help wanted to sign in the window: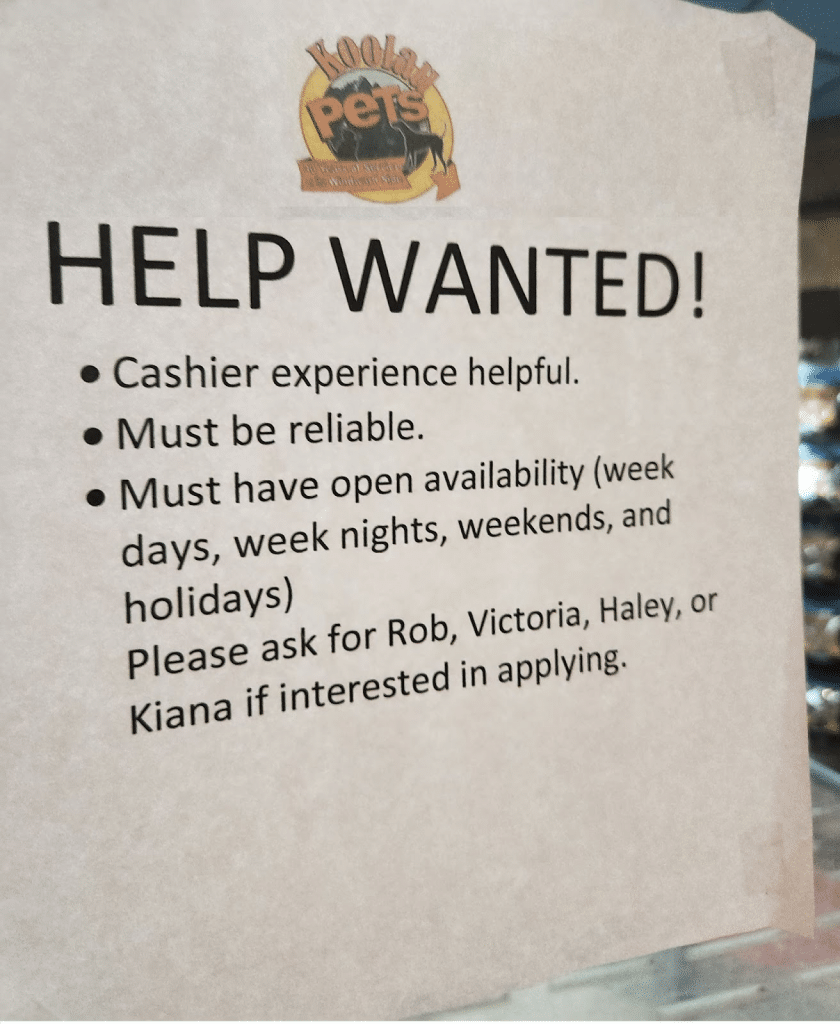 This appears to be fairly straightforward; certainly, any experience is helpful, particularly for something like being a Cashier, as that is a key customer experience touchpoint. "Reliable" – that also seems to be important when you consider the customer journey as today we too often see signs in windows about changes in hours because of inconsistent staffing and long lines when it is busy.
In retail, we have already touched on three topics that show up frequently in any Voice-of-the-Customer survey – knowledgeable employees, convenience (hours), and check-out speed.
My daughter had an obvious interest, but I noted to my daughter that the third bullet point is what caught my attention, given that she would have to work around her class schedule. As a CX practitioner with an operational focus, that tells me they are severely understaffed and will not be offering a consistent schedule – that latter creates an issue with the employee experience.
Employees, like customers, also expect some consistency in their experience – from the hours they work to the pay they make. When employees do not get one or the other, they churn, and we are left in the same place with – with a help wanted sign in the window. It is no coincidence that several weeks later, that sign is still there. Also, no coincidence that as we wandered around the store for nearly an hour, we were not approached even once to see if we needed help.
One more thing I noted was that there was not a clear chain of command, with any of the four individuals listed as the person to inquire with. Still wanting to learn more about the possibility, she asked to speak with any of the employees listed. As it was the weekend, we were informed that it was not possible to speak with them and that we should come back during the weekdays. Rather than make the trip, she made a call during the week.
When she noted her interest in the role, the first question was, "Are you able to work any hours?". When she noted that she attends college and, while she can work weekends, she would need to work around her class schedule during the week. It was probably the shortest interview I've ever heard of; after that first question, they stated they needed someone with complete flexibility – any time, any day. I could probably go on for hours about the expectations between employers and employees and the reality of "the real world," but that is an entirely different conversation.
When you consider the results of such a hiring advertisement and process, it can be seen in some of the reviews of this location when I did a brief social media analysis similar to what we could discover with QuestionPro's CX Reputation, we can see expected results:
"It appears that they only hire very young individuals. This is great to give students a job but they also seem to be VERY poorly trained."
"They really need to get better workers. Seems like they are there to just have fun with each other. Customers can just wait."
"They have absolutely zero customer service, before the workers would approach you and ask if you needed anything. Now they stand around the register talking about ghosts and things."
This is not intended as an attack specifically on this company, however it can be indicative of many of the "help wanted" signs that are placed on any business – but small businesses usually have a little more flexibility in what they write. Here are some examples I found from various sources:
Of course, these types of comments may not show up in your CX Enterprise Software, at least in this context, but if you have a good customer feedback loop the encourages conversations (and not just scores), you'll be able to leverage sentiment analysis and customer conversations to find the ideal customers, and what they expect from their ideal employees. Perhaps your next help wanted sign will read: "Help Wanted: Rare position to be filled by an individual that loves working with customers to replace an employee retiring after 30 years.